The 2023 NFL Draft is right around the corner, so it is time for FlurrySports to give an NFL Mock Draft of the first two rounds of picks. This year, it will include 63 picks since the Miami Dolphins forfeited their first-round pick.
Our 2023 NFL Mock Draft will include picks made with consideration to both drafting for need and selecting the best player available. Four members of FlurrySports will rotate making picks, with the drafter noted for each selection. Our drafters include Zach Brunner, Trevor Land, Luke Reimer and Henry John. Additionally, we will not be projecting any trades, though it does appear it could be an active draft.
Without further ado, let's jump into our 2023 NFL Mock Draft for the first two rounds.
When is the 2023 NFL Draft?
As always, the 2023 NFL Draft will be a three-day event. The first day will feature the first round of players, which is only 31 this season. All of these picks will be broken down here at FlurrySports. Day 2 will be Rounds 2-3 and Day 3 features Rounds 4-7. The 2023 NFL Draft will take place from April 27-29 in Kansas City, MO.
NFL Mock Draft 2023: 2-Round Draft
ROUND 1
1 — Carolina Panthers (via CHI)
Brunner's Pick: Bryce Young, QB, Alabama
While Bryce Young may not be the top overall prospect in the draft, he is clearly the top QB prospect. Young is a highly-intelligent QB who can make any throw. Yes, he is small, but he had plenty of success throwing at Alabama and his offensive line in the NFL isn't going to be any bigger than that. Young lands in the perfect situation, getting to learn from Jim Caldwell and Frank Reich.
2 — Houston Texans
Land's Pick: Jalen Carter, DL, Georgia
Jalen Carter is one of the most talented defensive players in this draft class. While the Texans do need a quarterback, they have plenty of issues that are more pressing, starting with the interior defensive line. Pairing Carter with Stingley Jr. at cornerback gives the Texans two defensive cornerstones for years to come. With another first-round pick coming at 12, the Texans can get a defensive stalwart here while still getting an offensive playmaker if they so choose later on.
3 — Arizona Cardinals
Reimer's Pick: Will Anderson Jr., EDGE, Alabama
Will Anderson is the best player in this NFL Draft and can be an instant franchise-changing defensive player. With Arizona's lack of talent at a lot of positions, I think that it makes sense for them to take the best available player at this spot. Arizona had just 36 sacks last year, which ranked them 23rd in the NFL. With Kyler Muray out for presumably some time next year, Arizona will probably need to rely on its defense to stay in games. Anderson is the readiest NFL prospect who can immediately make an impact.
4 — Indianapolis Colts
John's Pick: Will Levis, QB, Kentucky
Will Levis has gone from being a fringe top-10 pick to having his odds heavily juiced to be among the first six selections. The Colts, specifically, are rumored to be fixated on him. With a big arm and plenty of upside, perhaps he can finally provide Jim Irsay's organization with stability at the position.
5 — Seattle Seahawks (via DEN)
Brunner's Pick: CJ Stroud, QB, Ohio State
There is no chance CJ Stroud makes it to Seattle with the fifth pick. However, if he is there, there are going to be teams that offer a ton to trade up. With two picks in the top 20, Seattle could easily pick a passer for the future (if they don't choose to trade), given Geno Smith's contract. In this case, they somehow get Stroud, the second-best QB prospect in the draft.
6 — Detroit Lions (via LAR)
Land's Pick: Christian Gonzales, CB, Oregon
The Lions need help on the defensive side of the ball and have a big hole at cornerback. With Okudah now gone, Christian Gonzalez could be a fine Day 1 starter as the top CB for Detroit. Gonzalez is the best in the draft and is the type of player you can plug in immediately and not have to worry about.
7 — Las Vegas Raiders
Reimer's Pick: Peter Skoronski, OL, Northwestern
The Raiders are in desperate need of talent at a lot of positions, but I think the offensive line is their biggest. A positive about Peter Skoronski is looks to be capable of playing at tackle or guard, something that is hard to find in today's NFL. With Josh McDaniels bringing Jimmy Garoppolo onto the team, it makes sense to shore up the team's biggest weakness, if Garoppolo and McDaniels want to compete in the AFC West.
8 — Atlanta Falcons
John's Pick: Tyree Wilson, EDGE, Texas Tech
If Tyree Wilson is available when the Falcons come on the clock at No. 8 overall, consider it a done deal. Atlanta has had one of the worst pass rushes in the NFL going back several years. Wilson has all of the skills needed to help reverse this trend.
9 — Chicago Bears (via CAR)
Brunner's Pick: Devon Witherspoon, CB, Illinois
The Bears have so many needs on the defensive side of the ball, but they will keep Devon Witherspoon in the state of Illinois here. He is the type of tough-minded player that the Bears have built their legacy on, and he is one of the top coverage players in the draft. In a division with suspect QB play, improving Chicago's secondary could keep them competitive most weeks.
10 — Philadelphia Eagles (via NO)
Land's Pick: Bijan Robinson, RB, Texas
The Eagles don't have many holes on their team but one of them is at running back. While they did sign Rashaad Penny, he isn't RB1 material, especially with his injury history. Robinson is one of the best RB prospects in a while and can slot in immediately. He can contribute in both the pass and rush game and can help take an already good offense to the next level.
11 — Tennessee Titans
Reimer's Pick: Jaxon Smith-Njigba, WR, Ohio State
The third Ohio State Buckeye comes off of the board here by way of the Tennessee Titans. The Titans do have a need at QB, with Ryan Tannehill on the last year of his deal, but I think outside of that what does Tennessee have an offense outside of Derrick Henry? Injuries are always a concern for Henry, so improving the offense with an absolute stud at receiver should give Henry the breaks that he needs. Tennessee was 28th in passing last season, with some of that being the fault of Tannehill. Still, the reality is that there isn't anyone to throw to. Jaxon Smith-Njigba should solve that problem.
12 — Houston Texans (via CLE)
John's Pick: Quentin Johnston, WR, TCU
With the Texans electing to prioritize the defense at No. 2 overall, an offensive playmaker became the priority here. Yes, Quentin Johnston falls into the dreaded profile of "Big 12 WR," but his size and talent are undeniable. After helping lead TCU to the CFP National Championship, Johnston could become an integral part of the Texans' rebuild.
13 — New York Jets
Brunner's Pick: Paris Johnson Jr., OT, Ohio State
The Jets have been unwilling to move their first-round pick in the potential Aaron Rodgers trade because they know they have to draft one of the top linemen to protect the future hall of famer. They should feel comfortable with either Paris Johnson Jr. or Broderick Jones, but Johnson is the pick here. He has the size and athleticism to become a star NFL tackle, but he also has the versatility to slide inside if needed.
14 — New England Patriots
Land's Pick: Jordan Addison, WR, USC
The fact that the Patriots need playmakers on offense is no surprise. The signings of TE Mike Gesicki and WR Juju Smith-Schuster were steps in the right direction, but New England needs more. Jordan Addison may not be the most athletic, but he is a solid route runner who has experience in special teams as well. Both should make him fit in well with Belichick's team.
15 — Green Bay Packers
Reimer's Pick: Lukas Van Ness, EDGE/DL, Iowa
With the three top receivers off the board, the Packers should look at the defensive line here. Lukas Van Ness is one of the more intriguing prospects in this draft who should be able to provide Green Bay with some flexibility on their defensive line. With Jarran Reed and Dean Lowry out of the picture and Rashan Gary's status still up in the air, Green Bay should take the Iowa product here. Van Ness' versatility on the edge and as a 3-Technique fills multiple holes for the Packers.
16 — Washington Commanders
John's Pick: Joey Porter Jr., CB, Penn State
When it comes to lockdown corners, Joey Porter Jr. is among the best in the 2023 NFL Draft class. He has excellent size for the position and an NFL pedigree in his blood. The Commanders clearly have other needs and could go any number of directions with this pick, but shoring up a thin secondary makes for a solid maneuver.
17 — Pittsburgh Steelers
Brunner's Pick: Broderick Jones, OT, Georgia
The offensive line has continued to be an issue in Pittsburgh. However, after signing Isaac Seumalo from Philadelphia and drafting Broderick Jones, the left side of their offensive line is taking shape. Jones is an incredibly athletic offensive tackle, which is very much needed to protect Kenny Pickett in the AFC North.
18 — Detroit Lions
Land's Pick: Bryan Bresee, DT, Clemson
The Lions need help on the interior defensive line and Bryan Bresee gives them that. Pairing him and Hutchinson should give the Lions a somewhat dependable defensive line. Bresee is an athletic lineman that can disrupt in both run and pass defense.
19 — Tampa Bay Buccaneers
Reimer's Pick: Myles Murphy, EDGE, Clemson
Myles Murphy joins his teammate in back-to-back picks here, as the Tampa Bay Buccaneers have a major need at edge rusher. Shaq Barrett tore his achilies last year, and there is not much behind him on the depth chart. The team's two leaders in sacks last year were Vita Vea and Devin White. Bring in Murphy, who has the size and speed to become a game-changer in the NFC South.
20 — Seattle Seahawks
John's Pick: Nolan Smith, EDGE, Georgia
Despite missing the majority of the 2022 season due to injury, Nolan Smith remains a lock to be drafted in the first round. If he somehow falls to the Seahawks at No. 20 overall, look for them to pounce. Smith's intangibles will serve him well as he looks to bolster what was one of the worst run defenses in the NFL last year.
MIAMI DOLPHINS: FORFEITED PICK
21 — Los Angeles Chargers
Brunner's Pick: Dalton Kincaid, TE, Utah
The Chargers are looking to build an explosive offense to keep pace with the Chiefs. They have been a weapon away, and with Keenan Allen aging and Mike Williams perpetually hobbled, gaining the best receiving tight end in the draft will give new offensive coordinator Kellen Moore another weapon for this new air raid offense.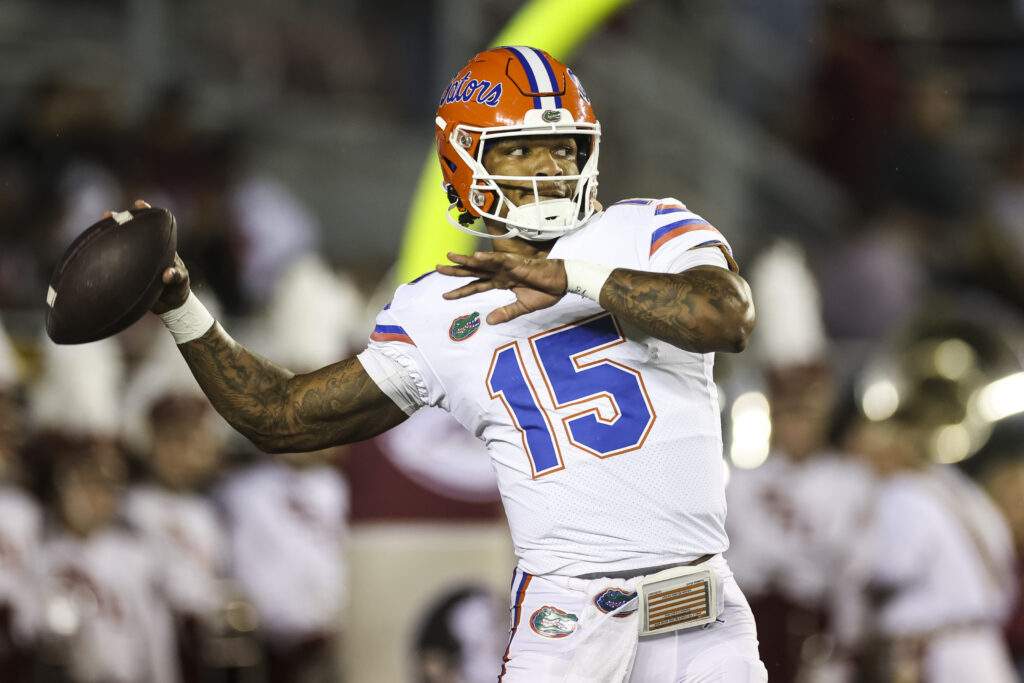 22 — Baltimore Ravens
Land's Pick: Anthony Richardson, QB, Florida
If Anthony Richardson is available here, it grants Baltimore a golden opportunity to solve its Lamar Jackson problem. They can put Richardson in the same system they currently have. The negotiations with Jackson are still up in the air, so picking Richardson could allow Baltimore to hit the reset button.
23 — Minnesota Vikings
Reimer's Pick: Deonte Banks, CB, Maryland
With the Lions and Bears adding pieces to their offense, Minnesota will have to supplement their defense with a corner who can matchup with Amon-Ra St. Brown and DJ Moore. Banks is a physical freak and has the size to be a starting corner in the NFL.
24 — Jacksonville Jaguars
John's Pick: Michael Mayer, TE, Notre Dame
With all of the top-tier cornerbacks already off the board in this 2023 NFL Mock Draft, the Jaguars decide to pivot and address their pass-catcher need with this pick. Michael Mayer was a stud at Notre Dame, and there's no reason to believe his skills won't translate to the NFL. Mayer will complement the Jags' WR corps nicely as a big target for Trevor Lawrence while providing insurance behind the oft-injured Evan Engram, who is notably playing on a one-year deal in 2023.
25 — New York Giants
Brunner's Pick: Zay Flowers, WR, Boston College
Zay Flowers is a WR that is trending up draft boards, as he is more well-rounded than some initially thought. After meeting with the Giants, this is a player they will want to add. Yes, it feels like the Giants draft WRs early every single season, but there is a reason for that (look at their depth chart). Flowers will immediately become a favorite target of Daniel Jones, and Brian Daboll will have fun drawing up plays for him this summer.
26 — Dallas Cowboys
Land's Pick: Brian Branch, S/CB, Alabama
Brian Branch is the best safety in this draft and is an incredible playmaker. Dallas has a solid secondary, but drafting Branch makes them even better. Jerry Jones loves big-time players and Branch would be a great fit on "America's Team," giving Dan Quinn the ability to play him at safety or in the slot.
27 — Buffalo Bills
Reimer's Pick: Jahmyr Gibbs, RB, Alabama
The Buffalo Bills have seemingly had a revolving door at the running back position lately. While Jahmyr Gibbs may not be your classic three-down back, he should provide instant offense for a team that relies so heavily on Josh Allen. Gibbs' quick feet, ability to line up all over the offense and big-play ability should take enough eyes off of Josh Allen to reduce his workload. Allen's recent injuries should be somewhat of a concern for Buffalo, so a running back like Gibbs, who can be coached to play NFL football, should provide enough variety in Buffalo's offense has they embark on a Super Bowl run.
28 — Cincinnati Bengals
John's Pick: Darnell Wright, OL, Tennessee
When you have a superstar QB like Joe Burrow, protecting him should be a top priority. The Bengals addressed the line in free agency by signing Orlando Brown Jr., and bringing in a talented, versatile offensive lineman like Darnell Wright will only help matters. Wright's length, power and footwork will serve him well in the NFL.
29 — New Orleans Saints (via SF)
Brunner's Pick: Calijah Kancey, DT, Pittsburgh
While drawing comparisons to Aaron Donald is unfair for Calijah Kancey, he is an undersized defensive tackle that knows how to use his natural leverage to his advantage. He is a disrupter up front, which is something the Saints are in desperate need of.
30 — Philadelphia Eagles
Land's Pick: O'Cyrus Torrence, G, Florida
O'Cyrus Torrence is a massive offensive lineman. He may not be quick or overly mobile on the interior, but if he gets his hands on you, you're in trouble. With Philadelphia already losing a guard, Torrence should be able to fill his position well.
31 — Kansas City Chiefs
Reimer's Pick: Will McDonald IV, EDGE, Iowa State
With how the wide receivers have fallen in this 2023 NFL Mock Draft, I think that Kansas City looks at the best available pass rusher here. Will McDonald IV is that guy. McDonald has the strength and flexibility to become a pest on the outside for Kansas City. With Carlos Dunlap and Frank Clark's futures in question, I think it makes sense to pair George Karlaftis and Will McDonald together to form one of the more intriguing young pass-rushing duos in the league.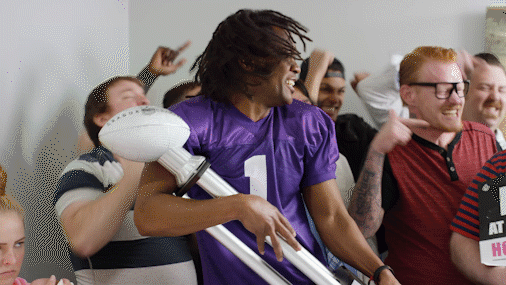 Check out TrophySmack today to get the best fantasy baseball trophies, belts, rings and draft boards in the industry!
Use the TrophySmack Promo Code FLURRY to get a FREE RING with the purchase of a trophy!
ROUND 2
32 — Pittsburgh Steelers (via CHI)
John's Pick: Kelee Ringo, CB, Georgia
The Steelers must address what is a thin and aging defensive secondary in the early rounds of the draft. Kelee Ringo emerges as the selection here of the numerous talented corners still on the board. While Ringo had some issues with route reading and getting beaten, he stepped up during Georgia's run to the title and has all of the physical tools needed to be a difference-maker at the next level.
33 — Houston Texans
Brunner's Pick: Hendon Hooker, QB, Tennessee
So far in this 2023 NFL Mock Draft, the Texans have drafted a defensive lineman and a wide receiver. It was a ballsy move to wait at QB, but it's a move that could possibly work out by drafting Hendon Hooker. We know DeMeco Ryan is going to build a good defense, so he needs a QB that is capable of becoming a great leader and can compete against Trevor Lawrence in the AFC South. Hooker is a winner and a leader. He would've gone much earlier had he not gotten injured. The Texans are in a position to be patient with his recovery, and once healthy, he may be one of the best QBs in this draft.
34 — Arizona Cardinals
Land's Pick: Cam Smith, CB, South Carolina
Cam Smith has played solid football against some solid teams and wide receivers. Injury concerns and an awkward style of play are some concerns, but the Cardinals clearly need a CB and Smith is the best available.
35 — Indianapolis Colts
Reimer's Pick: Emmanuel Forbes, CB, Mississippi State
Since the Colts got their guy at quarterback in the first round, the next position to look at has to be cornerback. The corner position is undoubtedly the thinnest for Indianapolis right now after Stephon Gilmore left in the offseason. Partnering Emmanuel Forbes with Kenny Moore is a good start to a rebuilding unit for the Colts. Forbes plays physical at the line of scrimmage and has shown his ability to generate turnovers. In his college career, Forbes has recorded 14 interceptions, bringing six of them back for a touchdown.
36 — Los Angeles Rams
John's Pick: Anton Harrison, OT, Oklahoma
It was clear that the Rams as a team were held hostage by their terrible offensive line last season, so addressing that unit is the top priority. Taking Anton Harrison would be the first step toward repairing what was an atrocious offensive line. He isn't the best run blocker, but Harrison can help protect Matthew Stafford in the short term while being a promising building block for the future.
37 — Seattle Seahawks (via DEN)
Brunner's Pick: Steve Avila, IOL, TCU
The Seahawks signed versatile lineman Evan Brown this offseason to be the replacement at center. With this draft pick, they will get another versatile interior offensive lineman to give them some flexibility. Steve Avila should start at guard, flying around and being instrumental to this Seattle running game getting revived.
38 — Las Vegas Raiders
Land's Pick: Dawand Jones, OT, Ohio State
The Raiders have a massive hole at seemingly every position on the offensive line. Although they went with Skoronski earlier in the first round, they need much more than him. Dawand Jones adds another solid big body to the mix and is a guy that would easily start on this pitiful Las Vegas line.
39 — Carolina Panthers
Reimer's Pick: Isaiah Foskey, EDGE, Notre Dame
The Panthers got their franchise-changer in Bryce Young, so they look to the second round for some defensive help. Carolina needs some help on their defensive front. Isaiah Foseky is an interesting pick here as someone who may need some time to turn into a pro. What there is to like about Foskey though is that he is big, long and always wanting to make a play. He plays well in the run game and, with Carolina not immediately contending, he should get quite a bit of run early in his career.
40 — New Orleans Saints
John's Pick: Darnell Washington, TE, Georgia
Darnell Washington makes for a very intriguing draft prospect given that he was incredibly underutilized at Georgia. With the Saints electing to shore up the defensive front in the first round, arming Derek Carr with a big target makes sense at No. 41 overall. Washington is an athletic freak and is capable of making an immediate impact in the passing game.
41 — Tennessee Titans
Brunner's Pick: Cody Mauch, OT, North Dakota State
The Titans' offensive line has been on the decline, but drafting Cody Mauch out of NDSU will be a step in the right direction for this offense. His toughness will fit in well, and Mauch's athleticism will be on full display as he blocks downfield for Derrick Henry. While he is an experienced tackle, Mauch could also slide inside for Tennessee.
42 — New York Jets (via CLE)
Land's Pick: Drew Sanders, LB, Arkansas
While this is likely a draft pick that will be sent to the Packers, we will project New York making a selection for now.
The New York Jets need an interior linebacker and Drew Sanders is the best available. He can serve as a traditional linebacker or an edge rusher thanks to his athleticism and size. He's got the toughness Robert Salah wants and would make this Jets defense even better.
43 — New York Jets
Reimer's Pick: John Michael Schmitz, C, Minnesota
Reports are coming in that the Minnesota Vikings are interested in former Jets center Connor McGovern. Due to that, the Jets have few options to supplement the center position. In order to build that base on the offensive line, the Jets go with the best center in the draft in John Michael Schmitz here. Schmitz played very well at the Senior Bowl. Whether it is Zach Wilson, Aaron Rodgers or someone else who starts under center this year, Schimtz's IQ, run-blocking skills and overall lateral quickness should provide a major upgrade for New York.
44 — Atlanta Falcons
John's Pick: Josh Downs, WR, North Carolina
After helping elevate Drake Maye into the Heisman Trophy conversation, Josh Downs falls to the Falcons at No. 45 in our mock draft. Outside of Drake London and Kyle Pitts, Atlanta's pass-catching corps is void of much game-changing talent. Of course, the QB position is also a major question mark, but Downs' versatile abilities as a route runner will help whoever winds up taking snaps under center.
45 — Green Bay Packers
Brunner's Pick: Luke Musgrave, TE, Oregon State
The Packers will likely have another second-round pick from an Aaron Rodgers trade to use, but for this 2023 NFL Mock Draft, Green Bay goes defense in the first and gives Jordan Love a weapon in the second. Luke Musgrave is an athletic freak, running a 4.61-second 40-yard dash, and he has a 36-inch vertical and a 10-foot-5 broad jump. He will be a matchup nightmare for Green Bay to exploit.
46 — New England Patriots
Land's Pick: Trenton Simpson, OLB, Clemson
After struggling at inside linebacker early on, Trenton Simpson moved outside and looked solid in his junior year. He has blazing-fast speed for the position and does a good job reading the offense and plays as they develop. He may be a bit of a project, but he has all the tools to be molded by the Patriots to fit a position of need.
47 — Washington Commanders
Reimer's Pick: Sam LaPorta, TE, Iowa
With Logan Thomas' injury history and overall underwhelming usage, Washington should look at a tight end here. Sam LaPorta is a 6-3 tight end out of Iowa, and players at that position from Iowa usually turn out pretty well. LaPorta is a solid receiving tight end who should be able to exploit the middle of the defense for Sam Howell.
48 — Detroit Lions
John's Pick: Jack Campbell, LB, Iowa
The Lions' primary need on offense is at TE, but with both Luke Musgrave and Sam LaPorta now off the board, it makes more sense to keep stockpiling defenders than to reach. In Jack Campbell, Detroit will be drafting a hard-nosed linebacker to pair alongside Malcolm Rodriguez, the team's feel-good story from a year ago. Campbell is a sure-tackler, savvy run defender, excellent communicator and is also capable of holding his own in coverage.
49 — Pittsburgh Steelers
Brunner's Pick: Mazi Smith, DT, Michigan
Mazi Smith is a player the Steelers have shown interest in, and even Cam Heyward has been vocal about Pittsburgh needing more bodies for the defensive line. Smith gives the Steelers a physical, strong player to eat up blockers on the inside. It is a fantastic landing spot for him, as he will be part of a solid rotation on the PIT defense instead of being asked to do more than he is capable of.
50 — Tampa Bay Buccaneers
Land's Pick: BJ Ojulari, EDGE, LSU
BJ Ojulari is a solid pass rusher but he needs work as a run-stopper. The Patriots have a need at the position, and Ojulari is certainly a project that they normally like to take on. To get a player of his caliber at this point of the draft is an absolute win.
51 — Miami Dolphins
Reimer's Pick: Matthew Bergeron, OT, Syracuse
Miami's top priority this season should be figuring out how to protect Tua Tagovailoa. Without a first-round pick, Miami needs to take the best available offensive lineman here. Matthew Bergeron is a big body, who should be able to lock down the offensive line opposite side of Terron Armstead, once he gets coached up.
52 — Seattle Seahawks
John's Pick: Keion White, EDGE, Georgia Tech
Last season, the Seahawks gave up over 150 rushing yards per game. Even with the selection of Nolan Smith in the first round of this NFL Mock Draft, taking another formidable front-seven defender in Keion White makes sense as Seattle aims to address its greatest weakness. While he still needs some developing, White offers scheme versatility and has the potential to become a feared pass-rusher at the next level.
53 — Chicago Bears (via BAL)
Brunner's Pick: Tuli Tuipulotu, EDGE/DL, USC
Ever since trading away Khalil Mack, the Bears have not had an answer for a pass rusher. Chicago also has a ton of holes to fill. With this in mind, they pick Tuli Tuipulotu, who is a versatile player on the defensive line. He can be moved around, and Tuipulotu has the power to stand up blockers in the run game, making him an every-down-type player.
54 — Los Angeles Chargers
Land's Pick: Jaylin Hyatt, WR, Tennessee
The Los Angeles Chargers have had Keenan Allen but little else in terms of consistent wide receiver weapons over the last few years. Jaylin Hyatt has all that teams are looking for in terms of athleticism, and he can give quarterback Justin Herbert another offensive weapon. While the Chargers certainly could use some defenders as well in this spot, Hyatt is the best available at a position of need.
55 — Detroit Lions (via MIN)
Reimer's Pick: Julius Brents, CB, Kansas State
With the Lions filling their major needs so far in this NFL mock draft, I think they try to shore up their defensive backfield in an NFC North with Justin Jefferson and D.J. Moore. Julius Brents is a 6-3 corner who gets his hands on receivers early on the bump. Brents plays well in run defense, shedding blocks and making tough tackles.
56 — Jacksonville Jaguars
John's Pick: Clark Phillips III, CB, Utah
The biggest defensive need for the Jaguars to address in the 2023 NFL Draft is finding a dependable slot corner. Based on his size, Clark Phillips III figures to be a solid positional fit at the NFL level. Phillips has plenty of experience in zone coverage from his time at Utah and figures to be capable of providing an immediate boost to what is currently a very average secondary.
57 — New York Giants
Brunner's Pick: Joe Tippmann, C, Wisconsin
The Giants continue their revolving door at center, with Jon Feliciano leaving in free agency. They will look for stability at the position by drafting Joe Tippmann, who looks to be the next great Wisconsin center. Tippmann is an athletic freak at the position, combining tremendous raw power with speed. Given his athletic traits and size, Tippmann could also slide to either guard spot, but he should be able to lock down the center position for the next decade.
58 — Dallas Cowboys
Land's Pick: Devon Achane, RB, Texas A&M
The Dallas Cowboys have a few needs, but there aren't many solid options at this spot. Devon Achane is still available though and he gives Dallas some running back help after the departure of Ezekiel Elliott leaves Dallas thin. Tony Pollard is a fine running back but it remains to be seen if he can carry a full workload. Achane may be small but he has insane speed and he could cause opponents a real problem if utilized correctly in the passing game.
59 — Buffalo Bills
Reimer's Pick: Jordan Battle, S, Alabama
Micah Hyde and Jordan Poyer are still on the team for the Bills, but both are unrestricted free agents. With the injury history between the two, Buffalo should at least take a look at safety here. Jordan Battle has the physical and mental tools to quickly contribute for the Bills. Battle also plays alright in run defense, something that Buffalo vastly needs to improve upon.
60 — Cincinnati Bengals
John's Pick: Zach Charbonnet, RB, UCLA
After opting to address the offensive line in the First Round, the Bengals would have loved to secure a quality tight end here at No. 60 overall. However, they would've had to reach to do so in this mock draft. Thus, the pivot to Zach Charbonnet, a running back whom many believe would have a much higher draft stock had he played at a more noteworthy collegiate program. With Samaje Perine departing for Denver in the offseason, Charbonnet would likely have an immediate opportunity to be the next man up behind Joe Mixon in the Bengals' backfield.
61 — Chicago Bears (via SF)
Brunner's Pick: Antonio Johnson, S/CB, Texas A&M
While Antonio Johnson is listed as a safety by most outlets, he spent most of his snaps in the slot for Texas A&M. He should continue to thrive at slot for the Bears, though he can be moved around if need be. With Johnson now in the slot, Kyler Gordon can move out wide where he is more comfortable, and suddenly this secondary is looking pretty solid.
62 — Philadelphia Eagles
Land's Pick: Felix Anudike-Uzomah, EDGE, Kansas State
The Eagles have already crushed the start of the draft with Robinson and offensive line help. They also need some help on the defensive line and get that here with Felix Anudike-Uzomah. He is a solid option at EDGE with good strength and solid skills as a pass rusher. He's still a little raw in some aspects, but at this spot, he's a home run pick.
63 — Kansas City Chiefs
Reimer's Pick: Tank Dell, WR, Houston
The Chiefs are in need of offensive line help with Orlando Brown Jr. gone to Cincinnati. In reality, Kansas City probably trades up out of this spot to grab a tackle. If they do draft in this position and the board is what it is, there is not much talent there for Kansas City to take a flier on. In this case, I think they look at wide receiver to help supplement losing Mecole Hardman and JuJu Smith-Schuster. Tank Dell works here with his big-play ability and overall explosiveness. Everyone is going to wonder how the Chiefs got Dell here.