It was a relatively tame NFL Free Agency, but all 32 teams now have their attention directed toward the 2023 NFL Draft in order to add talent to their rosters. The first round of the draft is kicking off on Thursday, April 27th. Of course, draft analysis, projections and rumors will be dominating the NFL news until then. Among the players expected to hear his name called early on is Anthony Richardson out of Florida.
The following is a complete Anthony Richardson NFL Draft profile, including stats, highlights and a mock projection.
When is the 2023 NFL Draft?
As always, the 2023 NFL Draft will be a three-day event. The first day will feature the first round of players, which is only 31 this season. All of these picks will be broken down here at FlurrySports. Day 2 will be Rounds 2-3 and Day 3 features Rounds 4-7.
The 2023 NFL Draft will take place from April 27-29 in Kansas City, MO. The Anthony Richardson draft projection expects him to hear his name called early on.
Anthony Richardson NFL Draft Profile, Stats, Highlights and Projection
Anthony Richardson
Positon: QB
Height: 6-4
Weight: 244 lbs
Age: 20
College: Florida Gators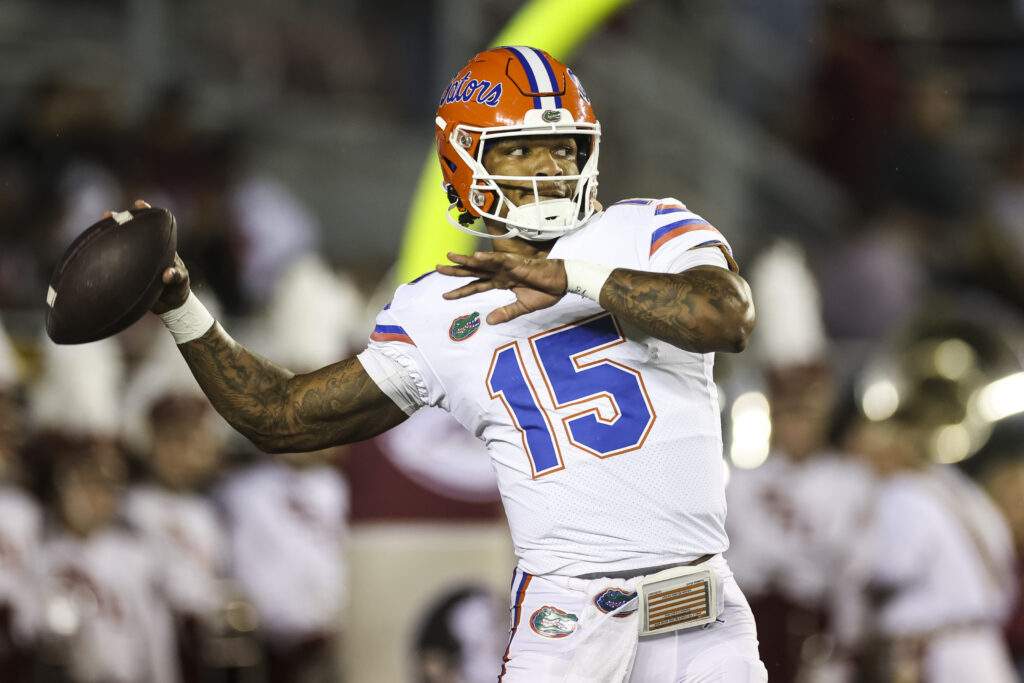 Anthony Richardson Stats 2022 | Florida Gators
Passing Yards: 2,549
Passing TDs: 17
QB Rating: 131.0
Rushing Yards: 654
Rushing TDs: 9
Interceptions: 9
Anthony Richardson Draft Profile
Strengths
The thing that immediately stands out about Anthony Richardson is his athleticism. His physical tools were proven after running a 4.4-second 40-yard dash at 244 lbs. As is the case with most rookie quarterbacks, Richardson should have the ability to rely on his legs early in his career when the offense breaks down. When running, Richardson has a penchant for running through defenders, as opposed to running around them. Being mobile, Richardson has shown an excellent ability to throw on the run after escaping the pocket. Richardson has a strong arm, maybe the strongest in the draft.
Weaknesses
Richardson's accuracy can be erratic at times. He lacks consistency in making every throw look like the last throw. Even with his mobile abilities, Richardson has shown a tendency to hang onto the ball too long and try to extend plays, resulting in sacks. Accuracy is a major concern. Throwing mechanics can also be improved upon. Richardson has also only started for Florida for one season.
Anthony Richardson Highlights
Anthony Richardson Draft Profile
All 2023 NFL Draft Projections are taken from the latest CBS NFL Mock Draft by Ryan Wilson.
Anthony Richardson is currently projected to be drafted by the Indianapolis Colts at No. 4.
---
For more 2023 NFL Draft profiles and coverage, check out our NFL Draft page.