It was a relatively tame NFL Free Agency, but all 32 teams now have their attention directed toward the 2023 NFL Draft in order to add talent to their rosters. The first round of the draft is kicking off on Thursday, April 27th. Of course, draft analysis, projections and rumors will be dominating the NFL news until then. Among the players expected to hear his name called early on is running back Jahmyr Gibbs out of Alabama.
The following is a complete Jahmyr Gibbs NFL Draft profile, including stats, highlights and a mock projection.
When is the 2023 NFL Draft?
As always, the 2023 NFL Draft will be a three-day event. The first day will feature the first round of players, which is only 31 this season. All of these picks will be broken down here at FlurrySports. Day 2 will be Rounds 2-3 and Day 3 features Rounds 4-7.
The 2023 NFL Draft will take place from April 27-29 in Kansas City, MO. The Jahmyr Gibbs draft projection expects him to hear his name called relatively early on.
Jahmyr Gibbs NFL Draft Profile, Stats, Highlights and Projection
Jahmyr Gibbs
Position: RB
Height: 5'9″
Weight: 199 lbs
Age: 21
College: Alabama Crimson Tide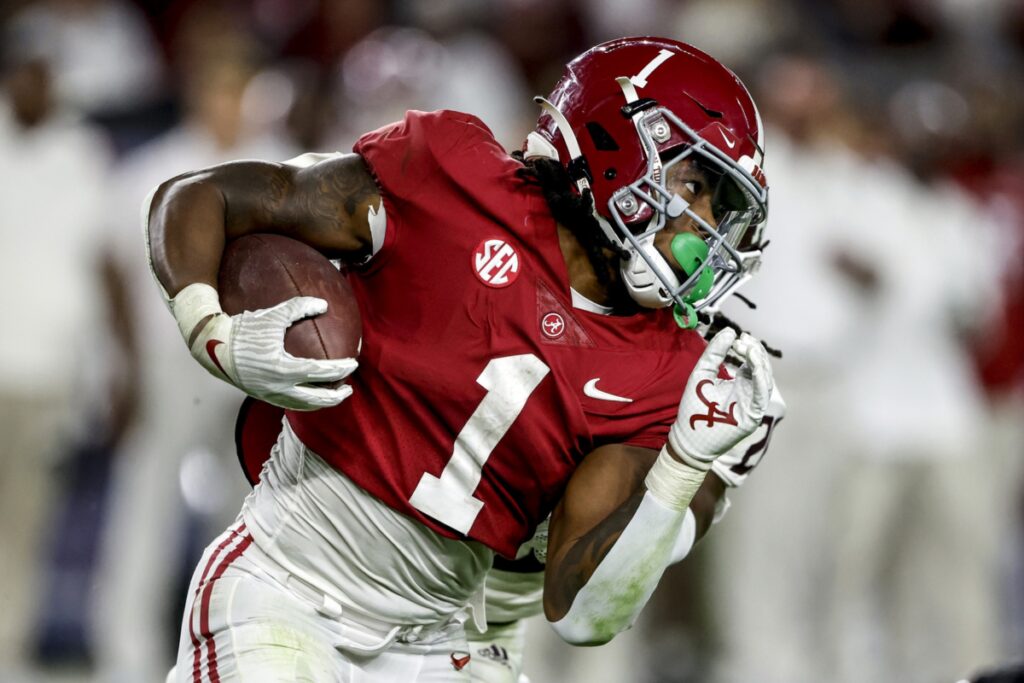 Jahmyr Gibbs Stats 2022 | Alabama Crimson Tide
Rushing Yds: 926
Rushing TDs: 7
Yds Per Attempt: 6.1
Receptions: 44
Receiving Yds: 444
Receiving TDs: 3
Jahmyr Gibbs Draft Profile
Strengths
Jahmyr Gibbs is your stereotypical gadget player that brings the juice every time he's on the field. His quick feet and speed allow him to widen the field for future play-callers as well as provide value in the return game. He can line up all over the field and provide value in the passing game thanks to his strong route running and soft hands — which will be a nightmare for opposing defenses. Gibbs' big-play ability is attractive enough for NFL teams looking to add juice.
Weaknesses
His 5'9″, 199-pound frame is obviously a huge concern. It can affect his blocking ability as well as his ability to run through contact between the tackles — which could hurt his overall playing time in the NFL. Gibbs also lacks strong decision-making, tending to struggle with when to cut or take the correct lane — two areas that can easily be fixed with good coaching.
Jahmyr Gibbs Highlights
Jahmyr Gibbs Draft Projection
All 2023 NFL Draft Projections are taken from the latest CBS NFL Mock Draft by Chris Trapasso.
Jahmyr Gibbs is currently projected to be drafted by the Indianapolis Colts at No. 35.
---
For more 2023 NFL Draft profiles and coverage, check out our NFL Draft page.