It was a relatively tame NFL Free Agency, but all 32 teams now have their attention directed toward the 2023 NFL Draft in order to add talent to their rosters. The first round of the draft is kicking off on Thursday, April 27th. Of course, draft analysis, projections and rumors will be dominating the NFL news until then. Among the players expected to hear his name called early on is wide receiver Nathaniel Dell, or Tank Dell, out of Houston.
The following is a complete Tank Dell NFL Draft profile, including stats, highlights and a mock projection.
When is the 2023 NFL Draft?
As always, the 2023 NFL Draft will be a three-day event. The first day will feature the first round of players, which is only 31 this season. All of these picks will be broken down here at FlurrySports. Day 2 will be Rounds 2-3 and Day 3 features Rounds 4-7.
The 2023 NFL Draft will take place from April 27-29 in Kansas City, MO. The Tank Dell draft projection expects him to hear his name called early, most likely on Day 2.
Nathaniel "Tank" Dell NFL Draft Profile, Stats, Highlights and Projection
Tank Dell
Position: WR
Height: 5'8″
Weight: 165 lbs
Age: 23
College: Houston Cougars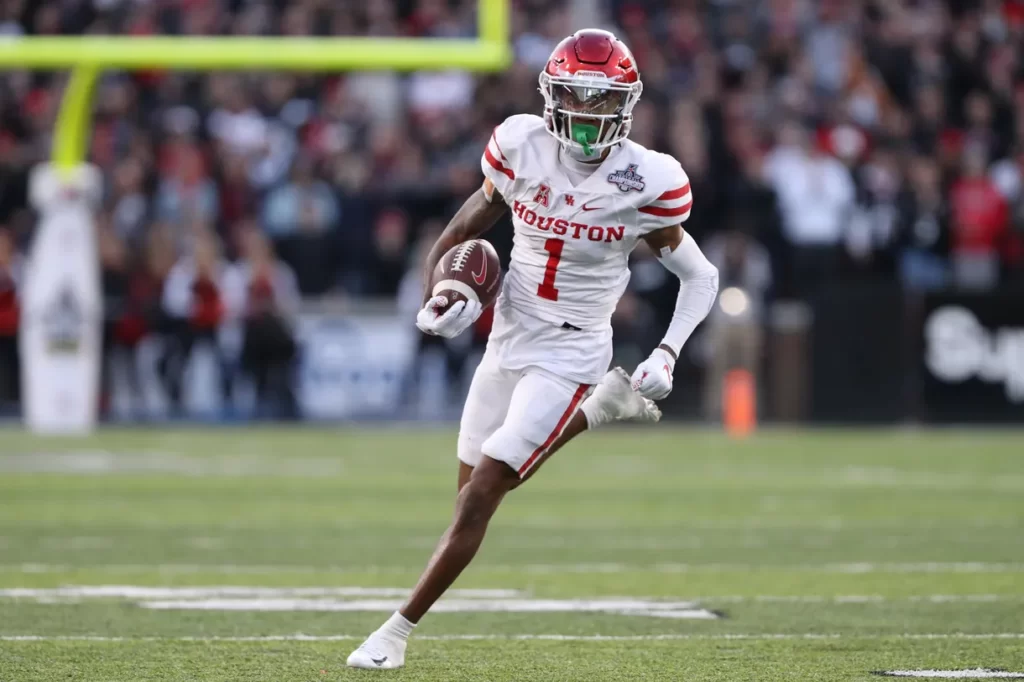 Tank Dell Stats 2022 | Houston Cougars
Receptions: 109
Receiving Yds: 1,398
Receiving TDs: 17
Yards Per Catch: 12.8
Games: 13
Tank Dell Draft Profile
Strengths
Tank Dell has the skills to become a Tyreek Hill prototype at the NFL level. His 5'8″, 165-pound frame is extremely small for the NFL, but the combination of his pure breakaway speed and agility is enough to keep him relatively high on most team's draft boards. On top of his big-play ability, he runs crisp and precise routes that create ample separation on all three levels of the field. Primarily thanks to his speed and acceleration, he also offers tremendous value in the return game.
Weaknesses
Aside from the obvious — his small, slender frame — Tank Dell struggles mightily with drops, totaling 21 drops across the final two seasons at Houston. Although his routes are crisp and create separation, he struggles against press coverage and fails to haul in catches through contact. Considering he's smaller, he lacks the length most receivers possess and has a below-average catch radius.
Tank Dell Highlights
Tank Dell Draft Projection
All 2023 NFL Draft Projections are taken from the latest CBS NFL Mock Draft by Chris Trapasso.
Tank Dell is currently projected to be drafted by the Minnesota Vikings at No. 87. 
---
For more 2023 NFL Draft profiles and coverage, check out our NFL Draft page.