It was a relatively tame NFL Free Agency, but all 32 teams now have their attention directed toward the 2023 NFL Draft in order to add talent to their rosters. The first round of the draft is kicking off on Thursday, April 27th. Of course, draft analysis, projections and rumors will be dominating the NFL news until then. Among the players expected to hear his name called early on is Felix Anudike-Uzomah out of Kansas State.
The following is a complete Felix Anudike-Uzomah NFL Draft profile, including stats, highlights and a mock projection.
When is the 2023 NFL Draft?
As always, the 2023 NFL Draft will be a three-day event. The first day will feature the first round of players, which is only 31 this season. All of these picks will be broken down here at FlurrySports. Day 2 will be Rounds 2-3 and Day 3 features Rounds 4-7.
The 2023 NFL Draft will take place from April 27-29 in Kansas City, MO. The Felix Anudike-Uzomahdraft projection expects him to hear his name called on the second day.
Felix Anudike-Uzomah NFL Draft Profile, Stats, Highlights and Projection
Felix Anudike-Uzomah
Position: EDGE
Height: 6'3″
Weight: 255 lbs
Age: 21
College: Kansas State Wildcats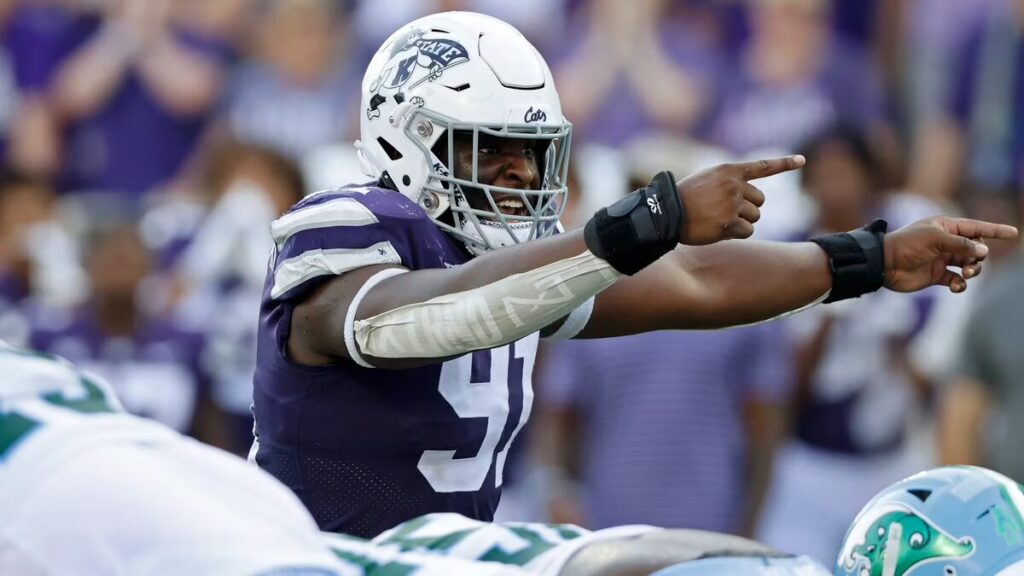 Felix Anudike-Uzomah Stats 2022 | Kansas State Wildcats
Games: 14
Tackles: 46
TFL: 11
Hurries: 29
Sacks: 8.5
FF: 2
Felix Anudike-Uzomah Draft Profile
Strengths
Felix Anudike-Uzomah is one of the most NFL-ready edge rushers in the 2023 NFL Draft. His bend is elite and he utilizes a variety of different moves off of the edge. Anudike-Uzomah has a very quick get-off, and he explodes through tackles with his hands. His build and power also suggest he can become an every-down player for his future team.
Weaknesses
While Anudike-Uzomah has the power to play the run well, he is soft in setting the edge. His backfield vision is also a bit inconsistent, missing some easy stops. For me, there is always a bit of hesitancy with Big 12 players as well.
Felix Anudike-Uzomah Highlights
Felix Anudike-Uzomah Draft Projection
All 2023 NFL Draft Projections are taken from the latest CBS NFL Mock Draft by Ryan Wilson.
Felix Anudike-Uzomah is currently projected to be drafted by the Atlanta Falcons at No. 75.
---
For more 2023 NFL Draft profiles and coverage, check out our NFL Draft page.