It was a relatively tame NFL Free Agency, but all 32 teams now have their attention directed toward the 2023 NFL Draft in order to add talent to their rosters. The first round of the draft is kicking off on Thursday, April 27th. Of course, draft analysis, projections and rumors will be dominating the NFL news until then. Among the players expected to hear his name called early on is Nick Herbig out of Wisconsin.
The following is a complete Nick Herbig NFL Draft profile, including stats, highlights and a mock projection.
When is the 2023 NFL Draft?
As always, the 2023 NFL Draft will be a three-day event. The first day will feature the first round of players, which is only 31 this season. All of these picks will be broken down here at FlurrySports. Day 2 will be Rounds 2-3 and Day 3 features Rounds 4-7.
The 2023 NFL Draft will take place from April 27-29 in Kansas City, MO. The Nick Herbig draft projection expects him to hear his name called on the second day.
Nick Herbig NFL Draft Profile, Stats, Highlights and Projection
Nick Herbig
Position: EDGE/OLB
Height: 6'2″
Weight: 240 lbs
Age: 21
College: Wisconsin Badgers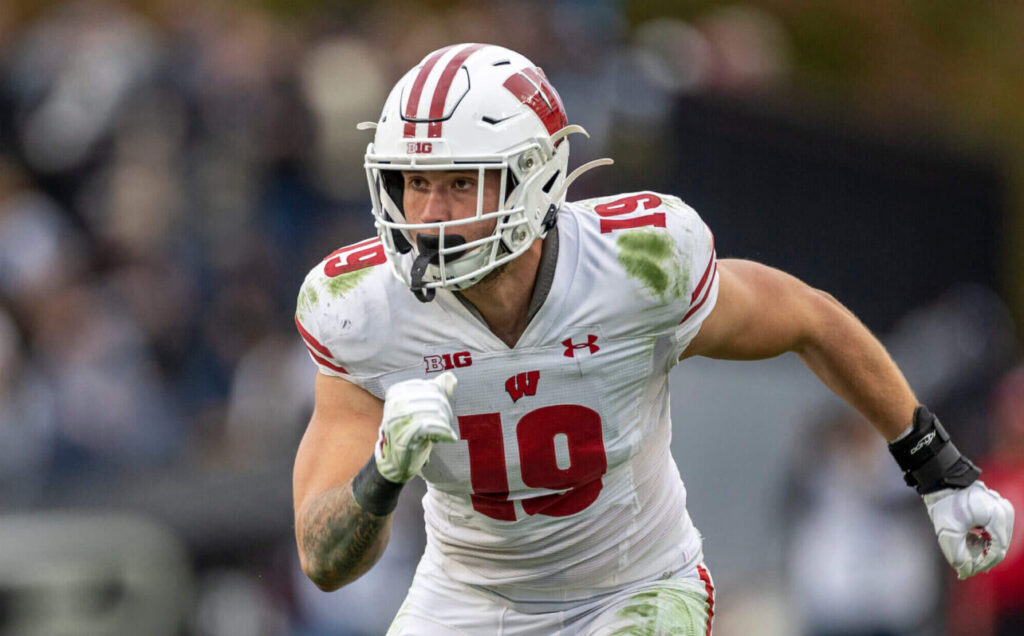 Nick Herbig Stats 2022 | Wisconsin Badgers
Games: 11
Tackles: 47
TFL: 15.5
Hurries: 17
Sacks: 11
FF: 2
Nick Herbig Draft Profile
Strengths
Nick Herbig has a nose for the football, and he always found a way to either blow up linemen or avoid them while at Wisconsin. He uses his hands well both to create separation and finish ball carriers. His inside move is exceptional, crossing the face of tackles with ease. While most analysts knock Herbig's size and play strength, they have said the same about many other successful Wisconsin defenders that made the transition well. Most recently, that was Jack Sanborn.
Weaknesses
Again, the knock for everyone on Nick Herbig is his size and play strength. While nearly all of his snaps came on the edge for the Badgers, some scouts believe his lack of size may require Herbig to play off-ball linebacker, and changing his position could be quite the learning process. Regardless of where Herbig plays, he will need to add some strength.
Nick Herbig Highlights
Nick Herbig Draft Projection
All 2023 NFL Draft Projections are taken from the latest CBS NFL Mock Draft by Ryan Wilson.
Nick Herbig is currently projected to be drafted by the Atlanta Falcons at No. 44.
---
For more 2023 NFL Draft profiles and coverage, check out our NFL Draft page.