It was a relatively tame NFL Free Agency, but all 32 teams now have their attention directed toward the 2023 NFL Draft in order to add talent to their rosters. The first round of the draft is kicking off on Thursday, April 27th. Of course, draft analysis, projections and rumors will be dominating the NFL news until then. Among the players expected to hear his name called early on is Emmanuel Forbes out of Mississippi State.
The following is a complete Emmanuel Forbes NFL Draft profile, including stats, highlights and a mock projection.
When is the 2023 NFL Draft?
As always, the 2023 NFL Draft will be a three-day event. The first day will feature the first round of players, which is only 31 this season. All of these picks will be broken down here at FlurrySports. Day 2 will be Rounds 2-3 and Day 3 features Rounds 4-7.
The 2023 NFL Draft will take place from April 27-29 in Kansas City, MO. The Emmanuel Forbes draft projection expects him to hear his name called early on.
Emmanuel Forbes NFL Draft Profile, Stats, Highlights and Projection
Emmanuel Forbes
Position: Defensive back
Height: 6'0″
Weight: 180 pounds
Age: 22
College: Mississippi State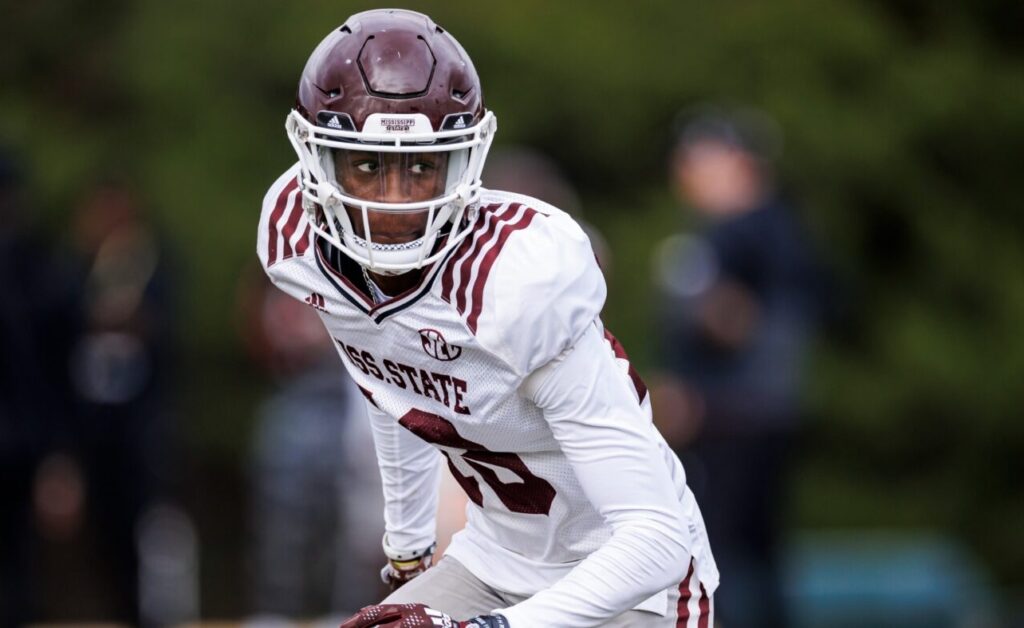 Emmanuel Forbes Stats 2022 | Mississippi State
Games: 12
Solo Tackles: 26
Receptions/Targets: 31/58
Interceptions: 6
Forced Fumbles: 0
Passer Rating: 44.7
Emmanuel Forbes Draft Profile
Strengths
Forbes often does a good job in press coverage, thanks to effectively jamming receivers at the line. He has crazy speed which makes it hard for receivers to shake him in man coverage. Forbes reads the eyes of the quarterback and has good instincts when it comes to pre-play recognition and instincts. He does a good job high-pointing the ball, and his tall frame helps him match up with bigger receivers.
Weaknesses
Emmanuel Forbes certainly has some of the tools to make it at the next level, however, he has yet to put them together. While he does a good job watching the quarterback's eyes, he is often over-reliant on it, which can result in him appearing frozen on the field. He tries to anticipate too often which leads to him either abandoning his zone entirely or letting his man go free. His motor can be questioned in the run game, as he often watches the ball carrier come to him. Forbes also shies away from contact at times which makes him a vulnerability on blitzes or running plays.
Emmanuel Forbes Highlights
Emmanuel Forbes Draft Projection
All 2023 NFL Draft Projections are taken from the latest CBS NFL Mock Draft by Chris Trapasso.
Emmanuel Forbes is currently projected to be drafted by the Jacksonville Jaguars at No. 24.
---
For more 2023 NFL Draft profiles and coverage, check out our NFL Draft page.