It was a relatively tame NFL Free Agency, but all 32 teams now have their attention directed toward the 2023 NFL Draft in order to add talent to their rosters. The first round of the draft is kicking off on Thursday, April 27th. Of course, draft analysis, projections and rumors will be dominating the NFL news until then. Among the players expected to hear his name called early on is Paris Johnson Jr. out of Ohio State.
The following is a complete Paris Johnson Jr. NFL Draft profile, including college highlights and a mock projection.
When is the 2023 NFL Draft?
As always, the 2023 NFL Draft will be a three-day event. The first day will feature the first round of players, which is only 31 this season. All of these picks will be broken down here at FlurrySports. Day 2 will be Rounds 2-3 and Day 3 features Rounds 4-7.
The 2023 NFL Draft will take place from April 27-29 in Kansas City, MO. The Paris Johnson Jr. draft projection expects him to hear his name called on the first day.
Paris Johnson Jr. NFL Draft Profile, College Highlights and Projection
Paris Johnson Jr.
Position: OT
Height: 6'6″
Weight: 313
Age: 21
College: Ohio State Buckeyes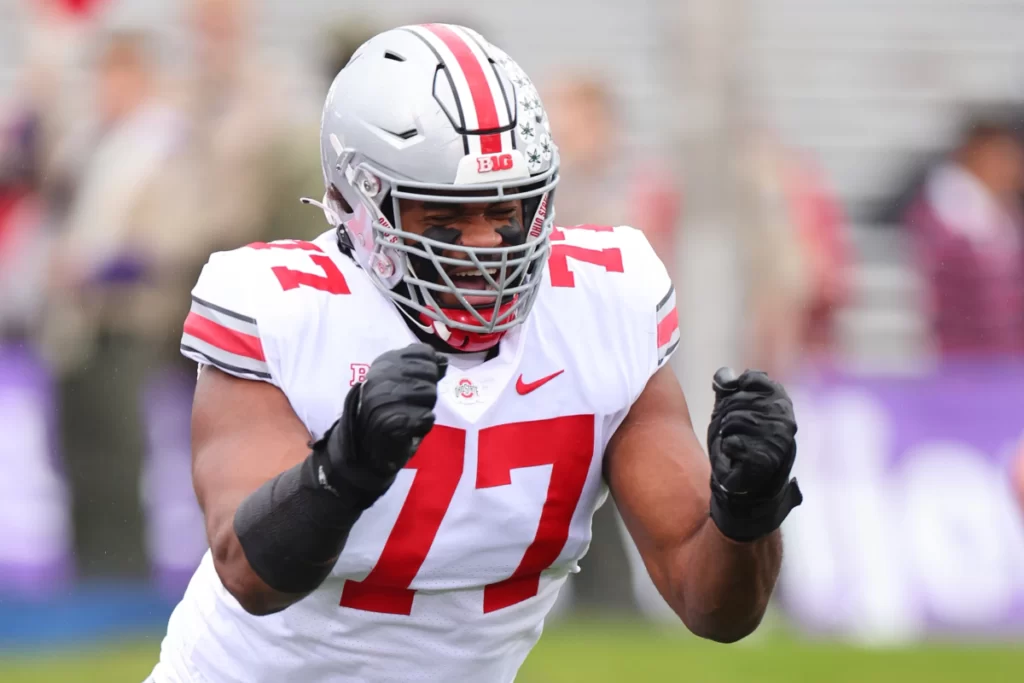 Paris Johnson Jr. Draft Profile
Strengths
Paris Johnson Jr. has versatility on the offensive line, starting at left tackle last season and right guard the year prior. With that being said, Johnson has all of the physical tools to be a left tackle in the NFL. Johnson was a multi-sport athlete, and it shows with how well he moves at his size. His quickness and athleticism rank up there with just about anyone at tackle in the NFL.
Weaknesses
While Johnson's footwork and quickness are elite, we would like to see him bring a bit more power. It would be disrespectful to call him a finesse offensive tackle, but he certainly can play that way at times. While his strength/power is clearly his biggest knock, Johnson also bends a bit too much at the waist.
Paris Johnson Jr. Highlights
Paris Johnson Jr. Draft Projection
All 2023 NFL Draft Projections are taken from the latest CBS NFL Mock Draft by Ryan Wilson.
Paris Johnson Jr. is currently projected to be drafted by the Chicago Bears at No. 9.
---
For more 2023 NFL Draft profiles and coverage, check out our NFL Draft page.