The 2022 NBA Draft takes place tonight, Thursday, June 23rd. There are 58 players who will hear their names called in Chicago tonight, having their lives changed forever. Below, FlurrySports has created a 2022 NBA Mock Draft, projecting which NBA prospect will be selected where.
Usually, there is a consensus number one pick, i.e Zion Williamson, Cade Cunningham and Deandre Ayton. This year seems to be shy away from that trend, though Jabari Smith Jr. is the odds favorite to go first, with Chet Holmgren favored to be the second overall pick.
While many saw Holmgren as the number one pick six months ago, Smith's incredible 2021-22 season helped push him up on draft boards. Due to it being very difficult to predict trades – I have not done that in this 2022 NBA Mock Draft. However, I will talk about teams who may potentially trade out of their pick. With that being said, let's take a look at our 2022 NBA Mock Draft.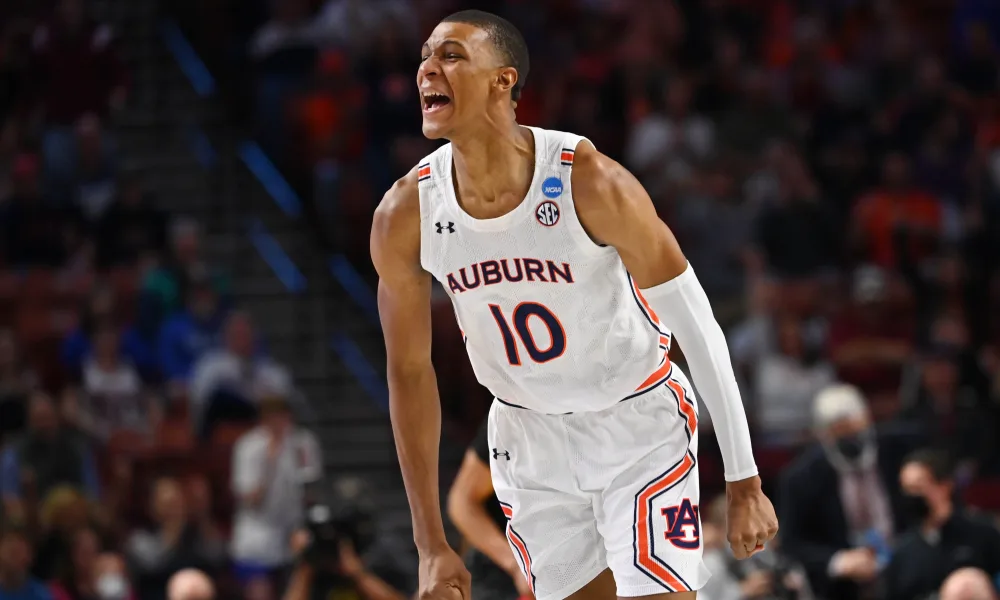 2022 NBA Mock Draft | First Round NBA Draft Order
1. Orlando Magic – Jabari Smith Jr. – Freshman (Auburn)
While the Orlando Magic did get the number one pick this year, there is a lot to be excited about in central Florida. Cole Anthony, Franz Wagner and Wendell Carter all averaged over 15 points this past year. With other young players like R.J. Hampton, Jalen Suggs and Chuma Okeke, the Magic need a winner. Although Smith didn't win a championship at Auburn, he led the team to one of the best seasons in school history.
Smith has the size, length and shot-making ability to become a great scorer in this league. Partnered with his lock-down defense, Smith may be able to make the Magic into a playoff team almost instantly.
2. Oklahoma City Thunder – Chet Holmgren – Freshman (Gonzaga)
As a lifelong NBA fan, I am not sure that I have ever seen a team gather so many picks and then not use them properly. The Thunder need talent at every position and there is not a more interesting draft pick this year than Chet Holmgren. He has the length and size to be one of the best shot blockers in the NBA. He has also shown that he can step out of the paint and hit jump shots from anywhere. If Holmgren hits immediately, the Thunder may need to build around him quickly.
3. Houston Rockets – Paolo Banchero – Freshman (Duke)
Much like the Thunder, the Rockets are in need of immediate talent. Paolo Banchero was hailed as one of the most pro-ready players as he entered his freshman year at Duke. Banchero has the size, speed and skill to play the four position in today's NBA. His talent of scoring both inside and outside should attract the Rockets to partner him with Jalen Green. Let's just hope he doesn't follow the path of Duke power forwards like Jabari Parker and Marvin Bagley.
4. Sacramento Kings – Jaden Ivey – Sophomore (Purdue)
Jaden Ivey may be the best player in the draft when it is all said and done. He is a prototypical fast guard. Sharing some of his game with both Allen Iverson and Ja Morant, Ivey should instantly make a splash on the offensive end next to De'Aaron Fox.
5. Detroit Pistons – Shaedon Sharpe – Freshman (Kentucky)
The Pistons are still rebuilding and with the selection of Cade Cunningham last year, it seems to be that they are heading in the right direction. Cunningham needs a running mate to take some of the burden off of his shoulders. While Keegan Murray seems like the safer pick here, I would argue that Sharpe has the higher upside. He is uber-athletic and can lock in on both sides of the floor. Even though he sat out his freshman year at Kentucky, I do believe that the Pistons are in a spot to take a risk here if they don't trade back for more picks.
6. Indiana Pacers – A.J. Griffin – Duke (Freshman)
A.J. Griffin has shown that he might be the best shooter off of the catch in this year's draft. The Pacers were 25th in the NBA in 3P% last year, proving that they need shooting help. Griffin's ability to shoot, next to his long arms gives the Pacers an instant spark off of the bench.
7. Portland Trail Blazers – Bennedict Mathurin – Arizona (Sophomore)
This feels like the perfect landing spot for Mathurin. Damian Lillard obviously carries so much of the load for Portland and had to do so even more this year before he got hurt. Portland made the playoffs with Lillard and C.J. McCollum at their best. That should lead the Trail Blazers to using Mathurin as the next McCollum. Mathurin has a flurry of moves and can create incredible spacing for Lillard, while hitting shots when Lillard passes off.
8. New Orleans Pelicans – Keegan Murray – Iowa (Sophomore)
Murray is a great decision maker with the ability to knock down the long ball and defend. In a team with an abundance of young stars, it seems like Murray can keep everyone together, like he did at Iowa. Lineups may be tough with Murray, but he is the best player still available. Thinking about a C.J. McCollum-Brandon Ingram-Keegan Murray-Zion Williamson-Larry Nance lineup though is exciting.
Johnny Davis can play the two or the three, but the Spurs would probably like him to play the two. He is a tough, hard-nosed guard who likes to play in the paint. Davis has also improved as a wing defender as his college career has progressed. The Spurs would probably use him off of the bench to start his career, but there is an avenue for Davis to start in San Antonio in defending role.
10. Washington Wizards – Jalen Duren – Memphis (Freshman)
The Wizards currently have four centers on their roster. With Kristaps Porzingis being one and Thomas Bryant and his injuries being another, the Wizards need a big man in this draft. Duren is probably the best true center in this draft. He excels in the paint and has shown flashes of being a great defender.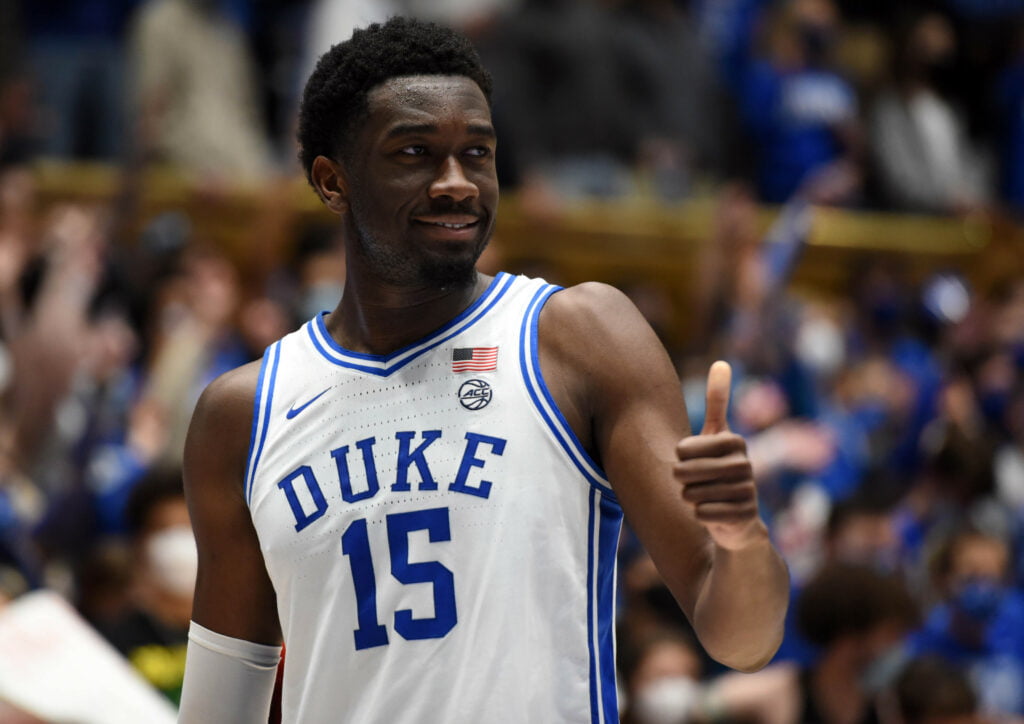 11. New York Knicks – Mark Williams – Duke (Sophomore)
The Knicks have three centers on their roster right now, Mitchell Robinson, Taj Gibson and Nerlens Noel. Neither Gibson and Noel are good enough to start anymore and Robinson has been up and down. With Duran gone, the Knicks need to draft Mark Williams. Williams should have all of the opportunities to start right away. Knicks fans will fall in love with his up-tempo defense and lob-catching ability. I am not going to make this comparison, but I am sure some old-heads will see a little Willis Reed in Williams.
12. Oklahoma City Thunder – Dyson Daniels – G-League Ignite
Daniels' biggest strength is his lockdown defense. On offense, he is similar to Josh Giddey, in that he often looks for open teammates first. If Daniels can quickly improve his shot making ability, I truly believe that he has a major role on this roster. With the abundance of picks, I do not see why the Thunder can't take a risk early here.
13. Charlotte Hornets – Jeremy Sochan – Baylor (Freshman)
Sochan has the ability to be a lockdown defender, coming off of the bench for Charlotte. He is a positionless big man, who can switch all over the place on defense. He was not asked to do too much on offense at Baylor. That should remain the same as LaMelo Ball is blossoming into a star in the NBA.
14. Cleveland Cavaliers – Malaki Branham – Ohio State (Freshman)
Branham has a knack for hitting threes from all over the court. He could play a perfect scoring guard option off of the bench to spell Darius Garland. Given the uncertainty in Colin Sexton's future in Cleveland, it makes sense for Cleveland to grab a guard.
15. Charlotte Hornets – Tyty Washington Jr. – Kentucky (Freshman)
Given Charlotte's severe lack of depth at point guard, they should be swinging for one early. Washington has the ability to start right away. Slotted in next to LaMelo Ball, the Kentucky guard should get plenty of developmental opportunities early in his career.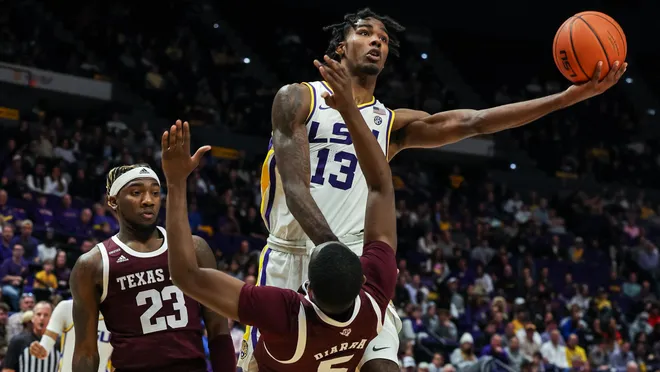 16. Atlanta Hawks – Tari Eason – LSU (Sophomore)
Last year was a down season for the Hawks, but at their best, they are ECF participants. Adding more scoring to playoff teams is always a good option and with Eason averaging just short of 17 points per game last makes this selection very attractive for the Hawks in this 2022 NBA Mock Draft.
17. Houston Rockets – Ochai Agbaji – Kansas (Senior)
Agbaji was the leader of the National Championship team last year. He will bring outside scoring as well as leadership to a young and rebuilding Rockets team. Adding a wing alongside Jalen Green will help to open up Banchero and move the offense efficiently.
18. Chicago Bulls – Ousmane Dieng – New Zealand Breakers
The upside for Dieng is huge. He has strong ball-handling, playmaking and decision-making in his game, which fits well with a Chicago team, who is not short on scoring the ball. The Bulls may have been a star away from beating the Bucks in the first round. Since they will not get a franchise changer at this spot in the draft, it makes sense to build some depth for your bench.
19. Minnesota Timberwolves – Jalen Williams – UC-Santa Clara (Junior)
Jalen Williams is a knock-down three-point shooter who can help Karl-Anthony Towns to hit three-point shots. This also gives the Timberwolves the liberty to let Anthony Edwards play his slashing game. Williams gives the Timberwolves a lot of upside to continue to make that push to the playoffs.
20. San Antonio Spurs – Kennedy Chandler – Tennessee (Freshman)
Chandler is a fast guard who can instantly revitalize the Spurs' bench scoring. His athleticism and wingspan make up for his small size, 6-1. His speed and aggressiveness, though, should be enough to carve out a role as a San Antonio bench player, which is why he is the pick in this 2022 NBA Mock Draft.
21. Denver Nuggets – Dalen Terry – Arizona (Sophomore)
While Denver may trade out of this pick, Dalen Terry may be someone to look at here. With Jamal Murray's injury status up in the air and Monte Morris playing more of an off-guard position, there is a need for depth at PG for the Nuggets. Terry's 7-1 wingspan makes it very intriguing as a defender.
22. Memphis Grizzlies – Blake Wesley – Notre Dame (Freshman)
Blake Wesley is a lightning-quick guard, who can create almost any shot for himself. His poor shooting percentage may be more of result of playing hero-ball, which he will not have to do in the NBA. He should provide Memphis with spurts of scoring when Ja Morant is off of the court.
23. Philadelphia 76ers – E.J. Liddell – Ohio State (Junior)
The 76ers are in desperate need of depth at their power forward position. He is a defensive-minded forward, who can racks up a ton of blocks and steals with his long wingspan. He is an alright shooter who can help to space the floor when Joel Embiid and James Harden are on the court.
24. Milwaukee Bucks – Walker Kessler – Auburn (Sophomore)
With recent reports coming out that the Bucks are looking to trade up, they may not draft here. The number one concern for the Bucks right now is adding another big man. They were out-rebounded in their series loss to Boston. Kessler makes sense here, as he is a smooth, physical seven-footer, who can rebound and block shots well. Also if the Bucks move on from Brook Lopez soon, Kessler may be the first to fill that spot.
25. San Antonio Spurs – Jake LaRavia – Wake Forest (Junior)
LaRavia is a smart player who can play both in transition and in the half-court. He is a versatile forward, who won't impress you by one thing, but will play solid at everything he does. His passing and playmaking will gives Spurs fans something to be excited about with Kennedy Chandler and Johnny Davis.
26. Houston Rockets – Nikola Jovic – Mega Mozzart
With their abundance of first-round picks this year, the Rockets have the liberty to take a swing on the unknown Jovic in this 2022 NBA Mock Draft. At 6-10, Jovic has the ball-handling skills and passing ability to play like a guard. He does not have a great NBA body, but his deep three-point shooting alone, gives him intrigue.
27. Miami Heat – Jaden Hardy – G-League Ignite
Jalen Hardy has the skillset to immediately step into a championship contender and produce, think Cam Thomas or Bones Hyland last year. Hardy plays with a certain confidence that he is always the best player on the court, something that we see with Tyler Herro. Miami can afford to take Hardy here, as in basketball, you can never have too many scorers.
28. Golden State Warriors – Christian Braun – Kansas (Junior)
Christian Braun is the classic, not do anything spectacular, but do everything well player. That sounds like a Golden State Warrior to me. Braun had experiences winning, playing with talent and spacing the floor – something that he will need to do in GS. He is a capable three-point shooter and defender and should provide the Warriors with their patented bench depth.
29. Memphis Grizzlies – MarJon Beauchamp – G-League Ignite
Beauchamp should provide immediate defense for the Grizzlies, with his great size and athletic ability. He is a player who can get up in a ball-handler's face and then run in transition. With a young roster like the Grizzlies, it seems like Beauchamp can be an instant contributor.
30. Denver Nuggets – Kendall Brown – Baylor (Freshman)
Brown does not really have a full NBA skill set, but he has the athleticism to develop into that. That seems like a good pick for Denver, as they are looking to contend. Almost like a poor man's Michael Porter Jr., the Nuggets could stash Brown while he develops in anticipation for production two or three years from now.