The 2022 NBA Draft is set to take place on Thursday, June 23rd at the Barclays Center in Brooklyn. Following the results of the NBA Draft Lottery, we now have a full picture of this year's order of picks. There are plenty of quality prospects in this year's NBA Draft class. Among the players that are expected to be lottery picks this year is forward Jabari Smith out of Auburn. The following is a complete Jabari Smith draft profile including stats, highlights and an NBA Mock Draft projection.
Jabari Smith NBA Draft Profile, Stats, Highlights and Projection
Jabari Smith Jr.
Position: Forward
Height: 6'10"
Weight: 210
Age: 19
Team: Auburn Tigers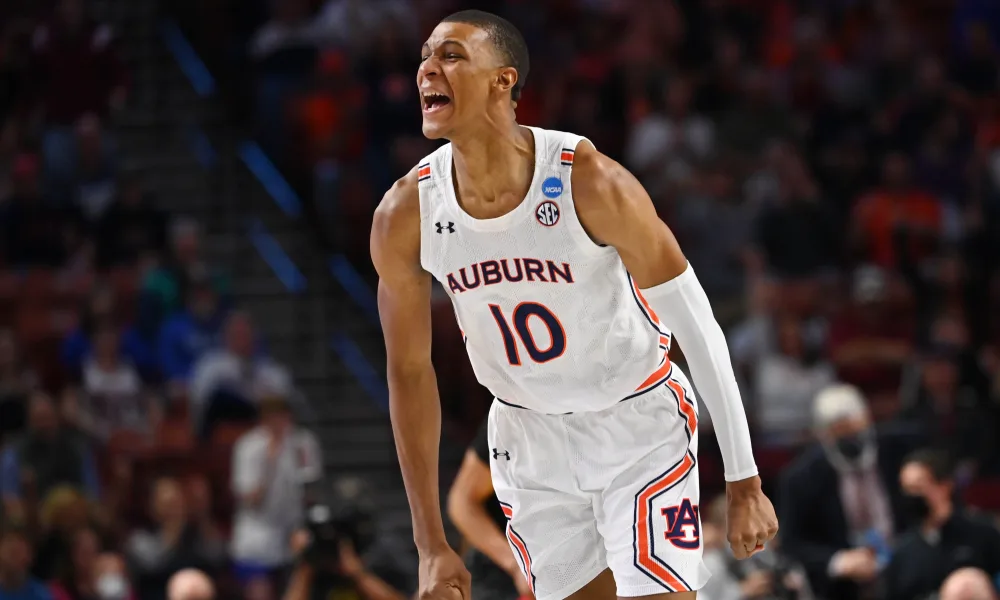 2021-22 Jabari Smith Stats | Auburn Tigers
| | | | | | | | | | |
| --- | --- | --- | --- | --- | --- | --- | --- | --- | --- |
| G | Pts | Reb | Ast | FG% | 3FG% | FT% | Stl | Blk | TO |
| 34 | 16.9 | 7.4 | 2.0 | 42.9 | 42.0 | 79.9 | 1.1 | 1.0 | 1.9 |
Jabari Smith Draft Profile
Strengths
One of the primary reasons why Jabari Smith is considered by many to be the best prospect in the 2022 NBA Draft class is his combination of size and athleticism. He possesses terrific quickness for a player listed at 6'10" tall. Smith is also an excellent three-point shooter whose perimeter prowess should have little trouble shining through at the pro level. Thanks to his size, his smooth jump shot is practically unguardable. Smith is also a skilled on-ball defender. His size and willingness to hustle result in plenty of versatility on the defensive end. Smith also has good genes given that his father played four NBA seasons of his own.
Weaknesses
Smith's rare combination of physical attributes leads many to believe that he could one day be a positionless superstar at the NBA level. However, he will need to improve upon his ball-handling skills for that sky-high outlook to transpire. He fails to get low when handling the basketball which makes him vulnerable to defenders with active hands. It also impacts his ability to drive and finish at the rim. Given how strong Smith's jump shot already is, developing his dribble-drive attack would make him virtually unstoppable as a scorer.
Jabari Smith Highlights
Jabari Smith Draft Projection
All 2022 NBA Draft projections are taken from the latest Yahoo! Sports NBA Mock Draft by Krysten Peek.
Jabari Smith is currently projected to be drafted by the Orlando Magic at No. 1 overall.