The 2022 NBA Draft is set to take place on Thursday, June 23rd. Following the results of the NBA Draft Lottery, we now have a full picture of this year's order of picks. There are plenty of quality prospects in this year's NBA Draft class. Among the players that are expected to be lottery picks this year is center Chet Holmgren out of Gonzaga. The following is a complete Chet Holmgren draft profile including stats, highlights and an NBA Mock Draft projection.
Chet Holmgren NBA Draft Profile, Stats, Highlights and Projection
Chet Holmgren
Position: Center
Height: 7'0″
Weight: 196
Age: 20
Team: Gonzaga Bulldogs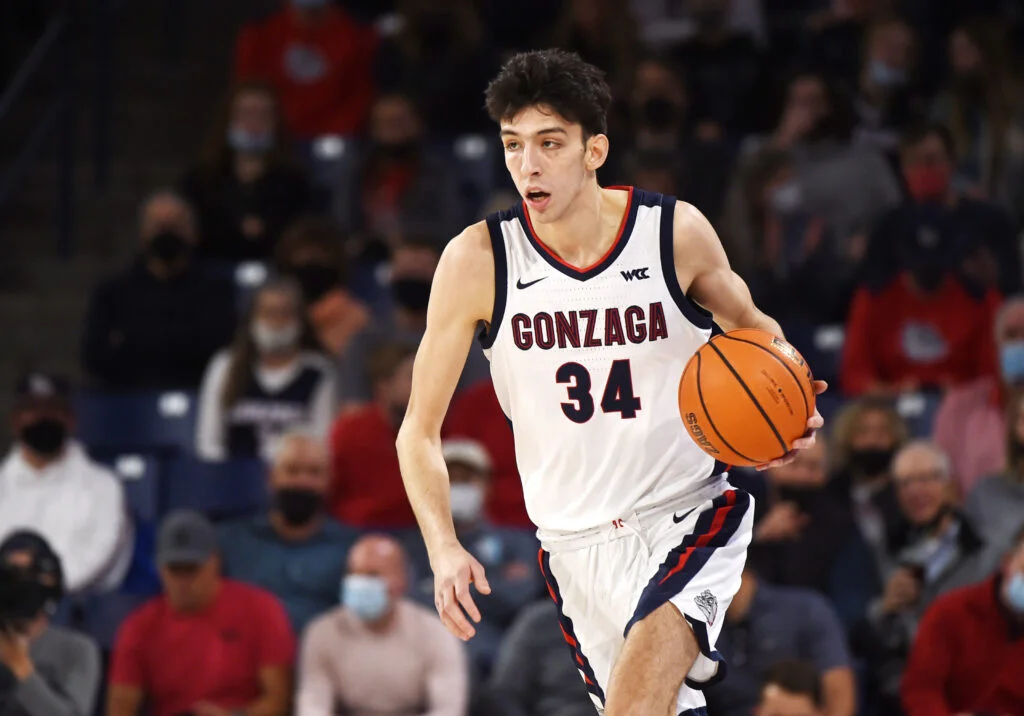 2021-22 Chet Holmgren Stats | Gonzaga Bulldogs
| | | | | | | | | | |
| --- | --- | --- | --- | --- | --- | --- | --- | --- | --- |
| G | Pts | Reb | Ast | FG% | 3FG% | FT% | Stl | Blk | TO |
| 32 | 14.1 | 9.9 | 1.9 | 60.7 | 39.0 | 71.7 | 0.8 | 3.7 | 1.9 |
Chet Holmgren Draft Profile
Strengths
Chet Holmgren was able to compile impressive stats in numerous categories in his lone season at Gonzaga. However, the one figure that truly stands out in the table above has to be his 3.7 blocks per game. As a seven-footer who also boasts the speed and quickness of a guard, Holmgren was a terror for numerous opponents as a shot blocker and rim protector. He also has excellent coordination for a player of his size. Holmgren can slide laterally and play strong perimeter defense, a necessity in today's NBA. On offense, his athleticism makes him a smooth finisher at the rim. He also has a great feel for the game and is not afraid to set up teammates with quality passes.
Weaknesses
For Holmgren to truly excel at the next level, he clearly will need to add some muscle to his skinny, 196-pound frame. Because he is so light, he is vulnerable as a straight-up post defender. Even smaller forwards or big, strong guards are capable of backing him down. That figures to only be more evident when he begins playing against NBA-caliber size and talent. While Holmgren is a silky smooth finisher, his lack of size and strength also impacts his ability to finish through contact. A player of his size should also have a greater arsenal of post moves than what Holmgren currently possesses.
Chet Holmgren Highlights
Chet Holmgren Draft Projection
All 2022 NBA Draft projections are taken from the latest Yahoo! Sports NBA Mock Draft by Krysten Peek.
Chet Holmgren is currently projected to be drafted by the Oklahoma City Thunder at No. 2 overall.