The 2022 NBA Draft is set to take place on Thursday, June 23rd. Following the results of the NBA Draft Lottery, we now have a full picture of this year's order of picks. There are plenty of quality prospects in this year's NBA Draft class. Among the players that are expected to be lottery picks this year is forward Tari Eason out of LSU. The following is a complete Tari Eason draft profile including stats, highlights and an NBA Mock Draft projection.
Tari Eason NBA Draft Profile, Stats, Highlights and Projection
Tari Eason
Position: Forward
Height: 6'8″
Weight: 215
Age: 21
Team: LSU Tigers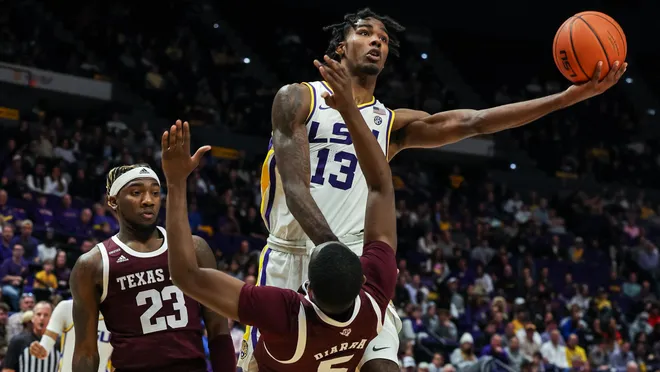 2021-22 Tari Eason Stats | LSU Tigers
| | | | | | | | | | |
| --- | --- | --- | --- | --- | --- | --- | --- | --- | --- |
| G | Pts | Reb | Ast | FG% | 3FG% | FT% | Stl | Blk | TO |
| 33 | 16.9 | 6.6 | 1.0 | 52.1 | 35.9 | 80.3 | 1.9 | 1.1 | 2.2 |
Tari Eason Draft Profile
Strengths
It's hard to find a player who can move as smoothly with the ball as Tari Eason does at his size. Eason has solid ball-handling skills and footwork that is well polished overall for a college athlete. He has a solid three-point jumper that, if it translates, will be instrumental to a seamless transition into the NBA. Few bigs are as gifted as Eason when it comes to transition and perimeter defense. His long frame and knack for swiping for the ball at the right time led to plenty of forced turnovers at LSU.
If he can bulk up just a little bit, he'll be too quick for your average power forward and too big for your average small forward, making him a possible matchup nightmare at the next level.
Weaknesses
The biggest problem with Eason is he is often too predictable on dribble drives. At LSU, you would rarely find a time when Eason even tried to go left much less found success driving left. If he can't find success driving left, he'll have some real trouble driving to the hole with any consistency. While his defense is solid at the college level, he often gets over-eager going for the big play on defense. If he isn't more careful, he could find himself having some major problems with foul trouble at the next level.
Tari Eason Highlights
Tari Eason Draft Projection
All 2022 NBA Draft projections are taken from the latest Yahoo! Sports NBA Mock Draft by Krysten Peek.
Tari Eason is currently projected to be drafted by the Charlotte Hornets at No. 13 overall.