The 2022 NBA Draft is set to take place on Thursday, June 23rd at the Barclays Center in Brooklyn. Following the results of the NBA Draft Lottery, we now have a full picture of this year's order of picks. There are plenty of quality prospects in this year's NBA Draft class. Among the players that are expected to be lottery picks this year is forward Ochai Agbaji out of Auburn. The following is a complete Jabari Smith draft profile including stats, highlights and an NBA Mock Draft projection.
Ochai Agbaji NBA Draft Profile, Stats, Highlights and Projection
Ochai Agbaji
Position: Guard
Height: 6'5"
Weight: 210
Age: 22
Team: Kansas Jayhawks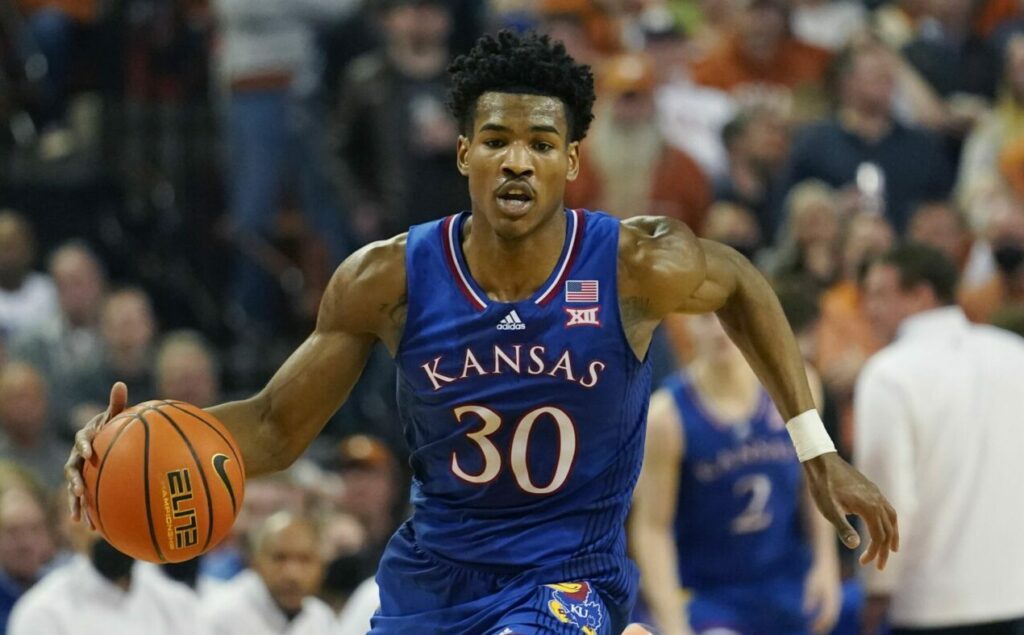 Ochai Agbaji Stats | 2021 Kansas Jayhawks
| | | | | | | | | |
| --- | --- | --- | --- | --- | --- | --- | --- | --- |
| G | Pts | Reb | FG% | 3FG% | FT% | Stl | Blk | TO |
| 39 | 18.8 | 5.1 | 47.5% | 40.7% | 74.3% | 0.9 | 0.6 | 2.1 |
Ochai Agbaji Draft Profile
Strengths
At 6-5, 210, Ochai Agbaji should immediately be able to match up with almost any two-guard in the sport. On the defensive side of the ball, Agbaji should be able to use his size and physicality to establish himself as a fine wing defender. On the offensive side of the ball, Agbaji was a four-year player at Kansas, who increased his PPG every year. His long strides and high leaping ability gives whoever drafts him a player who is a threat in transition. Agbaji is no slack in the half-court either, as he shot just north of 40% from the three-point line in his senior season at Kansas. His high shot release should be enough to be a serviceable bench player early in his career.
Weaknesses
As was shown in the National Championship against North Carolina, Agbaji isn't totally consistent as a ball-handler. He may find trouble in the NBA if his first move is cut off, as he prefers to go north and south as opposed to going east and west. While Agbaji plays physical defense, he sometimes falters to standing straight up, allowing a quick dribble move to get by him. He will also probably need to develop better rebounding to make an immediate impact.
Ochai Agbaji Highlights
Ochai Agbaji Draft Projection
All 2022 NBA Draft projections are taken from the latest Yahoo! Sports NBA Mock Draft by Krysten Peek.
Ochai Agbaji is currently projected to be drafted by the Oklahoma City Thunder at No. 12 overall.