The 2022 NBA Draft is set to take place on Thursday, June 23rd. Following the results of the NBA Draft Lottery, we now have a full picture of this year's order of picks. There are plenty of quality prospects in this year's NBA Draft class. Among the players that are expected to be lottery picks this year is guard Shaedon Sharpe out of Kentucky. The following is a complete Shaedon Sharpe draft profile including stats, highlights and an NBA Mock Draft projection.
Shaedon Sharpe NBA Draft Profile, Stats, Highlights and Projection
Shaedon Sharpe
Position: Guard
Height: 6'4″
Weight: 198
Age: 19
Team: Kentucky Wildcats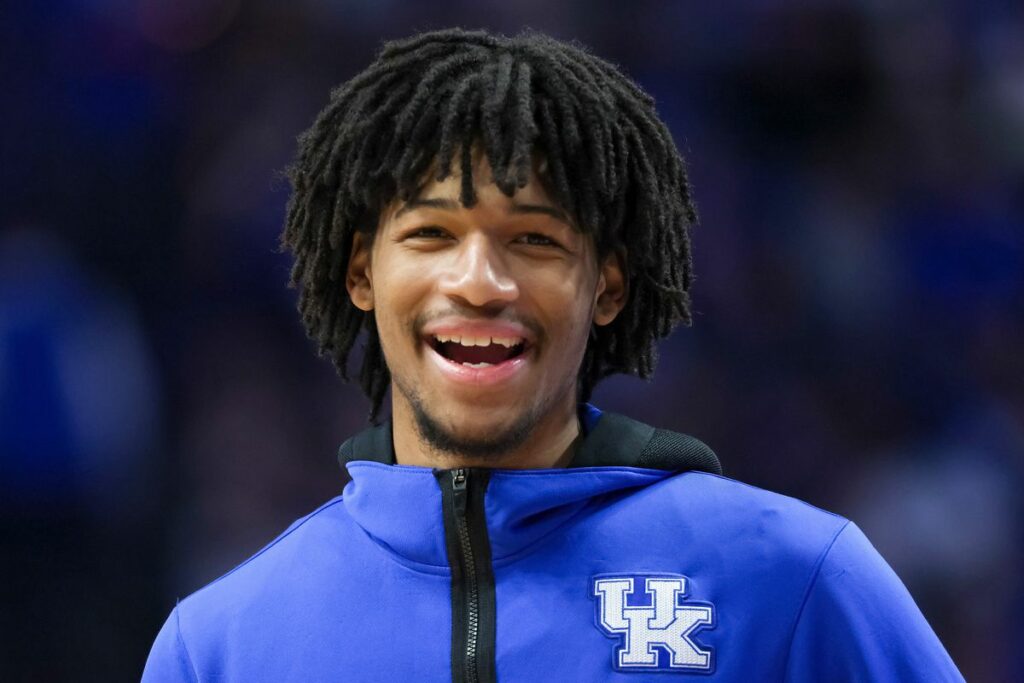 Shaedon Sharpe High School Stats | Dream City Christian Eagles
| | | | | | | | | | |
| --- | --- | --- | --- | --- | --- | --- | --- | --- | --- |
| G | Pts | Reb | Ast | FG% | 3FG% | FT% | Stl | Blk | TO |
| 12 | 21.4 | 6.0 | 3.0 | 60.8 | 18.8 | 75.0 | 1.5 | 0.9 | 1.2 |
Shaedon Sharpe Draft Profile
Strengths
Arguably the biggest wild card in the 2022 NBA Draft is Shaedon Sharpe. After blossoming into one of the most highly-regarded high school prospects in the country, Sharpe is now set to embark on an NBA career after not playing a single minute of collegiate basketball. He enrolled at Kentucky in the middle of last season and decided to commit to the pre-draft process immediately given that he had technically fulfilled the one-year requirement between high school and the pros. Sharpe will bring plenty of energy on the defensive end from Day 1. His athleticism and lateral quickness make him a terrific on-ball and help defender. Sharpe also possesses a terrific isolation jump shot and has plenty of bounce for some explosive finishes at the rime.
Weaknesses
Perhaps the biggest weakness that teams will have to weigh when it comes to drafting Sharpe is his lack of big-game experience. Transitioning from a high school program where he failed to get much big-game exposure straight to the NBA will be a massive adjustment for the 19-year-old. Sharpe also lacks much experience when it comes to running a pro-style offense. He will need to learn how to better operate in pick and roll. Poor shot selection was also an issue at times in high school. Defensively, Sharpe will need to hone his instincts in order to become a better off-ball and rotational defender.
Shaedon Sharpe Highlights
Shaedon Sharpe Draft Projection
All 2022 NBA Draft projections are taken from the latest Yahoo! Sports NBA Mock Draft by Krysten Peek.
Shaedon Sharpe is currently projected to be drafted by the Detroit Pistons at No. 5 overall.