When drafting a fantasy football best ball team, one of the most important strategies to utilize is stacking players from high-scoring offenses to capitalize when they have big weeks (see more fantasy football best ball strategies if you are new to the game). The basic idea for a team stack is to draft a QB and his top two receiving threats. Doing so essentially means you get double points for a receiving touchdown.
You are looking to draft players at or around their average draft position (ADP) without reaching too far so you are getting good value with your picks, ideally maximizing value and upside. Here are two of the top passing attacks stacks and a couple of budget stacks to target for your 2022 fantasy football best ball league, as well as their current ADP on Underdog Fantasy.
---
Check out FlurrySports' NEW Fantasy Football Consistency and Boom/Bust Rankings for this season!
This data applies perfectly for fantasy football best ball leagues, as it shows the players who were top weekly performers most often, as well as the players who were steady week-to-week. Whether you're trying to draft a nice balance or you're wanting only boom or bust players on your roster, our data is essential to building your team!
---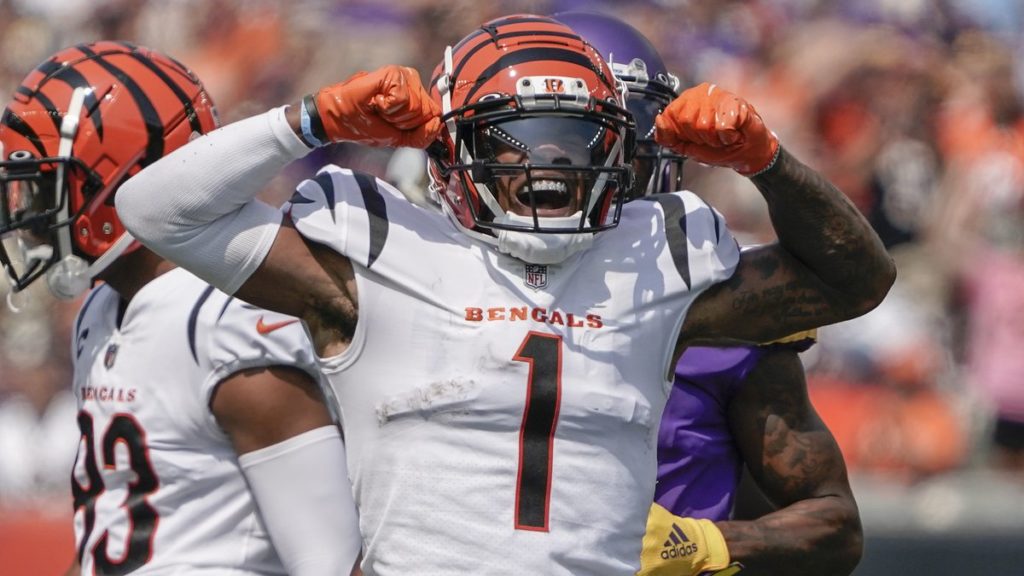 Fantasy Football Best Ball Stacks for 2022
Top Stacks | Fantasy Football Best Ball 2022
Cincinnati Bengals
QB Joe Burrow ADP 74.9, WR Ja'Marr Chase ADP 5.2, WR Tee Higgins ADP 25.4
The Cincinnati Bengals offense was featured here last season, and it did not disappoint. They remain an excellent stacking option again this season, except the cost has gone up substantially. You will need to be drafting in top half of the first round to land Ja'Marr Chase, as he is going 5.2 ADP (average draft position), then follow him up with Tee Higgins a round or two later. Once you are able to get Chase and Higgins, simply add Joe Burrow in the sixth round and you have a stack that has the potential to be the top stack in the game without having to reach for anyone. If you use your other early picks on RBs, you have a nice start to a potential league winner.
Los Angeles Chargers
QB Justin Herbert ADP 45.3, RB Austin Ekeler ADP 6.3, WR Keenan Allen ADP 29.4
If you land a top-five pick, a nice stacking opportunity presents itself with the Los Angeles Chargers. Leading things off is Austin Ekeler, who has an ADP of 6.3. In the third round, add Keenan Allen, who is going 29.4 ADP and averaged 9.8 targets per game last season (tied for fifth in the league). Follow these up with Justin Herbert in the fourth round (45.3 ADP), and you have the nucleus of a very potent offense to lead your team. Another option if you are not able to draft Ekeler early is to take WR Mike Williams, who is going 30.4 overall. This stack is another one that sets up nicely and could be a league winner without having to give up value by reaching.
It is worth mentioning with both of these top stacks that once you have both of the top receivers, you may have an opponent snipe the QB to block you from getting the stack. In that case, you may find it best to target other potential value stacks later in the draft and consider yourself fortunate to have two-thirds of a potent offense.
---
Underdog Fantasy is a new type of DFS that combines the fun of season-long drafts with daily fantasy sports. Aside from their fun, addictive draft mode, Underdog Fantasy also has pick'em player props for many different sports and athletes!
Click the image or RIGHT HERE to get signed up today, and don't forget to use the promo code FLURRY for a FREE $10 bonus on your first deposit!
---
Budget Stacks | Fantasy Football Best Ball 2022
Denver Broncos
QB Russell Wilson ADP 79.1, WR Courtland Sutton ADP 33.5, Jerry Jeudy ADP 43.4
The Denver Broncos offer a great budget stack if you go RB-heavy in the first couple of rounds or if your QB is sniped prior to completing one of the aforementioned top stacks. Courtland Sutton can be had in the third round, with his ADP of 33.5 and follow him up with Jerry Jeudy in the fourth with his ADP of 43.4. Russell Wilson can be nabbed in the seventh round, and you have a nice stack to complement your stable of RBs and WRs you loaded up on. This troika should put up some big weeks and their ADPs won't cost you much.
Arizona Cardinals
QB Kyler Murray ADP 61.9, WR Marquise Brown ADP 41.8, DeAndre Hopkins ADP 72.8
The Arizona Cardinals present a very high upside stack that can be had after loading up on RBs early. With Marquise Brown currently going at 41.8 ADP, you will need to use your third or fourth-rounder on him and your fifth on his QB Kyler Murray, who is going at 61.9 ADP. You can add DeAndre Hopkins later (72.8 ADP) and TE Zach Ertz can be had even later at an ADP of 108.8, in case you want to stack all four or if you miss out on Brown or Hopkins. This option makes a lot of sense and offers plenty of firepower as well without costing you an arm and a leg.
---
Follow us on all of our social channels! Check out our Twitter, Facebook and YouTube for more great FlurrySports content.