With training camp underway, it's a good time to start breaking down the Dallas Cowboys roster position by position to see what this 2021 bunch will look like and which players are competing to make the team. Dallas had a lot of injuries a year ago, forcing a number of young players and reserves to step into more prominent roles. They also drafted 11 players, meaning there will be a ton of competition for the final roster.
In addition, America's Team will be doing this in front of the entire world, since they were chosen as the featured team on HBO's Hard Knocks. With that being said, let's take a look at the defensive backs vying to make the 53-man Dallas Cowboys roster this year.
Dallas Cowboys Roster Breakdown: Defensive Backs
The Locks | Dallas Cowboys Roster
Trevon Diggs, Anthony Brown, Jourdan Lewis, Kelvin Joseph, Nashon Wright, Donovan Wilson
Some may be surprised that only six players are in this section despite the likelihood of ten or 11 making the roster. Still, these are the only players that don't have an "if" attached to their name.
The Corners
Diggs led this team in interceptions a year ago with three of the Cowboys' ten picks. There were ups and downs in his rookie campaign, but he established himself as a starter moving forward, and heading into the new season, Diggs is conducting himself as the top dog of the secondary.
Brown and Lewis both earned reasonable, short-term extensions in the past two offseasons and are veterans with a history of occasional flashes of competency at the position. Brown is heading into the season as the favorite to be the week-one starter across from Diggs, while Lewis is currently entrenched as Dallas' slot player.
Joseph could very well have something to say about who the starter is across from Diggs before the season is over. With he and Wright both being top-100 selections this past April, their spots have to be guaranteed as well.
The Safeties
Maybe the title should be "Safety," considering I've only got one as a lock to make the team. Still, even if Wilson lost his starting role, his ability as a hard-hitting special teams ace would earn him a job.
As it currently stands, he will be one of the two starters on day one after forcing three fumbles a year ago while recovering two and picking off a pair of passes. Wilson may occasionally have lapses in coverage, but his ability to make plays when the ball is in his sights was one of the few refreshing memories from a year ago for the Cowboys' defense.
---
Dallas Cowboys Roster Breakdown
QB | RB | WR | TE | OL | DL | LB
---

Fighting For a Spot | Dallas Cowboys Roster
C.J. Goodson, Maurice Canady, Reggie Robinson, Darian Thompson, Damontae Kazee, Jayron Kearse, Malik Hooker, Israel Mukuamu
As I mentioned, the Cowboys are likely to keep at least four from this bunch, but there will be a lot of competition for those spots. There are veterans, draft picks, and projects in this group, and how the final roles are determined will be fun to watch.
If the Cowboys keep six corners, what's their preference?
It's no guarantee that Dallas will have room for Goodson, Canady, or Robinson, but if they do keep a sixth, it's to come down to a specific role. What's intriguing about that is none of the three have the same skillset.
Goodson has been with the Cowboys since 2018 as a player whose primary role comes on special teams. In fact, among the rash of injuries Dallas suffered at corner a year ago, players brought onto the roster as replacements saw time at the position over Wilson, making it difficult to even call him a cornerback. He's just a special teamer.
As for Canady, he was a bit of a project during his early years with Baltimore and had to help on special teams to earn his place on the team. After opting out a year ago due to the pandemic, the Cowboys have finally gotten to see if that developmental stage with the Ravens paid off and early returns look promising.
The Long Shot
Robinson is a different story entirely. In the 2020 NFL Draft, Dallas selected him in the fourth round with the idea of moving him to safety, only to switch him back to corner this offseason.
His size and athletic makeup are a spot-on match for what Dan Quinn prefers at corner, but that and his draft slot might not be enough to give him an edge here. Coming out of Tulsa, he was thought to require some patience regardless of the position, and the position carrousel has only stunted that process.
The preseason may not be long enough for him to prove himself, and in a perfect world, the Cowboys would be fortunate to sneak him onto the practice squad. Still, if we see his upside flash over the next month, Dallas may find a way to protect him on the final roster.
The Rest of the Safeties
I'll start by saying that barring a pair of injuries, either Kazee or Hooker are making this roster. However, I don't believe either is a lock on their own. Both have a history of starting in the NFL, but each tore their Achilles a year ago.
One way or another, one is going to show enough to make Dallas believe they can be the starter across from Wilson, even if it's not week one. The talent is there, and if luck is on the Cowboys' side, both return to form to give Dallas one of the more promising groups on the backend in some time.
Kearse has been a special teams ace during each of his first five years in the league. Not only is he a favorite for one of the final spots on the roster, but his build and skillset likely make him Wilson's backup at strong safety.
Thompson has a much tougher path to this roster, but make no mistake, he's got a chance. A year ago, a strong showing during training camp earned him the starting role at strong safety, but that stint didn't last long as Wilson eventually seized the position for himself.
Still, Thompson knows Quinn's scheme and can play either safety position. He's also more than reliable on special teams. Heaven forbid, if both Kazee and Hooker have significant setbacks in their recovery or suffer an injury, Thompson is the insurance policy.
The Long Shot No. 2
Mukuamu is in a class of his own, and the truth is, he may control his own destiny. He may only be a sixth-round pick, but when a team drafts a player and immediately tells him they are changing his position, it means they see something.
I personally think he's a strong candidate to end up on the practice squad. Still, if the rest of the league gets a whiff of what Dallas saw to prompt his selection, protecting him on the final roster may be the only way we can keep him.
Practice Squad Options | Dallas Cowboys Roster
Deante Burton, Kyron Brown, Steven Parker, Tyler Coyle
While Robinson and Mukuamu could end up in this category, these four aren't just camp bodies. A year ago, the Cowboys poached Burton off of Indianapolis' practice squad. He would play three games as a reserve before Dallas waived the cornerback and signed him to their own practice squad.
Parker's story isn't much different. In need of safety depth, the Cowboys signed him to their practice squad last September before promoting him a month later. There are just too many other players that Dallas has brought in over the past year to make me think one of these two can make the roster, but a return to the practice squad wouldn't shock anyone.
Coyle comes with a lot of intrigue. The guy is as physically gifted as safety on the roster. After a productive career at Connecticut, he transferred to Purdue and looked far less impressive. Still, Coyle has traits that can be molded into a contributor, even if it's just as a special teams ace.
Brown spent a little time with the Jets, and his recent signing left Cowboys fans a bit perplexed when many thought that open spot would go to Hooker. Dallas eventually signed him as well, but the fact that the Cowboys were unwilling to wait on him as opposed to Hooker means someone else must have had interest. Still, the practice squad is likely what Brown is competing to make.
---
---
Follow us on all of our social channels! Check out our Twitter, Facebook and YouTube for more great FlurrySports content.
---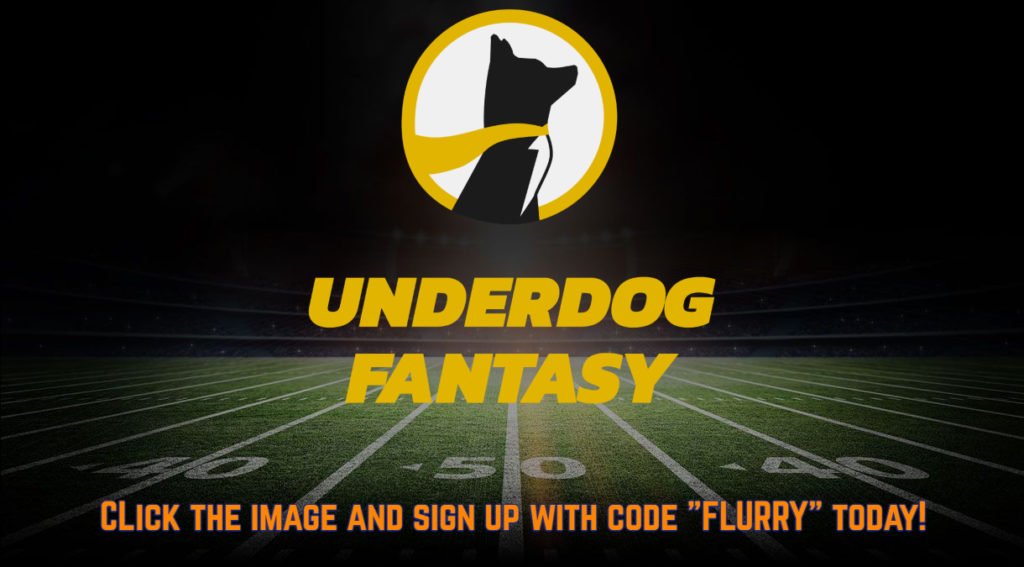 Underdog Fantasy is a new type of DFS that combines the fun of season-long drafts with daily fantasy sports. Aside from their fun, addictive draft mode, Underdog Fantasy also has pick'em player props for many different sports and athletes!
Click the image or RIGHT HERE to get signed up today, and don't forget to use the promo code FLURRY for a FREE $10 bonus on your first deposit!
---