With training camp underway, it's a good time to start breaking down the Dallas Cowboys roster position by position to see what this 2021 bunch will look like and which players are competing to make the team. Dallas had a lot of injuries a year ago, forcing a number of young players and reserves to step into more prominent roles. They also drafted 11 players, meaning there will be a ton of competition for the final roster.
In addition, America's Team will be doing this in front of the entire world, since they were chosen as the featured team on HBO's Hard Knocks. With that being said, let's take a look at the offensive linemen vying to make the 53-man Dallas Cowboys roster this year.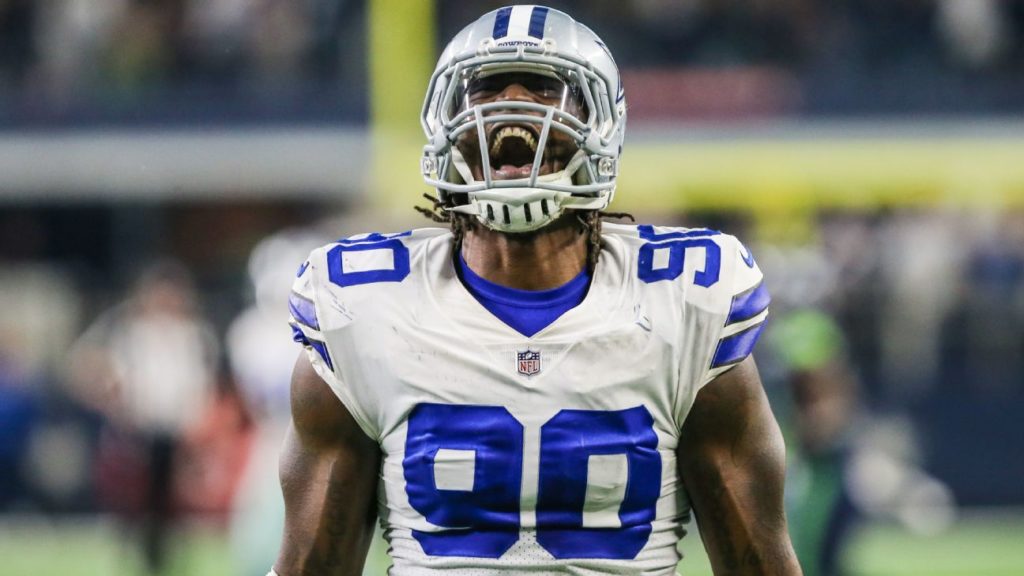 Dallas Cowboys Roster Breakdown: Defensive Line
The Locks | Dallas Cowboys Roster
Demarcus Lawrence, Randy Gregory, Brent Urban, Neville Gallimore, Carlos Watkins, Tarell Basham, Osa Odighizuwa, Chauncey Gholston
The defensive line is one of the more challenging positions to project for this roster. Not only is Dan Quinn in his first year as defensive coordinator for the Cowboys, but he's also planning on using a variety of fronts that could see many on this list playing different positions.
Will Urban line up as a nose or a five-tech end more often? Will Lawrence play the five, a natural end position, or as a stand-up linebacker the most? The same question holds true for Gholston as well. Do Gallimore and Watkins play more as a nose or three-tech, and how does that affect the other? Does this staff favor the recent additions over the ones made for Mike Nolan's defense or the regime under Jason Garrett?
There are many questions, and yet this staff is going to play coy until they absolutely have to show their hand. Even then, it may turn out that the answer to every question is "maybe," based on what we see in camp.
Lawrence and Gregory are likely to be the top edge rushers on this team, assuming Lawrence's back is healed before camp breaks and Gregory doesn't get any calls from the commissioner's office. Basham is also the most experienced rusher behind those two with 7.5 career sacks, and his two-year deal should come with a strong enough commitment to be a lock as well.
Inside, Urban and Watkins were brought in specifically to improve this run defense in Dan Quinn's system. In addition, Gallimore, Odighizuwa, and Gholston all have substantial upside with the potential to play a significant role on the line this season.
Can this group get enough pressure?
A year ago, the Cowboys' run defense was atrocious, and the moves they've made this summer reflect a desire to correct that. However, their 31 sacks last season isn't the most impressive number either.
Because of that, I think a veteran edge rusher could be on the wish list come final cuts. Ideally, Lawrence would return to the double-digit sack totals that earned him a lucrative extension in 2019, and Gregory would finally have that breakout season that Cowboys' fans have been pining for since he was drafted.
Still, recent history would suggest that both of those notions are overly-optimistic fantasies, and the addition of Basham isn't likely to change that. Yes, linebackers like Jaylon Smith and Micah Parsons could help, but neither is built like a prototypical edge rusher.
It's more likely that those guys do more coming on the blitz than lining up on the edge and beating the tackle one-on-one. With that in mind, I won't be shocked if Dallas targets an experienced pass rusher at some point before final cuts.
---
Dallas Cowboys Roster Breakdown
QB | RB | WR | TE | OL | DL | LB | DB
---

Fighting For a Spot | Dallas Cowboys Roster
Trysten Hill, Dorance Armstrong, Quinton Bohanna, Bradlee Anae, Justin Hamilton, Ron'Dell Carter
With eight players in the prior list thanks to abilities, draft status, or the financial commitment to the team, it would seem that this team has only two or three spots available from this group. Once again, the description of these final spots will heavily depend on the roles that the staff seeks to fill come final cuts.
For instance, if guys like Urban, Odighizuwa, and Gholston are going to play primarily on the inside, edge rushers will be the priority with these final spots. However, if Dallas is likely to employ a five-tech end in addition to the two defensive tackles in their base look, it could open up room for more interior players.
Which edge player has the upper hand?
Armstrong, Anae and Carter are the players competing to be the final edge rusher on this roster. Of the group, Armstrong is the most proven as the veteran of the bunch. However, it's also important to point out that he's only a month older than Carter and six months older than Anae, despite having two more years of experience.
Armstrong was drafted into the NFL at 20 years old, and if we are going to stand our edge players up in the base defense, it's a role that he was best suited for coming out of Kansas. Carter also has the ability to fit that role, while Anae is probably the one that would benefit leas from standing up.
Still, Anae is a guy that is very intriguing based on his technically savvy playing style and his non-stop motor. However, if any of these three is going to win a spot on the roster, they will have to prove capable after getting to the quarterback in camp. Otherwise, my prediction of searching for an edge rusher on the trading block will become that much more of a likelihood.
Which interior player has the upper hand?
This is a tough one because Hill comes in a much different package than Bohanna and Hamilton. Even more, as a premium draft pick, Dallas may not be ready to give up on the potential that made him a second round.
Still, he's got one role in this defense, and that is as a three-tech (under tackle). He doesn't have the arm length to be a two-gap player like the nose is in Quinn's scheme. However, with both Gallimore and Odighizuwa expecting to see a lot of time as the three-tech, is there room for Hill to play or even make the roster?
Add to that the fact that Hill is still a developmental project and starting camp on the PUP list as he continues to recover from the knee injury that cost him his second season, and he's likely got an uphill battle at making this roster. If anything, he could end up being a trade chip prior to final cuts for a team looking for a natural one-gap penetrator.
Still, Hill can help get after the quarterback, and that's not something Bohanna or Hamilton bring to the table. Both are textbook nose tackles and will likely fight to prove they can be the long-term run-stuffer this defense needs.
Hamilton has more experience, but Bohanna has 34-inch arms that can shine as a two-gap player. I wouldn't be shocked if Bohanna has the edge in this group considering Urban and Watkins are on one-year deals.
Practice Squad Options | Dallas Cowboys Roster
Austin Faoliu, Azur Kamara
I won't be shocked if guys like Bohanna, Anae or Carter are candidates for the practice squad following final cuts. All are young players in need of development that may keep them from initially making the 53-man roster. Still, that upside could also tempt another team into snatching them up during the waiver process, which might dictate carving out a spot for them on the final roster. I'm also not counting out the possible development of Faoliu or Kamara.
Faoliu has the build this team is looking for in a five-tech if they are going to employ an interior-shaded end in this defense for more than a year. He's got long arms and played a similar role at Oregon as an end and an occasional nose tackle.
Kamara is a player I liked coming out of Kansas a year ago. An injury may have ended any chance he had at making the roster a year ago, but his sub 4.6 speed and 35-inch arms are an intriguing combination for an edge rusher. Still, patience is the key to his development.
---
---
Follow us on all of our social channels! Check out our Twitter, Facebook and YouTube for more great FlurrySports content.