The WWE makes their return to Saudi Arabia. For the first time, an elimination chamber match will take place outside the United States or their territories. Many careers could change with the match; one of the most brutal match types in WWE history. The elimination chamber has produced a lot of memorable moments, and this year should be no different. The following are the FlurrySports WWE Elimination Chamber 2022 predictions and picks, along with betting odds from BetOnline Sportsbook.
WWE Elimination Chamber 2022 Start Time and Event Info
WWE Elimination Chamber 2022
Date: Saturday, February 19, 2022
Start Time: 12 p.m. EST
Venue: Jeddah Super Dome – Jeddah, Saudi Arabia
Coverage: Peacock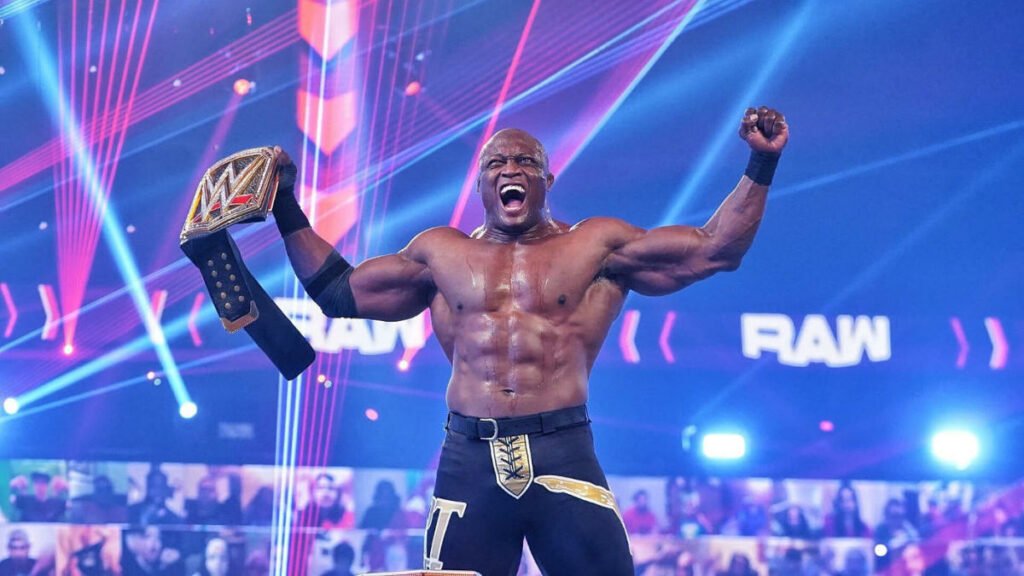 2022 WWE Elimination Chamber Predictions
WWE Elimination Chamber 2022 odds are provided by BetOnline Sportsbook.
WWE Championship Elimination Chamber
The WWE Championship will be defended inside the elimination chamber. Brock Lesnar and Bobby Lashley are the two favorites at -115 and +150, respectively. Here are the full Men's Elimination Chamber 2022 odds.
Lesnar and Lashley are going to battle it out for the title. In the end, Lashley will retain his championship.
Winner: Bobby Lashley (+150)
---
Women's Elimination Chamber
The women are making a big splash not only by having the elimination chamber match, but by this match taking place in Saudi Arabia. The winner of this match gets a title opportunity at WrestleMania. Bianca Belair (-200) is the heavy favorite. Alexa Bliss, just announced on Monday Night Raw, has the second-best odds at (+200) with Rhea Ripley (+300) just behind her.
Here are the full women's odds to win the Elimination Chamber.
The last three will not be winning the match. Bliss and Ripley could be in the final two, but neither one is winning. Bianca Belair will be going to WrestleMania to fight for a women's championship for the second consecutive year.
Winner: Bianca Belair (-200)
---
Roman Reigns (-1250) vs Goldberg (+550)-Universal Championship
Goldberg has come back for his yearly match in the WWE. He comes back and immediately gets a chance at the Universal Championship. Roman Reigns comes in after beating Seth Rollins three weeks ago at the Royal Rumble. Reigns is the heavy favorite and I don't see a way he doesn't come out of the match without his championship.
Winner: Reigns (-1250)
---
---
Becky Lynch (-1500) vs Lita (+575)-Raw Women's Championship
Lita made her return at the Royal Rumble and now is getting a shot at the Raw Women's Championship. Becky Lynch does not look concerned at all with Lita. Lynch is not losing her title any time before WrestleMania. Lynch easily takes this one.
Winner: Becky Lynch (-1500)
---
The Usos (-500) vs The Viking Raiders (+300)-Smackdown Tag Team Championship
The Bloodline has been keeping Smackdown at bay for the past several months. The Viking Raiders are going to try and step in and stop them. The Viking Raiders are much bigger than the Usos, so this match will be longer than some people expect.
The Usos should not be dropping the belts in Saudi. Take the Usos to win this match.
Winner: The Usos (-500)
---
Ronda Rousey & Naomi (-375) vs Charlotte & Sonya Deville (+250)
Sonya Deville has made Naomi's life horrible so far through 2022. Now, these two will get another chance to get into the ring with each other with the two women who will be main eventing one night of WrestleMania. This match would have been just fine without Ronda and Charlotte, but WWE wants the pop of both of them in Saudi. They aren't going to let Naomi take the loss in this rivalry while Sonya isn't back to full-time.
Winner: Ronda Rousey & Naomi (-375)
---
Rey Mysterio (-200) vs The Miz (+150)
The Miz has not had the greatest 2022, as so far he has taken two PPV losses, both involving Edge. Edge is not going to Saudi. Instead, one of his former tag team partners takes over in the rivalry. Rey Mysterio has a reason to beat the Miz after he said that Dominick was Eddie's son. I don't see Miz coming out with the victory after saying that. WWE has changed the way they operate when it comes to stuff like that.
Winner: Rey Mysterio (-200)
---
Drew McIntyre (-600) vs Madcap Moss (+350)- Falls Count Anywhere
Drew McIntyre was injured earlier this year due to Happy Corbin and Madcap Moss. Now, he is coming with a vengeance. He told Madcap that he would stab him with his Claymore sword. This match could end up going anywhere and anyone could get involved. Even with probably having to take on two guys, McIntyre will still get the win here.
Winner: Drew McIntyre (-600)