Tuesday marks the opening of the two-week window in which teams can use their franchise tag to retain a player headed for NFL Free Agency. While some teams have obvious tag candidates, like the Dallas Cowboys' Dak Prescott or Chicago Bears' Allen Robinson, the Seattle Seahawks' situation is a little less black-and-white.
In his 11 years as Seahawks general manager, John Schneider has used the franchise tag only twice. Neither player stuck around long afterwards: kicker Olindo Mare played on the tag in 2010 before signing with Carolina the following year, and Frank Clark was dealt to the Chiefs for picks before the 2019 season. The front office has a few potential options for the tag this year, but with limited cap space to work with already, would any be worth the cost?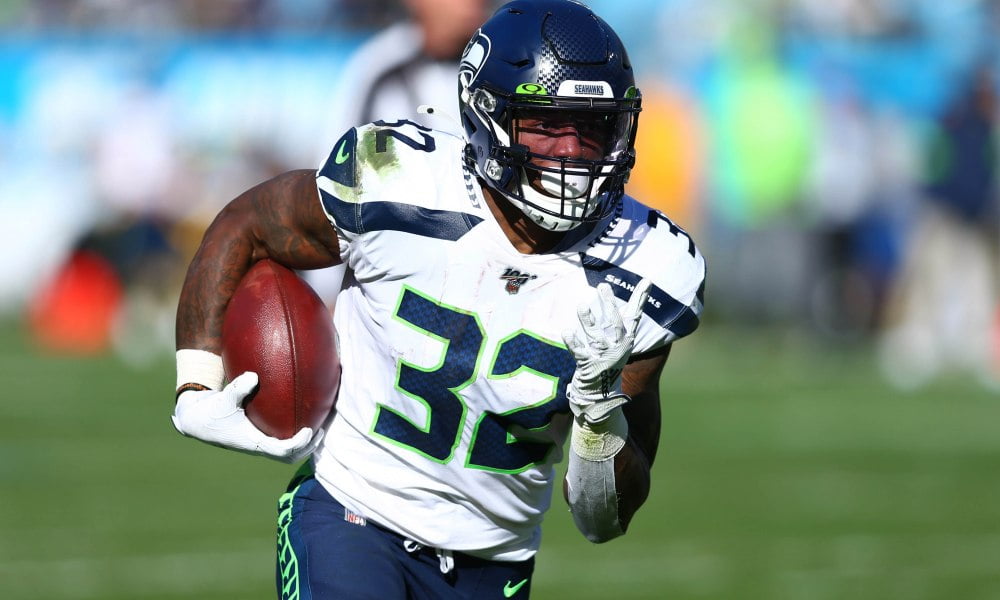 Seahawks Franchise Tag Candidates
Chris Carson
The free agent market for Chris Carson may be thinner than he expects. He's among the best available at his position, but history hasn't been kind to running backs leaving their original team. Since 2005, 11 backs have signed multi-year contracts worth at least $5 million per year with a new team. One is still under contract, but of the remaining 10, only Lamar Miller played every season on his original deal.
Carson's market value, per Spotrac, is $7.4 million per season. The franchise tag is projected to cost about $11.1 million by comparison. That's well outside Seattle's budget and ultimately hurts the team's chances of signing him long-term, as Carson's agent would likely use that figure as the new floor for an extension.
The transition tag, however, is very much in play if the Seahawks are committed to keeping Carson. (If those words immediately bring to mind the Steve Hutchinson fiasco, fret not: the NFL banned "poison pill" clauses in 2011.) It comes with a smaller $8.9 million cap hit and allows Seattle to match any offer Carson gets. If no other team proposes an acceptable contract, they could continue negotiating an extension, trade him or let him play on a reasonable one-year deal.
That's a pretty big "if."
Carson accepting another team's offer would put the front office in a tight spot. They could either match an expensive offer without any say in its terms or lose him for no compensation. The better option is just to let him walk, making Seattle eligible for a mid-round compensatory pick in 2022. Doing so would also save cap space and allow Rashaad Penny a proper audition as lead back. Russell Wilson may not want to see his backfield-mate depart, but he's a luxury the Seahawks can't afford.
Shaquill Griffin
The time of the Griffin twins roaming Seattle's defensive backfield may be coming to an end. Both are set to hit free agency, and while Shaquem's restricted status will make him relatively easy to keep around, Shaquill projects to be one of the top cornerbacks on the open market. That is, unless the Seahawks decide to use their franchise tag on him.
Shaquill's market value comes in at $11 million annually. That's top-20 cornerback money, but the $15.3 million franchise tag would make him the sixth-highest paid in the NFL. Griffin's up-and-down 2020 season doesn't even approach warranting that kind of pay raise. The transition tag isn't an option either, as Seattle would undoubtedly be outbid by a team with more cap space. Tagging him with the intention of trading him could be an option à la Frank Clark, but the bloated cap figure could lower their asking price, forcing Seattle to trade him below his value or keep the cap hit.
Griffin's departure would be a substantial loss, but the Seahawks shouldn't have too much trouble finding a replacement. They have an extensive history of turning little-known corners into solid starters almost overnight. Richard Sherman is the headliner, but guys like Byron Maxwell, Jeremy Lane and Justin Coleman all were late-round picks or went undrafted. More recently, D.J. Reed outplayed Griffin last season after being claimed off waivers and looks locked in as a 2021 starter.
As with Carson, the best move here is to let him test the waters. If someone breaks the bank to sign him, Seattle will receive a likely third or fourth round comp pick. If not, they can bring him back on a new deal more in line with his market value.
K.J. Wright
Hate to say it, but tagging Wright is out of the question. It would guarantee the fan favorite linebacker adds another year to his decade-long Seahawks career, but the $15.7 million tag for the position is just too far above his market value. Even the cheaper transition tag would almost double the $7 million per year he earned on his last contract.
I'm including him here instead of lumping him in with the next group, because the Seahawks should absolutely be willing to overpay a little to keep their longest-tenured player in town. He'll be 32 in July, but has shown no signs of slowing down. He played some of his best football last season despite changing positions to strongside linebacker to accommodate rookie Jordyn Brooks. PFF ranked him seventh among linebackers, and Over The Cap estimates he outplayed his 2020 contract by over $3 million.
Although he stated in an interview with Jim Rome on Monday that he wouldn't take a hometown discount to stay in Seattle, he also expressed a desire to retire as a Seahawk. At $7.1 million, his market value is just slightly above his last contract's average. Giving him another incentive-laden two-year deal with a decent pay bump makes sense for both parties.
Anyone else?
While a few other Seahawks starters have expiring contracts, none are worthy of franchise tag consideration. Quinton Dunbar received a ton of offseason hype based on his stellar 2019 campaign with Washington, then played himself out of Seattle entirely with an inconsistent and injury-riddled year. Benson Mayowa was productive rushing the passer with 6.0 sacks, but it'd take a few more than that to earn $17.8 million. Mike Iupati announced his retirement on Monday. Ethan Pocic is young and plays a thin position, but he's missed 20 games over the last three seasons. He also hasn't played well enough when healthy to justify his second-round selection, much less a franchise tag.
The Seahawks' best-case scenario sees them entering the new league year with a shiny new contract for K.J. Wright and eligibility for a couple of valuable comp picks. It appears the franchise tag will go unused in Seattle for yet another year, and for good reason.