Another NFL Sunday has come and gone, and with it, another week of Fantasy Football. From surprising performances to matchup-crushing disappointments, we can always count on fantasy to deliver some unexpected results. Three of the top five RBs in Week 7 were listed no higher than third on their respective depth charts entering the season. Meanwhile, two of the highest-drafted WRs barely cracked double-digit fantasy points. Chaos is the norm in the NFL and in fantasy football.
Let's take a look at the top fantasy football performances from Week 7 of the NFL season across each position. This week's notable top fantasy performers include D'Andre Swift, Khalil Herbert, Cooper Kupp and Ja'Marr Chase.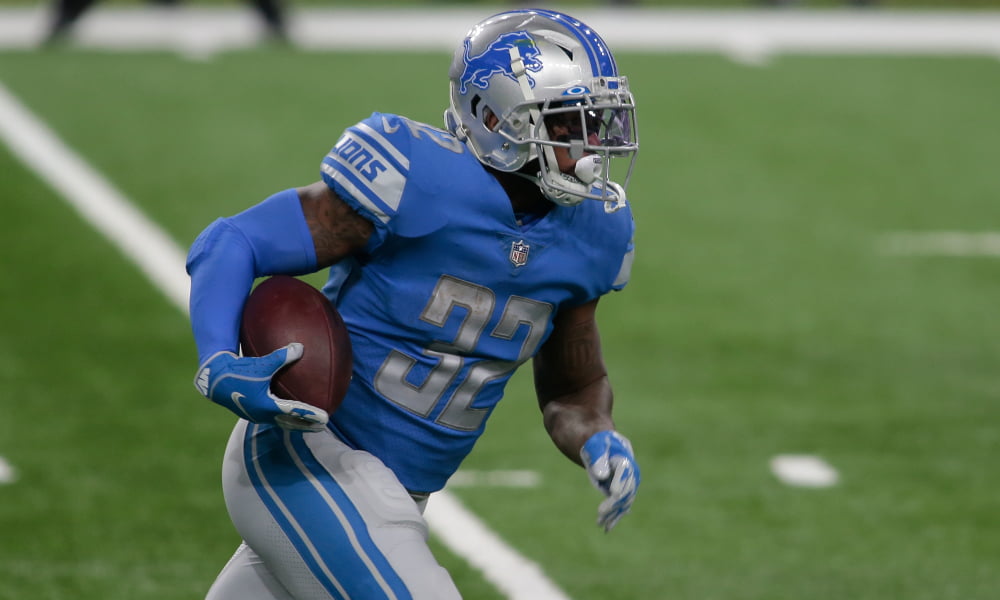 Top Week 7 Fantasy Football Performances | RB
D'Andre Swift | Detroit Lions
Stat Line: 13 carries, 48 yards; 8 receptions, 96 yards, 1 touchdown
PPR Fantasy Points: 28.4 (RB1)
Oddly enough, D'Andre Swift was able to finish as the RB1 in fantasy football for the week despite seeing a nearly identical amount of carries to backfield mate, Jamaal Williams. It was Swift's abilities as a pass-catcher that buoyed this big fantasy performance. He finished with just 48 yards rushing on 13 carries but compiled 96 yards receiving on eight receptions and a touchdown in the Lions' loss to the Los Angeles Rams. Detroit may be a horrendous football team, but Swift carries explosive fantasy potential each and every week. His dual-threat capabilities give him multiple ways to accumulate points, particularly in PPR formats. He is now the RB2 on the season overall, second only to one Derrick Henry.
Damien Harris | New England Patriots
Stat Line: 14 carries, 106 yards, 2 touchdowns; 2 receptions, 7 yards
PPR Fantasy Points: 25.3 (RB2)
Sunday saw Damien Harris eclipse 100 yards rushing for the second consecutive week and third time this season. While he is sparsely used in the Patriots' passing game, that didn't stop him from finishing as the RB2 in PPR scoring on the week. Two rushing touchdowns helped elevate his fantasy football stat line.
It should also be noted that Harris was joined by fellow New England RB Brandon Bolden as a top-five fantasy back in Week 7. Bolden took over as the Patriots' pass-catching specialist after James White was lost to injury a few weeks ago. He caught six passes for 79 yards and a score on Sunday, finishing as the RB4 with 19.9 fantasy points. Needless to say, the Patriots' backs had their way with the New York Jets defense.
Khalil Herbert | Chicago Bears
Stat Line: 18 carries, 100 yards; 5 receptions, 33 yards
PPR Fantasy Points: 18.3 (RB5)
In what is shaping up to be a dismal lost year for the Bears' offense, perhaps they might have stumbled on something special in rookie Khalil Herbert. A sixth-round pick in this year's NFL Draft, Herbert has now posted back-to-back impressive performances filling in for the injured David Montgomery. Even with Damien Williams returning to the lineup on Sunday, Herbert dominated the workload out of the backfield. He notched his first 100-yard rushing game against a Tampa Bay Buccaneers that entered Week 7 allowing less than 55 yards per game on the ground. The fact that Herbert turned in a top-five fantasy football performance in a 38-3 blowout loss is noteworthy, to say the least.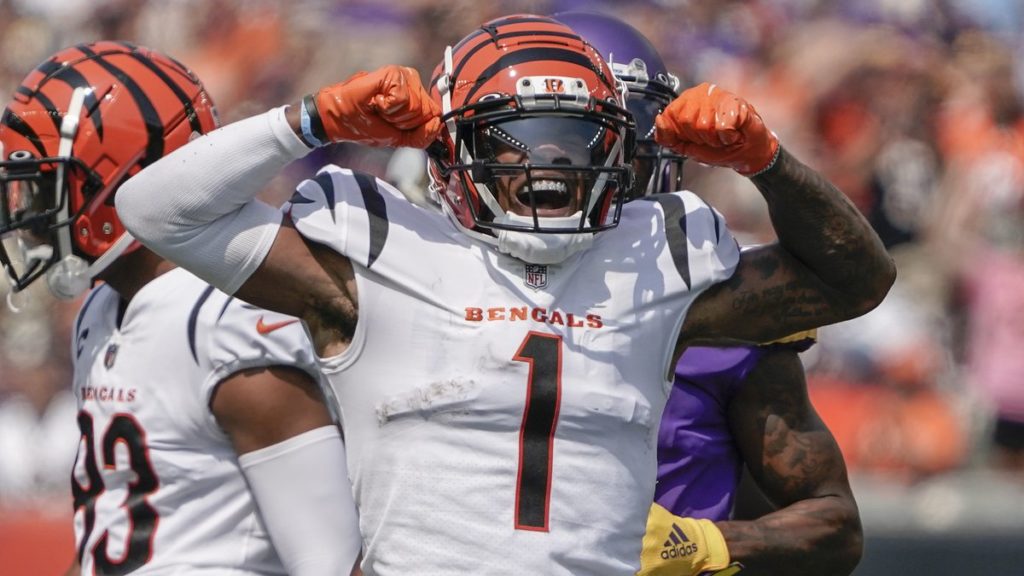 Top Week 7 Fantasy Football Performances | WR
Cooper Kupp | Los Angeles Rams
Stat Line: 10 receptions, 156 yards, 2 touchdowns
PPR Fantasy Points: 37.6 (WR1)
While there have been several big-time fantasy football performances from wideouts through the first seven weeks, Cooper Kupp continues to stand out amongst the crowd. Another week as the WR1 sees him now a full 40 points ahead of the next closest WR (Ja'Marr Chase) in PPR scoring for the season. Kupp led all Rams' receivers in receptions (10) and average yards per catch (15.6). The fact that it came in the revenge game for his quarterback, Matthew Stafford, undoubtedly made it sweeter.
Ja'Marr Chase | Cincinnati Bengals
Stat Line: 8 receptions, 201 yards, 1 touchdown
PPR Fantasy Points: 34.1 (WR2)
Speaking of the WR2 on the season, Ja'Marr Chase was also the second wideout in fantasy football scoring for Week 7. He amassed over 200 yards on eight receptions in the Bengals' upset win over the Baltimore Ravens on the road. Chase has hauled in a long touchdown pass from Joe Burrow seemingly every game thus far. The fact that he is only a rookie should strike major fear into opposing NFL defenses. His trade value is sky-high in redraft leagues and literally through the moon in dynasty formats. Add in Minnesota Vikings' standout Justin Jefferson and it's no wonder that LSU won the College Football National Championship two years ago.
Mike Evans | Tampa Bay Buccaneers
Stat Line: 6 receptions, 76 yards, 3 touchdowns
PPR Fantasy Points: 31.6 (WR3)
With Antonio Brown ruled out for Sunday's game, it was fitting that the Buccaneers' other two wideouts stepped up. Mike Evans wound up with the bigger fantasy football day of the two. However, his value continues to rely rather heavily on scoring touchdowns. The fact that 50% of his receptions in Tampa's Week 7 victory went for scores must be viewed by managers as unsustainable. Evans still is a player worth looking to sell high on in trades after this WR3 performance.
Joining Evans as a top-10 fantasy wideout this week was teammate, Chris Godwin. While he came in over six points short of matching his teammate, Godwin is the preferred player of the two from a volume standpoint. Managers should feel a lot more confident about a line of eight receptions for 125 yards and a score being replicated than three touchdowns on six receptions. Godwin totaled 25.1 fantasy points (WR6) and is now the WR12 on the season despite having found the end zone just three times.
Top Week 7 Fantasy Football Performances | TE
C.J. Uzomah | Cincinnati Bengals
Stat Line: 3 receptions, 91 yards, 2 touchdowns
PPR Fantasy Points: 24.1 (TE1)
Well, would you look at that! For the second time this season, C.J. Uzomah finished the week as the TE1 in PPR scoring. Much like Mike Evans above, the bulk of Uzomah's production came via touchdowns. He turned two of his three receptions into scores to finish with 24.1 fantasy points. While managers should definitely not expect this kind of production from Uzomah all season, he has proven his worth as a fantasy football streamer in favorable matchups. It will be interesting to see how high his ownership climbs following this impressive outing.
Kyle Pitts | Atlanta Falcons
Stat Line: 7 receptions, 163 yards
PPR Fantasy Points: 23.3 (TE2)
It took a few weeks to get him going, but rookie tight end Kyle Pitts is proving to be worth the wait for those managers who drafted him. He was the go-to target for Matt Ryan for the second consecutive game. Pitts reeled in seven catches for over 160 yards in Atlanta's Week 7 win over the Miami Dolphins. He finished with over 23 PPR fantasy points and was the TE2 on the week. The fact that he did so without finding the end zone is very encouraging. There could be another big game in store for Pitts this coming week against the reeling Carolina Panthers.
Top Week 7 Fantasy Football Performances | QB
Matthew Stafford | Los Angeles Rams
Stat Line: 28/41 passing, 334 yards, 3 touchdowns; 2 carries, -2 yards
PPR Fantasy Points: 27.16 (QB1)
Cooper Kupp wasn't the only one putting up a big-time fantasy football stat line on Sunday. Matthew Stafford got the better of Detroit Lions counterpart, Jared Goff, in the revenge game for both teams against their former teams. While Goff threw a pair of INTs, Stafford played a mistake-free game. He finished with over 330 yards passing and a trio of TD passes. He is now the QB6 in fantasy on the season. Stafford is proving to be a tremendous value pick for managers who drafted him. His preseason ADP was not even inside the top-10 at the quarterback position.
Tua Tagovailoa | Miami Dolphins
Stat Line: 32/40 passing, 291 yards, 4 touchdowns, 2 interceptions; 4 carries, 29 yards
PPR Fantasy Points: 26.54 (QB3)
The Dolphins may have lost their sixth straight game on Sunday, but quarterback Tua Tagovailoa certainly impressed on the fantasy football front. The second-year pro completed all but eight of his pass attempts for over 290 yards and four touchdowns in the loss to the Atlanta Falcons. If not for the two interceptions, Tagovailoa would have been the top fantasy QB of Week 7. The fact that he had this solid outing following a week of Deshaun Watson trade rumors is all the more impressive. Tight end Mike Gesicki and wideout Jaylen Waddle have emerged as the top targets for Tagovailoa in Miami.
Top Week 7 Fantasy Football Performances | D/ST
Tampa Bay Buccaneers
Stat Line: 4 sacks, 3 interceptions, 2 fumble recoveries; 311 yards allowed, 3 points allowed
PPR Fantasy Points: 21.0 (D/ST1)
While Khalil Herbert finished as the RB5 in fantasy on the week, he was literally the only Bears player to do any damage against the Buccaneers' defense. The reigning world champs harrassed rookie QB Justin Fields all game long. Tampa Bay came up with five total takeaways, four sacks and only allowed three total points. They were the only fantasy football defense to score over 20 points in Week 7 and are now the D/ST3 on the season overall.
Top Week 7 Fantasy Football Performances | K
Nick Folk
Stat Line: 6-6 PAT; 2-2 FG, 1 from 30-39, 1 from 50+
PPR Fantasy Points: 14.0 (K1)
When your offense scores 54 points, there will be plenty of opportunities to score fantasy points as a kicker. Nick Folk simply had to avoid squandering any of his attempts on Sunday to finish as the K1 in fantasy football for Week 7. He successfully hit all six of his extra-point attempts in the blowout win over the New York Jets. Folk, a former Jet himself, also connected on two field goals, including one from 50 yards out, to score 14 points. A trio of kickers finished just one point behind on the week.