Another NFL Sunday has come and gone, and with it, another week of Fantasy Football. From surprising performances to matchup-crushing disappointments, we can always count on fantasy to deliver some unexpected results. Three of the top five RBs in Week 7 were listed no higher than third on their respective depth charts entering the season. Meanwhile, two of the highest-drafted WRs barely cracked double-digit fantasy points. Chaos is the norm in the NFL and in fantasy football.
The following article looks at some of the biggest fantasy football disappointments from Week 7 of the NFL season across each position. This week's notable fantasy busts include Darrell Henderson, Mike Davis, Julio Jones and Mark Andrews.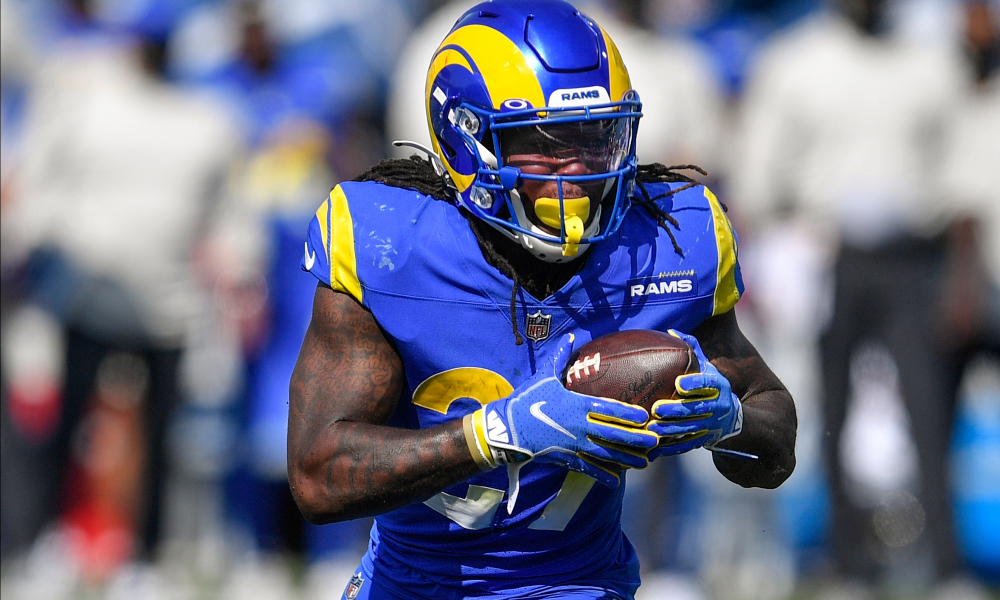 Week 7 Fantasy Football Disappointments | RB
Darrell Henderson | Los Angeles Rams
Stat Line: 15 carries, 45 yards; 3 receptions, 19 yards
PPR Fantasy Points: 9.4 (RB30)
Many fantasy football analysts were salivating over Darrell Henderson ahead of the Rams' Week 7 matchup against the Detroit Lions. Unfortunately, the lead back failed to take advantage of one of the NFL's worst defenses. Despite seeing 15 carries compared to just two for Sony Michel, Henderson did very little with them. He failed to find the end zone and amassed only 45 yards on the ground. If not for three receptions, his PPR scoring line would have been even worse. While Matthew Stafford has turned the Rams into a pass-first offense, Henderson still has plenty of value as the clear top RB in this offense.
Chuba Hubbard | Carolina Panthers
Stat Line: 12 carries, 28 yards; 4 receptions, 28 yards
PPR Fantasy Points: 9.6 (RB28)
With Christian McCaffrey remaining on IR, the Panthers' backfield belonged almost exclusively to rookie Chuba Hubbard again on Sunday. He failed miserably in an attempt to take advantage of a matchup against the New York Giants. Hubbard averaged just 2.3 yards per carry and could only muster 56 total yards on 16 touches. Four of those came as receptions, which helped salvage his PPR scoring day just a bit. Still, Hubbard only finished as the RB28 on the week. The drop-off in talent between him and McCaffrey is undeniable. Furthermore, Hubbard is dealing with the terrible quarterback play of Sam Darnold and a struggling offense as a whole. While he maintains starter status so long as McCaffrey is sidelined, the production isn't nearly what most fantasy managers had hoped for.
Mike Davis | Atlanta Falcons
Stat Line: 4 carries, 10 yards
PPR Fantasy Points: 1.0 (RB61)
So much for all the Mike Davis hype from back before the start of the season. Not only has he taken a backseat to Cordarelle Patterson in the Falcons' backfield, but Week 7 saw him practically phased out of the offense entirely. Davis carried the ball just four times compared to 14 for Patterson. Atlanta put up 30 points on the Miami Dolphins and Davis finished with a measly 10 yards rushing.
Prior to the Falcons' bye week, Davis had at least been getting run as the lead ball-carrier while Patterson mainly operated as the receiving back. This week, even though he was still on the field plenty, he hardly ever touched the football. Sunday's horrendous performance is a bad indication for Davis' fantasy football value the rest of the year.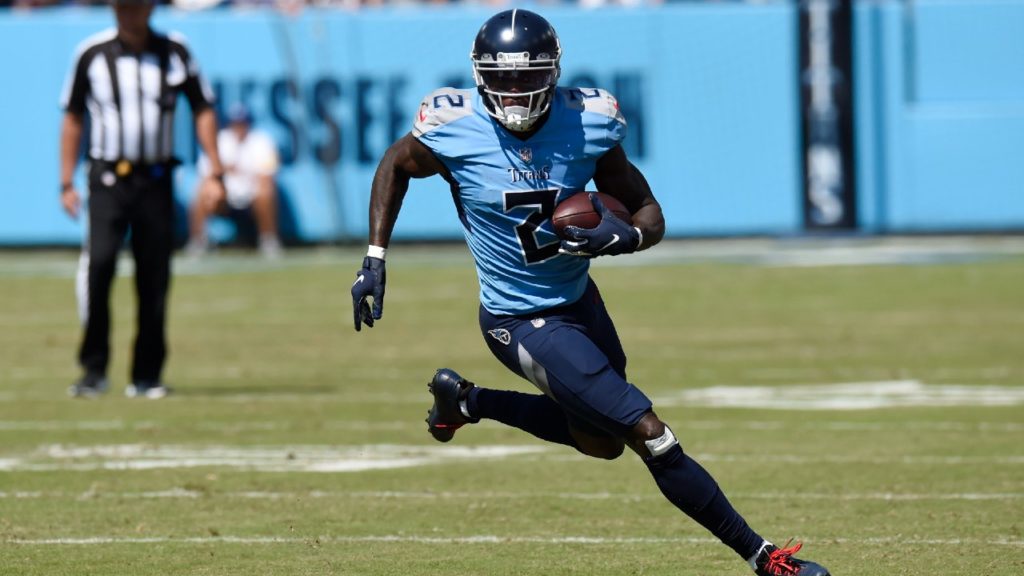 Week 7 Fantasy Football Disappointments | WR
Julio Jones | Tennessee Titans
Stat Line: 2 receptions, 38 yards
PPR Fantasy Points: 5.8 (WR47)
After being listed on the Titans' injury report all week with a hamstring issue, Julio Jones was able to play in Sunday's game. Despite being matched up against one of the NFL's worst defenses, he failed to make any sort of impact on the game and in fantasy football. Jones caught just two passes for 38 yards against the Kansas City Chiefs. He finished as the WR47 in PPR scoring on the week. He came nowhere close to matching the production of teammate, A.J. Brown. Injuries, a focus on the run game and the willingness of QB Ryan Tannehill to spread the ball around have all plagued Jones' fantasy production thus far in Tennessee.
Allen Robinson | Chicago Bears
Stat Line: 2 receptions, 16 yards
PPR Fantasy Points: 3.6 (WR69)
Allen Robinson and the Chicago Bears failed to generate much of anything offensively against the Tampa Bay Buccaneers. Considering Robinson's preseason fantasy football ADP, he once again destroyed several owners in Week 7. Two catches went for just 16 yards as Robinson was barely a top-70 WR on the week. On the season, he has just 23 catches, 250 yards, one touchdown, and is the WR58 in PPR formats. Things don't figure to get much better soon for Robinson considering the state of the Bears' offense around him. A switch back to veteran quarterback Andy Dalton would probably be to his benefit.
Brandon Aiyuk | San Francisco 49ers
Stat Line: 1 reception, 6 yards; 1 carry, 3 yards
PPR Fantasy Points: 1.9 (WR76)
So much for the 49ers' 1-2 punch at wide receiver. While Deebo Samuel went out and had another 100-yard effort in Week 7, Brandon Aiyuk was nowhere to be found yet again. Even the switch back to Jimmy Garoppolo at quarterback didn't help the speedster. Aiyuk saw just two total touches and only one of those came in the passing game. While it'd be great to say the rainy weather in San Francisco was a factor, the fact of the matter is that Aiyuk simply is not getting targets. Even with no other pass-catchers yet to truly step up behind Samuel, Aiyuk continues to be a non-factor in the game plan. It's impossible to trust him in fantasy right now regardless of which QB is under center.
Week 7 Fantasy Football Disappointments | TE
Mark Andrews | Baltimore Ravens
Stat Line: 3 receptions, 48 yards
PPR Fantasy Points: 7.8 (TE18)
Considering that Mark Andrews is one of just two tight ends to have over 100 PPR fantasy points on the season, his Week 7 performance was a major disappointment. The Cincinnati Bengals have shown an ability to defend opposing TEs. Andrews proved to be no different on Sunday in what was a surprising loss for the Ravens. Even with the TE18 finish on the week, he remains the TE2 on the season overall. Better days are ahead for Andrews and Baltimore.
Week 7 Fantasy Football Disappointments | QB
Patrick Mahomes | Kansas City Chiefs
Stat Line: 20/35 passing, 206 yards, 1 interception; 6 carries, 35 yards
PPR Fantasy Points: 7.74 (QB20)
What a disaster Sunday was for Patrick Mahomes and the Chiefs. Not only did the two-time AFC champs get blown out by the Tennessee Titans, but Mahomes turned in probably his worst fantasy football line ever since becoming the team's starting quarterback. Turnovers have been an issue for Mahomes this season, and he threw another interception in Week 7. Combined with the Chiefs' failure to score a touchdown led to Mahomes being only the QB20 in fantasy football on the week. This horrendous performance came in a game that many expected to be an offensive shootout too. It's officially time to panic in Kansas City.