In 2018, NFL Draft expert Todd McShay noted that nobody in the 2018 NFL Draft quarterback class was better than Blaine Gabbert was in 2011. It was an odd opinion, considering many NFL front offices thought the draft class was one of the best in recent memory. Among the quarterbacks in that class, you had 2017 Heisman winner Baker Mayfield. He had just completed his last year at Oklahoma, but there were questions about his maturity and height. On top of Mayfield, the draft class consisted of Josh Allen (Wyoming), Josh Rosen (UCLA) and Sam Darnold (USC) in the early first round.
All four of the quarterbacks mentioned above went in the first 10 picks of the 2018 NFL Draft. The Browns drafted Baker Mayfield with the first overall pick, surprising many experts. The next quarterback off the board was Sam Darnold, who went third to the Jets. After the man from USC, the Bills drafted the strongest arm in the draft, Josh Allen, with the seventh pick. Finally, the Cardinals ended the Josh Rosen freefall and chose him with the 10th overall pick.
We are now three years removed from the 2018 NFL Draft. Baker Mayfield, Josh Allen, Sam Darnold and Josh Rosen all started at least 10 games during their rookie season. However, all four of them are on very different career paths. So, let's re-evaluate the 2018 NFL Draft quarterback class.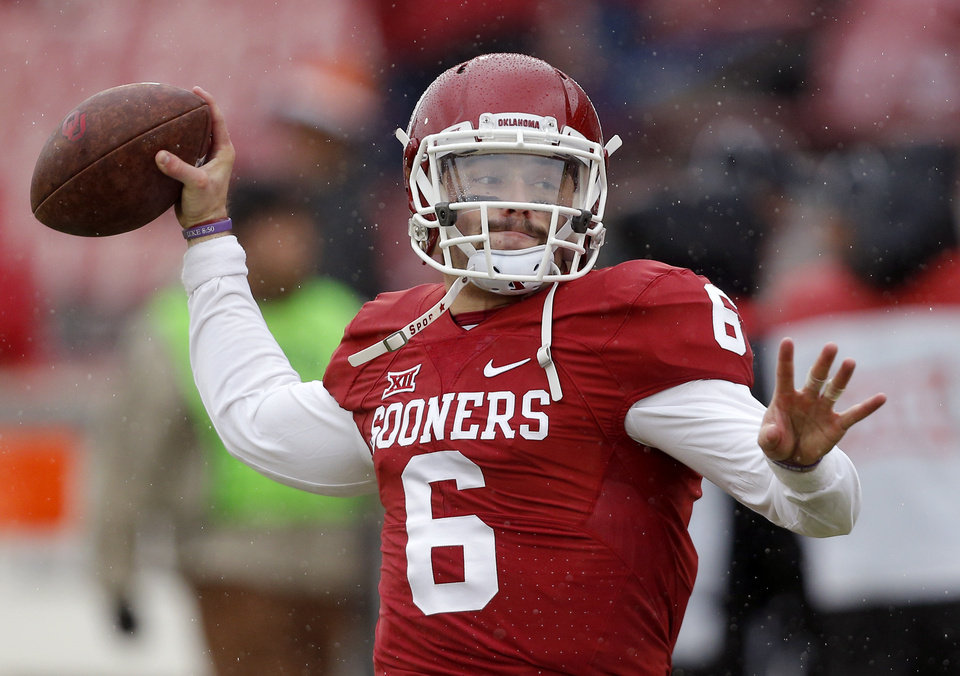 Re-Drafting the Top 4 QBs of the 2018 NFL Draft
Baker Mayfield, Oklahoma
Original Pick: 1st Overall
Re-Draft Pick: 1st Overall
You would be incredibly hard-pressed to find a Browns fan who thinks the team should have gone in a different direction in 2018. Baker Mayfield entered the his rookie season as the backup to Tyrod Taylor in Cleveland. However, during the Thursday night matchup versus the Jets on September 20th, 2018, Mayfield was thrusted into the game after a Taylor injury. Mayfield captured the hearts and minds of Browns fans that night. The Browns and Mayfield were one win away from making the postseason in Mayfield's rookie season.
Now, the Browns and Mayfield are coming off the best season in decades for the Browns. In their first playoff appearance in almost 20 years, Mayfield led an inspired Browns team to a dominating victory over the rival Steelers. The city of Cleveland is buzzing and their is real belief they can win a Super Bowl. The road back to contending was an up and down battle. However, the Browns wouldn't want any other man under center.
Josh Allen, Wyoming
Original Pick: 7th Overall
Re-Draft Pick: 3rd Overall
For the purpose of this writing, we are just going to say that the Giants stuck with their pick of Saquon Barkley. That means the Jets are on the clock. Unfortunately for the Jets, the Sam Darnold pick just didn't work out in New York. Recently, Darnold was traded to the Panthers for a sixth-round pick in 2021, along with second and third-round picks in 2022. Honestly, I'm shocked that the Jets got that much for him. Enter Josh Allen. Instead of sticking with Darnold, the Jets get lucky and take Allen if there was to be a re-draft.
Allen has taken the Bills to two straight postseason appearances. This past year, he played in the AFC Championship. Allen has grown an exceptional amount since his rookie year. Every year he has improved on the year prior. His completion percentage in 2018 was just above 50%. This past year, he completed his passes at a 69% clip, while passing for over 4,500 yards. That is double his total from his rookie year. If the Jets had the chance to take Allen instead of Darnold, they would do it 100% of the time and twice on Sundays.
Sam Darnold, USC
Original Pick: 3rd Overall
Re-Draft Pick: 76th Overall, 3rd Round Steelers
Darnold to the Steelers almost happened in real life, if you believe what you read. Instead of taking Mason Rudolph with their first pick in the third round, the Steelers end the freefall of Darnold. There is no doubt that Darnold didn't help himself much in New York. However, some of his pitfalls can be blamed on the Jets. If he had gotten drafted to a good organization such as Pittsburgh, there are reasons to believe he could succeed. He would have a great receiving corps to throw too. On top of that, he would have one of the best defenses in the league to fall back upon. Finally, there is reason to believe he can have a decent career just based on his build and arm strength alone. He's six-foot-four and has great arm strength. Darnold could have been the perfect backup to usher Ben Roethlisberger into retirement, while learning from one of the greats.
Josh Rosen, UCLA
Original Pick: 10th Overall
Re-Draft Pick: Undrafted
Well, I'm not going to pile-on a guy who has had a rough go of it the past couple of years. Rosen signed a one-year contract extension worth $850,000 with the 49ers in December 2020. So yes, he is still in the league. However, the bigger question here is how did everyone get it so wrong? Before the 2018 NFL Draft, Todd McShay had this to say about Rosen:
"There are red flags in that you have to try to figure out if you can coach him, if he's coachable, and what kind of teammate he's going to be, when it's all said and done. And does he need football and love football? There are some teams that believe in him, and there are some teams that are very hesitant." (The ColdWire)
Well, all of that seemed to be true about Rosen. However, in his defense, the Cardinals never gave him a chance. He was drafted in 2018, the organization then hired Kliff Kingsbury in 2019. Kingsbury wanted the Cardinals to take Heisman-winner Kyler Murray that year, and they did. Rosen was traded to Miami, where he was eventually cut. Rosen is only 23, so it's hard to believe his career is completely over. However, there are about 60 quarterbacks I'd rather have than him.
---
Follow us on all of our social channels! Check out our Twitter, Facebook and YouTube for more great FlurrySports content.