With college basketball around the corner and the coronavirus looming, us fans should be in store for an interesting season. Here are the initial top 25 college basketball rankings for the upcoming season.
Every Monday, we will be releasing our updated college basketball rankings, with major headlines from the college basketball world.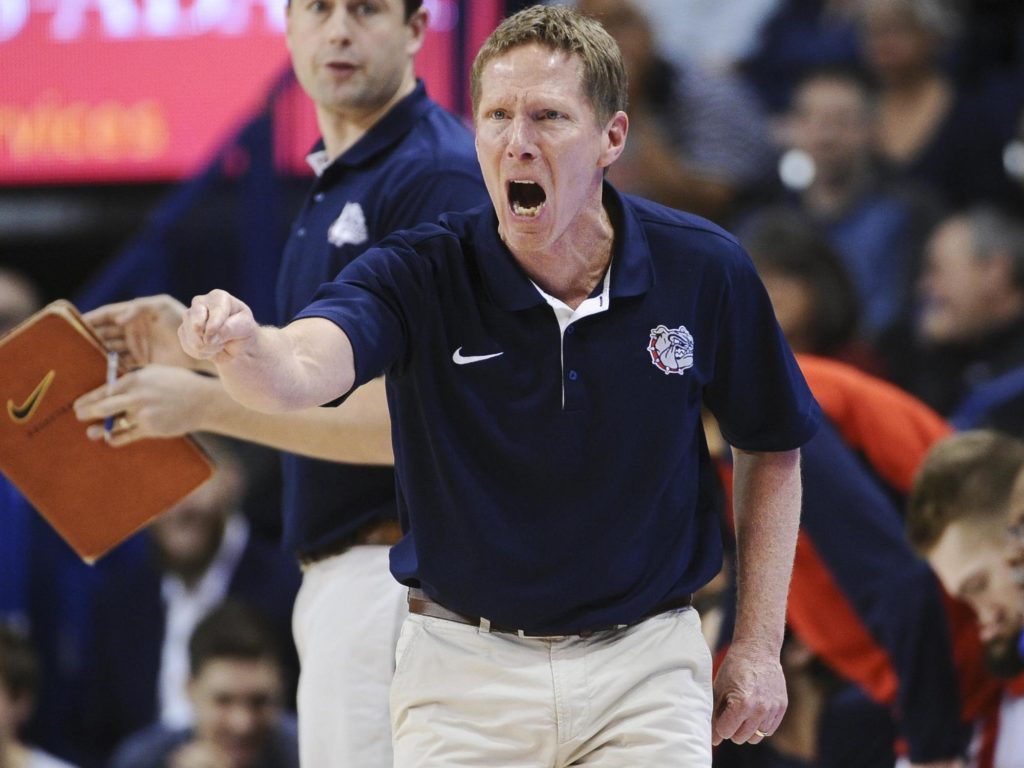 Top 25 College Basketball Rankings
Gonzaga (0-0, 0-0)
This could very well be the year Gonzaga wins the tournament. Mark Few is a top tier coach in college basketball and the addition of Jalen Suggs should only make Gonzaga the favorite to win the championship. We should see just how strong the Bulldogs are when they play #5 Kansas on Thanksgiving.
2. Baylor (0-0, 0-0)
Scott Drew is walking the line of great and elite coaches in college basketball. Baylor is one of the older teams this season, with their projected starting lineup consisting of three seniors and two juniors. Drew will debut his stellar squad this Sunday against Seton Hall.
3. Virginia (0-0, 0-0)
Tony Bennett should continue his traditional style of team basketball with first class defense. The addition of Sam Hauser (Marquette transfer) should add scoring and put Virginia in a position to replicate their 2019 team.
4. Villanova, (0-0, 0-0)
Jay Wright has turned the idea of spacing and three point shooting into an art form. Villanova returns Collin Gillespie and Jeremiah Robinson-Earl among others. They also get Tulane transfer, Caleb Daniels, who averaged 17 points per game. Look for Villanova to continue their dominance over the Big East.
5. Kansas, (0-0, 0-0)
Kansas lost two of their stars from last season in Udoka Azubuike and Devon Dotson. Bill Self won't be able to replace them, but David McCormack (Junior), Bryce Thompson (Freshman), and Tyon Grant-Foster (JUCO Transfer) should provide enough to keep the Jayhawks atop the Big 12. Kansas probably has the best starting five in the country and will look to bring home an early win in their showdown with #1 Gonzaga on Thanksgiving.
6. Wisconsin, (0-0, 0-0)
Just like #2 Baylor being experienced, Wisconsin should feature five seniors in their starting lineup this season. With their only loss coming in the form of Brevin Pritzl, the Badgers should pick up right where they left off last season where they were Big 10 Champs. Greg Gard's squad should maintain a top 10 ranking all year.
---
Signup for FlurrySports' daily email sports newsletter — The Daily Leadoff!
We sort through the mainstream sports media's BS to give you the biggest stories from the day prior, some sports to look forward to today and other interesting info to start your day off right. 
For past newsletters, click here. 

---
7. Iowa, (0-0, 0-0)
Iowa should go as far as Luke Garza takes them. This bodes well for Iowa, as Garza might be the best player in college basketball this season. Along with Jordan Bohannon and Joe Wieskamp, Fran McCaffery's Iowa team looks to start strong with a matchup against NC Central on Wednesday.
8. Illinois, (0-0, 0-0)
The players on this team have the opportunity to bring Illinios basketball back to relevance. With Ayo Dosunmu and Kofi Cockburn returning to school after reports of them going to the draft, Illinois should feature one of the best "1-2" punches in the nation. Illinois kicks their season off with three games in three days.
9. Kentucky, (0-0, 0-0)
John Calipari will once again feature a team of almost entirely new faces. Kentucky only returns 6% of their scoring from last season. Freshmen, BJ Boston, Devin Askew, and Terrence Clarke should become household names, but senior transfer Olivier Sarr is the key to success, if Kentucky looks for a championship run.
10. Duke, (0-0, 0-0)
Duke is in a weird spot as not many people are talking about them as usual. Freshmen Jalen Johnson and Jeremy Roach should be two of the best players in college basketball. Patrick Tape, a transfer from Columbia, projects to be the starting center and should provide a nice replacement for Vernon Carey in Coach K's offense.
11. Michigan State, (0-0, 0-0)
How does Michigan State move on without Cassius Winston? Getting Josh Langford back from injury should help. Michigan State also brings in Marquette transfer Joey Hauser. Michigan State should be a strong team this year but may be lost in the flurry, due to a stacked Big 10.
12. Creighton, (0-0, 0-0)
Greg McDermott's team should feature one of, if not the best offenses in the NFL. Junior, Marcus Zegarowski is in consideration for player of the year. With the loss of Ty-Shon Alexander, the BlueJays will struggle defensively. Creighton's offense is good enough to win many games, but the question is, will it be good enough to lead them to a deep tournament run?
13. Texas Tech, (0-0, 0-0)
Chris Beard has established himself as a household name in the college basketball community. He built a program based on defense and efficient offense, similar to that of Virginia's Tony Bennett. The Red Raiders feature an abundance of newcomers, with Joel Ntambwe (UNLV) and Marcus Santos-Silva (VCU) projected to start. Mac McClung (Georgetown) also expects to be a big part of this team after being granted a waiver of eligibility.
14. North Carolina, (0-0, 0-0)
After a disaster of season last season, Roy Williams brought in his best recruiting class. Caleb Love, Walker Kessler and Day'ron Sharpe should all provide the Tar Heels with much needed scoring. Garrison Brooks will be in contention for player of the year. This UNC team has a solid roster and if they can hit threes consistently, they can finish the year as a number one seed in the tournament.
15. Tennessee, (0-0, 0-0)
Rick Barnes' squad is looking for a bounce back year this year. With the return of Yves Pond and the additions of Jaden Springer and Keon Johnson, the Volunteers will look to take the SEC back from Kentucky. Tennessee has depth at every position and is a sneaky dark horse to win the championship.
16. Houston, (0-0, 0-0)
An experienced starting line up should propel Kelvin Sampson's team to a strong season, as well as an AAC title. The Cougars feature three players who averaged 12 or more points last season, in Quentin Grimes, Caleb Mills, and Idaho transfer Cameron Tyson. Houston will take on #13 Texas Tech in a major early matchup on Sunday.
17. West Virginia (0-0, 0-0)
Bob Huggins will continue to feature his high energy, pressing defense. This will inevitably cause problems for opposing offenses. Oscar Tshiebwe is a preseason all Big 12 first team player and should be the spark plug to this offense. If West Virginia can get consistent guard play from Jordan McCabe, Miles McBride, and Kedrian Johnson, they should be a top ten team this year.
18. Arizona State (0-0, 0-0)
Bobby Hurley's Sun Devils may be one of the most fun teams to watch in college basketball this year. With long winning streaks and long losing streaks, Arizona State is the Jameis Winston of the NCAA. Remy Martin may be the best guard in college basketball and lead this team to a Pac 12 championship. Arizona State kicks off the season with a match up against Rhode Island on Wednesday.
19. Oregon (0-0, 0-0)
Dana Altman and the Ducks will need to immediately fill the hole left by Peyton Pritchard. Altman brings in two freshmen and five transfers to help shape this team out. N'Faly Dante has NBA talent and will look to help lead the Ducks to a tournament run.
20. Texas (0-0, 0-0)
Shaka Smart has the luxury of showcasing the same team as last year as Texas had no key departures in the offseason. The Longhorns will feature highly touted freshman Greg Brown and run the ball through him. If everyone can stay healthy, Texas may be able to steal a title in one of the best conferences in the nation.
21. UCLA (0-0, 0-0)
Mick Cronin is one of the most underrated coaches in college basketball and might have the roster to win a wide open Pac 12. The Bruins don't feature any particular star, rather a collection of players who all do little things well. Kentucky transfer Johnny Juzang should be a great pairing alongside Chris Smith in generating consistent offense for UCLA.
22. Florida State (0-0, 0-0)
Florida State should continue their recent success as they feature a flurry of long athletic defenders. While scoring may be tough to find, incoming freshman Scottie Barnes should be the focal point of the offense. Scottie Barnes could be the best freshman in the ACC, which features other freshman like Jalen Johnson, Caleb Love and Jeremy Roach.
23. Ohio State (0-0, 0-0)
The Buckeyes became a very interesting Big 10 team after receiving transfers Justice Sueing (Cal) and Seth Towns (Harvard). The Buckeyes have a solid roster and should be able to play tough, Big 10 basketball at both ends of the court. If this offense can consistently score against some of the better teams in the Big 10 then Ohio State may be in contention for a conference title come playoff time.
24. Louisville (0-0, 0-0)
The Cardinals have many questions coming into this season. Based on potential, Chris Mack's team looks like a top ten team. With inevitable inconsistency looming, the mid-twenties seem more likely. Radford transfer Carlik Jones and sophomore David Johnson will be one of the best guard duos in basketball. Samuell Williamson may also be the breakout star of the nation this season. Its likely that Louisville will be placed all over this rankings through the season.
25. LSU (0-0, 0-0)
LSU has one of the most dynamic offenses in the country, but their defense may be suspect and be the reason they lose games. Will Wade will feature Trendon Watford and Ja'vonte Smart, both of which are projected to be all SEC team players. LSU will really show up later in the year as two transfers, Josh LeBlanc (Georgetown) and Shareef O'Neal (UCLA) will become eligible to play.
---
Signup for FlurrySports' daily email sports newsletter — The Daily Leadoff!
We sort through the mainstream sports media's BS to give you the biggest stories from the day prior, some sports to look forward to today and other interesting info to start your day off right. 
For past newsletters, click here. 

---
Week 1 College Basketball Headlines
A must watch matchup featuring #6 Kansas and #1 Gonzaga will be played on Thanksgiving.
#16 Houston takes on #13 Texas Tech on Sunday in a game that may have major implications come tournament time.
Iowa's Luke Garza looks to kick off his highly anticipated senior season as the Hawkeyes take on NC Central (Wednesday) and Southern (Friday).
How does Auburn rebound after losing almost all of their scoring from last season as they take on #1 Gonzaga on Friday?
Can Makur Maker (cousin of Thon Maker) carry Howard to relevance?
Can Illinois come out with three wins, while playing three games in three days?
Who steps up as the primary scorer of Kentucky?
---
More Articles
The Daily Leadoff | FlurrySports' Daily Email Newsletter
Top-25 College Basketball Rankings