Now that the main free agents are off the board and the 2021 NFL Draft is completed, we now have a full view on what teams are likely going to look like this upcoming season. The only question that remains is how do these teams stack up, and who actually has a legitimate shot at taking the Lombardi home? For franchises like Chicago and Minnesota, the goal is to beat their rivals. For teams like Houston and Atlanta, the goal is to tank so hard they are gifted a generational talent. So, how do these teams stack up with each other? Here are your post-draft NFL Power Rankings.
Post-Draft NFL Power Rankings
Favorites | NFL Power Rankings
1: Tampa Bay Buccaneers
The Tampa Bay Buccaneers were clearly the best team in the NFL last year, with their 31-9 drubbing of Kansas City in Super Bowl LV. All they did this offseason was have their players unselfishly leave money on the table and/or restructure to get everyone back, and have a draft to help solidify their future. No teams did anything to jump them and they will remain as the team to beat this season.
2: Buffalo Bills
The Buffalo Bills had a great season by their standards, as they were able to get over the hump and not only win the AFC East, but also get to the AFC Championship. Unfortunately, they lost to the Chiefs, but they made sure to bring back key guys and have a decent draft. They needed to get players who could put pressure on the quarterback, and they did that by drafting defensive ends with their first two picks.
3: Kansas City Chiefs
The Kansas City Chiefs may have beat the Bills in the playoffs and gotten to the Super Bowl again, but they showed major flaws in their protection of Patrick Mahomes. Yes, they weren't fully healthy, but they were exposed either way. They did make a big trade for Orlando Brown to help the issue and drafted two offensive linemen in the draft. This team is a contender, but they seem to have more flaws that are easier to expose than Buffalo, hence #3.
---
---
4: Los Angeles Rams
The Los Angeles Rams had a stout defense all year, but looked like nothing more than a high school defense for most of their divisional matchup with Green Bay at Lambeau. Their offense was holding them back and putting stress on the defense, so they traded for Matthew Stafford and used three of their picks on receiver. Their defense did take a step back with some free agent departures, but their revamped offense more than makes up for it.
5: Cleveland Browns
It still doesn't feel real that the Cleveland Browns aren't complete and utter garbage, but here we are. The Browns lost a tough conference matchup with the Chiefs, after curb-stomping the Steelers in the Wild Card game, and who knows what would have happened with better officiating. Either way, they had a decent draft, where they bolstered an already tough defense, and they get OBJ back from his injury. This team woke up feeling dangerous.
Contenders | NFL Power Rankings
6: Green Bay Packers
Admittedly, this ranking is assuming Aaron Rodgers not only returns, but plays again for the Green Bay Packers. The sooner Packer fans realize this was a horrible offseason the better. They brought in no free agents, lost key pieces on the offensive line and reached on virtually every pick in the draft. With all that being said, Rodgers is the most talented quarterback in NFL history by a mile, so this team will always be in contention.
7: Seattle Seahawks
It's a good thing Seattle busted out the cigars for winning the division, because they didn't do shit afterwards. They got beat by 10 at home to the Rams, who were lead by two different quarterbacks; one that's a career backup, and one that couldn't even throw a football due to an injury on his throwing hand. The team had only three draft picks, but did well with them and have the Russell Wilson. That's all they really need to be top-seven in the NFL Power Rankings.
8: Baltimore Ravens
For the last time, a Lamar Jackson-led team will never win the Super Bowl, unless he pulls a Peyton Manning and is dragged by an all-decade defensive team. However, he is still a heck of a playmaker and the Ravens finally got him another receiver, in Minnesota's Rashod Bateman. They made the right picks and are returning a lot of what made them successful, so they deserve to be top-10.
9: Indianapolis Colts
The Colts had an impressive 11-5 record, before losing a close game to Buffalo in the Wild Card game. They replaced Philip Rivers and his 10,000 kids with Philadelphia outcast Carson Wentz, and they bolstered an already tough defense in the draft. The only question is if this team can stay healthy, as they have some absolutely lethal weapons on the offense. Now that a team can finally protect Wentz, the sky is the limit.
10: Arizona Cardinals
In one of the most what the hell stories of the offseason, J.J. Watt was rumored to be choosing between Pittsburgh, Buffalo and Green Bay, then wound up in Arizona. They drafted a physical freak at linebacker in Zaven Collins and got Kyler Murray another weapon in Rondale Moore. This team just missed the playoffs last season, and it looks unlikely they'll be on the outside again this year.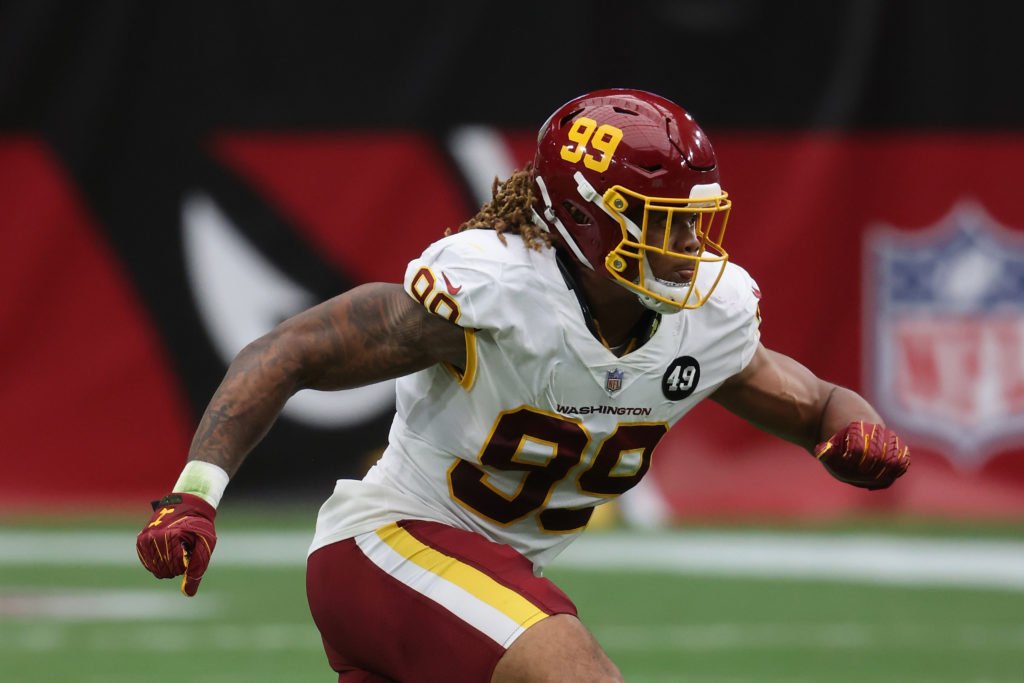 Puncher's Chance | NFL Power Rankings
11: Washington Football Team
Washington didn't get enough credit last season for playing the Buccaneers pretty close in the playoffs and winning their division. They signed the best backup quarterback of all time in Ryan Fitzpatrick, and somehow made this defense even better. The signed Curtis Samuel to give FitzMagic two solid targets, along with a good running back in Antonio Gibson. If I was a betting man, I'd put a decent amount of money on this team to win the NFC East again.
12: San Francisco 49ers
The San Francisco 49ers had a season to forget last year, where every player seemed to get hurt for at least two weeks. This team still came just a few minutes short of a Super Bowl two years ago and always poses a problem for opponents with their defense. At the end of the day, is Jimmy G good enough with little receiving weapons to take them far? Doubt it.
13: New Orleans Saints
As sad as it is that Drew Brees is gone, he's really been holding this team back, if we're being honest here. The New Orleans Saints decided to kick their salary cap issues down the road again, but they had a quietly decent draft. Jameis Winston is at the helm, and it'll be interesting to see if he reverts back to his old ways of passing for a ton of yards and touchdowns, but also multiple interceptions per game. The defense is good enough to win them multiple games they shouldn't.
14: Dallas Cowboys
Pipe down Dallas Cowboys fans, you aren't winning the Super Bowl. You should really start focusing on winning a playoff game first, to be honest. The offense, as always, will be good, but it's too bad their defense is trash and they can't stay healthy. When you add in Mike McCarthy as coach with Dak Prescott coming off a gruesome leg injury, and Ezekiel Elliott seemingly forgetting how to hold on to the ball last season, let's start with winning your division first.
15: Minnesota Vikings
The Minnesota Vikings tried to turn their season around late last year, but couldn't quite do it. They return a lot of pieces, their young secondary is now more experienced and, outside of reaching for Kellen Mond in the second round, had a very good draft. Coming from a Packer fan, that's high praise. Once again, the story for Minnesota is how far can Dalvin Cook take them, because Kirk Cousins' arm is not to be trusted.
---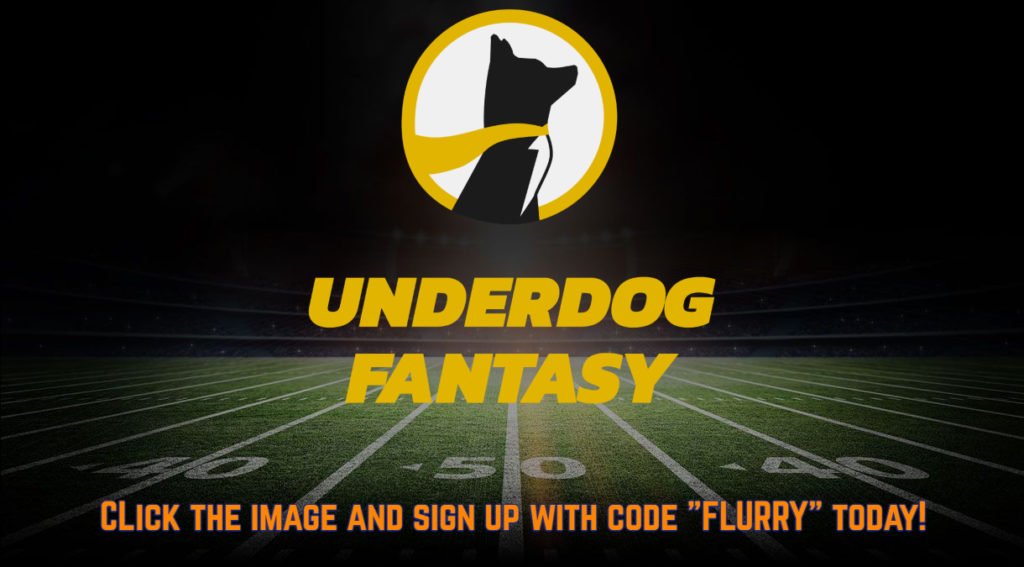 Underdog Fantasy is a new type of DFS that combines the fun of season-long drafts with daily fantasy sports. Aside from their fun, addictive draft mode, Underdog Fantasy also has pick'em player props for many different sports and athletes!
Click the image or RIGHT HERE to get signed up today, and don't forget to use the promo code FLURRY for a FREE $10 bonus on your first deposit!
---
16: Los Angeles Chargers
The biggest roadblock for the Los Angeles Chargers since 2017 was their moronic coach Anthony Lynn. Now that his behind was kicked out the door, they have a chance to not blow every single lead they have this season! Justin Herbert is a stud, Keenan Allen is underrated as much as anyone in the league, and they got Herbert protection and the defense help. Watch out.
17: New England Patriots
Bill Belichick finally figured out that he is allowed to sign free agents early, and he used the newfound ability to nab Hunter Henry, Jonnu Smith and Nelson Agholor, among others. While this team will certainly improve based on those guys alone, they still have a big elephant in the room of Cam Newton. He sucks now, and Mac Jones likely won't be ready for the league off the bat. Don't be surprised if they make a late surge with Jones at the end of the season.
18: Tennessee Titans
The Tennessee Titans followed up an AFC Championship appearance two years ago up with a season in which they won the division, before proceeding to fall flat on their face in the playoffs. They lost key targets in Corey Davis and Jonnu Smith to free agency, but still have a human bowling ball in Derrick Henry. They solidified their defense in the draft and have made it clear that their identity is they will run you over.
19: Chicago Bears
It pains me to say, but the Chicago Bears may have just had the best draft in the league. They got an absolute dog in Teven Jenkins and a heck of a quarterback in Justin Fields. Just one problem. This is a draft that is for the future. Fields isn't NFL ready yet. Even if they decide to start Nick Foles or Andy Dalton early, their only solid target is Allen Robinson. Once again, how far will this defense carry them?
20: Miami Dolphins
The Miami Dolphins just missed the playoffs last year which is a shame seeing how good their defense was. Due to a thing called salary cap though, with a little bit of help from poor decision making, the Dolphins got rid of a few of their effective defensive players. They did get Tua Tagovailoa a good receiver in Will Fuller via free agency, and took advantage of their four picks in the first two rounds. Can they replace the players on defense they lost, though?
Participation Award | NFL Power Rankings
21: Pittsburgh Steelers
What do you do when you have an old frail quarterback and nobody to block for him or your running backs? Why, draft a running back and tight end in the first two rounds of course! The Pittsburgh Steelers kept a decent amount of key pieces, but they will get nowhere without blocking or receivers that have more Tik Toks than well-run routes in a season. In an odd twist of fate, the playoffs are now a goal, not an expectation in Pittsburgh.
22: Las Vegas Raiders
Bless Jon Gruden and this Las Vegas Raiders front office. They seem to flip a coin between making a boneheaded move and a smart move, which was the case throughout the NFL Draft. For some reason that can't be explained, Gruden again shows he either doesn't trust Jacobs, or doesn't understand the point of an elite running back, as he brought in Kenyan Drake in free agency. One thing is for sure, this team will be just as unpredictable play to play as last season.
23: Detroit Lions
Who had the Detroit Lions make good decisions on their 2021 bingo card? They got an absolute steal in offensive lineman Penei Sewell at the seventh overall pick, and Ifeatu Melifonwu in the later stages of the third round. While the loss of receiver Kenny Golladay will hurt, he didn't play much this past season anyways, and they have young talent that is now more experienced. They won't be much more than a team that pulls some upsets this season, but they're certainly a team to watch for a few years down the road.
24: Carolina Panthers
The Carolina Panthers were able to dump Teddy Bridgewater in Denver while also getting Sam Darnold for next to nothing. It's a pretty good way to deal with a clear quarterback issue. The Panthers made the right picks in the draft and hope to have Christian McCaffrey for the whole season this time. They lost many close games last year, will they be able to close games this year?
25: New York Giants
The obvious problem for the New York Giants has been that quarterback Daniel Jones is clearly not starter material. He has more fumbles than games played and throws his fair share of picks too. New York seems to believe in him though, and they reached for another receiver for him, in Kadarious Toney. If Jones continues to play the way he has been, the plug on his experiment might be pulled before the end of the season.
26: Cincinnati Bengals
Joe Burrow suffered a season-ending knee injury last season, in most part to not having a shred of blocking in front of him. So, either he has lost his mind, or he doesn't want to play football for long, as with Penei Sewell still on the board, he pushed the organization to draft his LSU buddy Ja'Marr Chase. The defense isn't special and they'll struggle with their running and passing games without a major change with their offensive line. This might be a rare instance fans would rather see their team on defense so Burrow can't get hurt.
Pit of Misery | NFL Power Rankings
27: Denver Broncos
The Drew Lock saga isn't going quite as planned in Denver, hence their trade for Teddy Bridgewater as a contingency plan. The Broncos will be getting star receiver Courtland Sutton back, and the defense will be getting a big boost from the expected return of Von Miller. In a tough division, this is the AFC's version of the Chicago Bears, who hope to be able to finally get the quarterback play they've been waiting for to lead this team back to the promised land.
28: Atlanta Falcons
Matt Ryan is a shell of himself now and Julio Jones has the durability of a wet tissue. The defense is a huge issue, and they decided to fix it by drafting a tight end with the fourth pick in the draft. The Falcons didn't do much in free agency, and their draft was nothing to call home about, which will likely add up to a repeat of last season. That's assuming they don't trade away Julio either. The rebuild hits another season in Atlanta.
29: Jacksonville Jaguars
The Jacksonville Jaguars finally got their messiah. No, not Tim Tebow. Trevor Lawrence is at quarterback, and the Jaguars had a great chance with four picks in the first two rounds to make some big moves that would bring them back to relevancy. While three of the picks were solid, one has to ask why they drafted a running back after James Robinson ran for over the century mark in yards last season? This is obviously more than a one-year project in Jacksonville, but can we trust Urban Meyer in the NFL? With Lawrence, his leash may not be too long.
30: New York Jets
The New York Jets finally got rid of Adam Gase and brought in Robert Saleh from San Francisco. They signed a big target in Corey Davis and got their quarterback in Zach Wilson. Saleh looks to be the guy for the job, but the team still has no true top running back. They have a rookie quarterback who played against little competition at BYU and a subpar defense, at best. The bar for a successful season will be pretty low.
31: Philadelphia Eagles
The Philadelphia Eagles got the receiver they desperately needed in DeVonta Smith, but they are still trusting their offense in the hands of Jalen Hurts, who has a fragile offensive line. The defense certainly isn't bad for Philadelphia, but they are thin on depth. If the injury bug continues to wreak havoc on this team, and we have no reason to assume it won't, it could get really bad for Philadelphia, who can no longer rely on a bad division to make them look like a passable NFL team.
32: Houston Texans
Where to start? Deshaun Watson may not play because of his legal issues, they signed no impactful free agents and their first of only five draft picks had to be used on a quarterback in the early third round. The Texans are the clear bottom team in the NFL Power Rankings. If Watson is a no go for the season, their only hope for a win this year might be against the Jaguars. This team sucks and they aren't even worth talking about anymore.