We have created our rankings of the NFL top 100 players of 2022. Each article will be split up into 10 different players, starting at 100-91 and moving all the way to 10-1.
With that being said, let's take a look at the next 10 players on the list of our NFL top 100 players of 2022. Two MVP quarterbacks, two young wide receivers and a set of sibling pass rushers grace this edition of the list.
NFL Top 100 Players of 2022: 10-1
10. Josh Allen – Quarterback – Buffalo Bills
Is Josh Allen the most exciting player in the NFL right now? His cannon of a right arm, his strong rushing ability and his penchant for never giving up on plays has given Buffalo an MVP candidate. In 2021, Allen finished the season with 4,407 passing yards and 36 touchdowns. Much like Cam Newton in his MVP year, there is no stopping Allen when the Bills get to the red zone.
9. Myles Garrett – Defensive End – Cleveland Browns
While there are many great athletes in the NFL, Myles Garrett may be the best. The 6-4, 271-pound pass rusher consistently makes his presence known on the football field, whether it be sacking the quarterback or hitting them over the head with a helmet. His combination of speed and size resulted in 16 sacks last year for the Browns.
8. Patrick Mahomes – Quarterback – Kansas City Chiefs
I had a hard time putting Patrick Mahomes in the eight spot here. When he is on the game, there might not be a better player in the NFL, which makes me want to put him higher. The Texas Tech alum once again led the Chiefs to the AFC Championship, where they lost to the Bengals. Mahomes finished 2021 with 4,839 passing yards and 37 touchdowns. We should get a full idea of what Mahomes is without Tyreek Hill this year.
7. Tom Brady – Quarterback – Tampa Bay Buccaneers
The living legend once recorded an awesome season in Tampa Bay in 2021. Brady eclipsed the 5,000 yard mark, as he threw for 5,316 yards and 43 touchdowns. As his career has progressed, it seems like Brady only continues to get better. With Mike Evans, Leonard Fournette, Chris Godwin and now Julio Jones at his disposal, Brady should once again close to the top on the list of best quarterbacks in 2022.
6. Zack Martin – Guard – Dallas Cowboys
Do you remember when people made the argument that the Cowboys offensive line should have won MVP a couple of years back? That era has sort of gone by the wayside, but on constant has been Zack Martin. Martin continues to play at a high level, proved by a Pro Bowl Selection and a First Team All-Pro selection.
5. Davante Adams – Wide Receiver – Las Vegas Raiders
The best receiver in the game was busy this offseason, as he moved to Las Vegas from Green Bay. While Adams' touchdown numbers were down, he recorded the most receptions and receiving yards of his career. While it is hard to replicate a connection like Rodgers/Adams, Carr and Adams previous work as college teammates should help.
4. T.J. Watt – Outside Linebacker – Pittsburgh Steelers
T.J. Watt is a flat-out game wrecker. He was the Defensive Player of the Year in 2021 and for good reason. Watt tied Michael Strahan's season record of sacks, with 22.5. Watt is the heart and soul of the Steelers and should once again be at the top of his game for the 2022 season. His ability to play the run also gives the Steelers a double-edge threat.
3. Trent Williams – Offensive Tackle – San Francisco 49ers
The crown for the best offensive lineman in the NFL goes to Trent Williams. As a pass-blocker, Williams rarely gives up sacks or even tackles for losses. His strength though comes in the run game. Williams was the perfect addition to Kyle Shanahan's run-heavy offense. San Francisco always produces one of the better running offense in the NFL and Williams is there to thank for that.
2. Aaron Rodgers – Quarterback – Green Bay Packers
Last season's MVP really has the cards stacked up against him this year. His top two offensive linemen are hurt and his number one receiving target is gone. While questions surrounded him in 2019, Rodgers play has only gone up since Jordan Love was drafted. Rodgers still has the ability to make any pass from anywhere on the field. 2022 should prove how goos Rodgers is with Allen Lazard as the top receiving option.
1. Aaron Donald – Defensive End – Los Angeles Rams
The best player in football is also the NFL's best at taking games over. While the Rams have had a ton of players appear on the Top 100, Aaron Donald is the heart and soul of the team. Donald finished 2021 with 12.5 sacks and 19 tackles for losses. I'm sorry to all of the Joe Greene fans out there, but Aaron Donald might be the best interior defensive lineman of all time.
---
Follow us on all of our social channels! Check out our Twitter, Facebook and YouTube for more great FlurrySports content.
---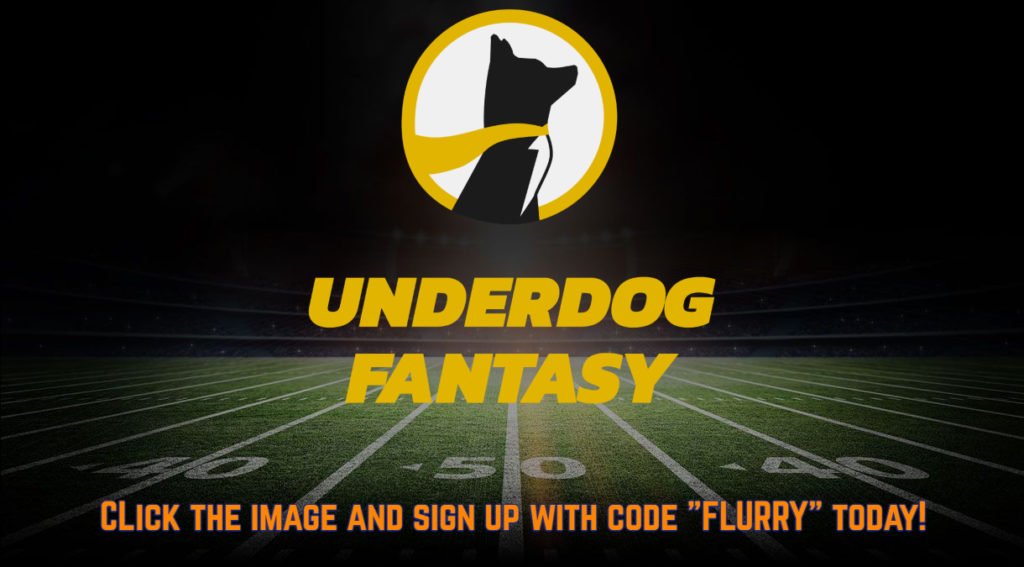 Underdog Fantasy is a new type of DFS that combines the fun of season-long drafts with daily fantasy sports. Aside from their fun, addictive draft mode, Underdog Fantasy also has pick'em player props for many different sports and athletes!
Click the image or RIGHT HERE to get signed up today, and don't forget to use the promo code FLURRY for a FREE $10 bonus on your first deposit!
---