If you are unaware of what NFL survivor picks are, the basic concept is you make NFL picks throughout the season, but you can only pick a team once. Once you lose, you're knocked out, so choose your Week 2 NFL Survivor Pool picks wisely.
If you are new to reading my survivor articles, what I do is outline my "lock of the week," my "value of the week" and my "high-risk, high-reward pick." The lock of the week details what team I think has the best chance of winning their matchup. This would most likely be a good team that plays a bad team. The lock is also the official pick for NFL Survivor Pools, meaning we will not reuse a "lock." My value pick of the week details a mid-tier team that has a good matchup. And finally, my high-risk, high-reward pick details a bad team that has a good matchup.
Welp. That was a tough start to the NFL season. I do not think that I am the only one who took San Francisco and was utterly shocked by the result. Whether it was due to the field, or inexperience, the 49ers suffered a bad loss to the Bears. With Denver also losing to the Seahawks, my record on the year is 1-2. Based on last week, I think that we have a little better idea of what is going to happen in Week 2.
Teams used:
San Francisco 49ers
Week 2 NFL Survivor Pool Picks
Lock of the Week | Best Pick For NFL Survivor Pool Week 2
Cleveland Browns vs. Jets
With Joe Flacco at quarterback, the New York Jets are a somewhat predictable team. We know that Flacco will take what the defense gives him. I think that plays really well into the Cleveland Browns' favor this week. The Browns hung on at the horn with a Cade York game-winning field goal in Week 1. That was after Baker Mayfield and Robbie Anderson played close to their best ball. While the Jets do have solid playmakers on their offense, I think that it may not matter.
Myles Garrett is one of the better players in the NFL. George Fant and Max Mitchell don't scream Garrett stoppers at this point in their career. Coming off of their first Week 1 win in many years, the Browns get to play Week 2 at home, where the lakeside city is destined to be loud. I would imagine that Nick Chubb and Kareem Hunt will feed off of that energy and take over this game. Outside of Quinnen Williams, the Jets don't really have anyone on their defense that scares you. For that reason, I am expecting big games out of both running backs and that the Browns start their season 2-0.
Also, you can mark the Browns off of your list as a strategy play.
Best Pick For NFL Survivor Pool Week 2: Cleveland Browns
Value Pick of the Week | Week 2 NFL Survivor Pool Picks
Denver Broncos vs. Texans
Last week, I talked about how iffy I am on the Denver Broncos. It looked like my concerns were correct, as somehow they lost to the Seahawks on Monday Night Football. Russell Wilson looked flat-out bad. The defense wasn't anything special either, as they allowed Geno Smith a career day passing. The running game never really got going, especially seeing two fumbles at the goal line. Week 1 for the Broncos felt like a shake-the-rust-off game. That is what makes me love them in this spot.
The Broncos should annihilate the Houston Texans here, and that is nothing against the Texans. Denver revamped their whole team, bringing in a new head coach and a new quarterback. I would guess that Nathaniel Hackett does in fact let Russ cook in this game. Houston is coming off of a tie, in which they were outgained by about 200 yards. Denver also got close to putting up 200 more yards than Seattle. It seems to me Denver just needs to finish drives and, if they do, they win by multiple scores.
If Denver loses or ties this game, I think that there is a real cause for concern in the Mile High City.
Value Pick: Denver Broncos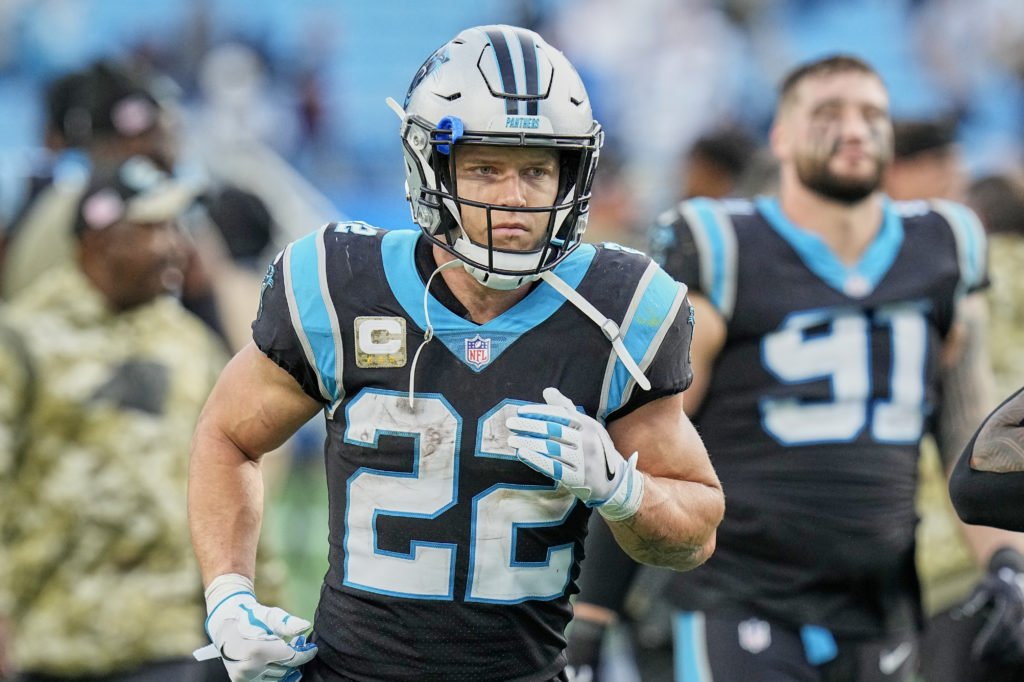 High-Risk, High–Reward | Week 2 NFL Survivor Pool Picks
Carolina Panthers vs. Giants
I think that the Carolina Panthers get unfairly lumped into the category of worst teams in the NFL. While the Panthers certainly are not a great team, they are 100% not a horrible team. Coming off of a game that saw the Panthers lose to the Browns by a kick, it can't be good for Baker Mayfield's mental health. Seeing Mayfield the last couple of years, I think one thing is certain – he will try to make up some story about having a chip on his shoulder. If that makes him play better, then I am all for it.
Saquon Barkley put the New York Giants on his back and willed them to that Week 1 win over the Titans. I do believe that the Panthers' defense is much better than Tennessee's and won't let that happen. Speaking of that Week 1 win, that felt like a playoff game win for the Giants. I think that puts the Giants in a let-down spot here.
Christian McCaffrey only touched the ball 14 times in Week 1. I think that the Panthers know that McCaffrey is the best player on the team and should see more than 14 touches in Week 2. If McCaffrey is relied on in this game for Carolina, I wouldn't be shocked to see a double-digit win.
High Risk-High Reward: Carolina Panthers
---
Follow us on all of our social channels! Check out our Twitter, Facebook and YouTube for more great FlurrySports content.