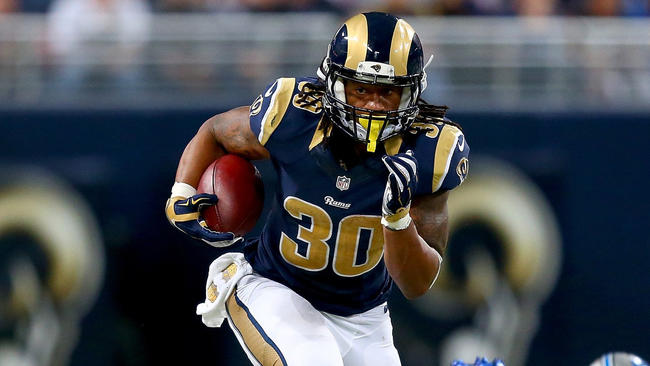 As the leaves start to fall, we are officially onto week 8 of the NFL season. Where has the time gone?! This season is flying by. The Rams continued their dominance and remain the only unbeaten team in the NFL. The Raiders shipped Amari Cooper to the Cowboys for a first round pick. Justin Tucker, who was perfect through his seven year career on PAT, missed an XP!? It was a weird week in the NFL. Bell has still not reported to the Steelers, and I'm not sure if anyone has a clue when he will. It was reported by Jay Glazer the trade deadline will be the most active that it has in years. Let's jump right into the week 8 NFL power rankings.
Teams 32-11
32.) Oakland Raiders (Last Week: 32) (1-5) BYE 31.) New York Giants (31) (1-6) 30.) Buffalo Bills (29) (2-5) 29.) San Francisco 49ers (29) (1-6) 28.) Arizona Cardinals (26)(1-6) 27.) Cleveland Browns (24) (2-4-1) 26.) Denver Broncos (27) (3-4) 25.) New York Jets (22) (3-4) 24.) Indianapolis Colts (28) (2-5) 23.) Jacksonville Jaguars (13) (3-4) 22.)Tennessee Titans (14) (3-4) 21.) Tampa Bay Buccaneers (25) (3-3) 20.) Dallas Cowboys (21) (3-4) 19.) Atlanta Falcons (23) (3-4) 18.) Seattle Seahawks (20) (3-3) BYE 17.)Detroit Lions (19) (3-3) 16.) Miami Dolphins (15) (4-3) 15.) Philadelphia Eagles (8) (3-4) 14.) Chicago Bears (16) (3-3) 13.) Houston Texans (18) (4-3) 12.) Cincinnati Bengals (10) (4-3) 11.) Baltimore Ravens (11) (4-3)

Top Ten
10.) Green Bay Packers (9) (3-2-1) BYE
The Pack headed into the bye with a much-needed win over the 49ers. They should be getting back Geronimo Allison, Randall Cobb and Jaire Alexander, as they were all nursing injuries before the bye. Rodgers and co. travel to the Coliseum this week to face arguably the best team in the NFL. They will have their hands full with Todd Gurley. Then they travel to Foxborough take on Tom Brady and the Pats. Two very tough road games on the horizon.
9.) Washington Redskins (17) (4-2)
The Redskins narrowly missed out on heading to overtime against Dallas because of a controversial penalty that pushed a game-tying field goal back five yards. Washington was without two of their starting receivers, but did enough to get the job done, with a little luck on their side. The Redskins now sit atop a tight division. Adrian Peterson has looked great this year, averaging 4.3 yards per carry and is top ten in rushing yards.
8.) Carolina Panthers (12) (4-2)
Carolina started week 7 slow, but scored 21 unanswered fourth quarter points to beat the reigning champs in Philly 21-17. The Panthers are off to a great start, but are in a tough division. The Falcons are surging, but their defense is still getting pieced back together. The Saints upcoming schedule is no cake-walk. The division race should be one to watch as it will surely come down to the final games of the season.
7.) Pittsburgh Steelers (7) (3-2-1)
It was reported that Le'Veon was going to be back during the bye, but he is still nowhere to be found. During their week off, the Steelers went from third to first place in their division. Pittsburgh comes off the bye to back-to-back divisional games. They can further their lead from the pack these next couple of weeks.
6.) Los Angeles Chargers (6) (5-2)
After starting the season off 1-2, the Chargers have won four straight and now head into their bye.  Joey Bosa has missed the entire season, but is expected to be back after the bye. Bosa is one of the best edge rushers in the NFL and it will be huge to have him back for their defense. Melvin Gordon was held out of the London game, so the bye is coming at a perfect time for the Chargers to get their stud running back healthy.
5.) Minnesota Vikings (5) (4-2-1)
Adam Thielen tied the record for most 100-yard receiving games to start a season with seven. He is establishing himself as one of the best in the game. Dalvin Cook was inactive again wtih his hamstring injury, and he reportedly will be out until week 11. The Saints come to town this week, followed by the Lions. Then the Vikes get a bye and come out to face the Bears and then Green Bay. Over these next few weeks, the Vikes can further their division lead.
4.) New Orleans Saints (4)(5-1)
To be successful in the league, you need a little luck on your side. Justin Tucker missed the game-tying XP with just 24 seconds left in the game. It was his first XP miss in his seven year career. Nonetheless, New Orleans went on the road against one of the best defenses in the league and got the job done. Their upcoming schedule is no cakewalk, with matchups against the Vikings, Rams, and Bengals on the horizon.
3.) Kansas City Chiefs (3)(6-1)
The Bengals looked like the typical Bengals in primetime. The Chiefs totally dismantled them. What is scary about KC is that that Justin Houston and Eric Berry haven't been playing. The defense continues to get better weekly without two of its best players. Kareem Hunt was the Kareem Hunt of last year. KC is deep and getting better every week.
2.) New England Patriots (2)(5-2)
Sony Michel appeared to suffer a potential season-ending injury, but he thankfully is week-to-week and should be back this season. Josh Gordon continues to impress and it is clear that he has Brady's trust. To nobody's surprise after a 1-2 start New England has now won 4 straight and sits atop their division.
1.) Los Angeles Rams (1)(7-0)
MVP? Todd Gurley is off to a tremendous start to the season. He is the centerpiece to the electric offense that Sean McVay is calling.  Aaron Donald shredded the 49ers offensive line for four sacks and now leads the league with eight. The Rams take on the Chiefs week 11 on Monday Night Football, but first have to deal with Mr. Rodgers and the Packers this week.
Related Articles
College Football Power Rankings: Week 8
Hyde Traded to Jags, Lynch Out a Month