We are just a day and a handful of hours away from the most exciting event of the NFL offseason. The 2022 NFL Draft. This is a chance for college stars to complete their dream, while it is also a chance for NFL teams to continue building their rosters for the upcoming season. This is one of the stranger drafts in recent time, shown by all everyone putting up a very different NFL Mock Draft 2022.
We all knew that the Jaguars were going to draft Trevor Lawrence first last year. That can't be said this year, as there is not a definite top prospect in this draft. Will Aidan Hutchinson hear his name called first? Will it be Travon Walker, or could it be a shocker like Sauce Gardner? All of this and more will be answered in my NFL Mock Draft 2022 below.
NFL Mock Draft 2022: First Round Draft Order and Picks
1. Jacksonville Jaguars
The Jacksonville Jaguars are in desperate need of talent all across the board. They did beef up their receiving corps, with the additions of Christian Kirk, Zay Jones and Evan Engram. While their offense is still lacking great offensive line play, the Jaguars should look at adding a franchise player on defense. They gave up 52 touchdowns last year, which totals 312 points. With their franchise player on offense set in stone, the Jaguars should build their defense up with a player like Hutchinson. Aidan Hutchinson should be able to make an impact early and should be expected to record double-digit sacks every year that he is in teal.
2. Detroit Lions
Outside of Hutchinson, Travon Walker may be the best player in the 2022 NFL Draft. Standing at 6-5, 275 lbs, Walker should instantly be a difference-maker for the Lions. His athleticism and quick first step is what make him such an intriguing prospect. While the Lions have a need at quarterback, I think that building up their defense in a division with Aaron Rodgers, Justin Fields and Kirk Cousins should be the first step.
3. Houston Texans
Charles Cross is the best pass-blocking offensive lineman in the 2022 NFL Draft. The Texans have a need at every position, but it makes sense to nail down a franchise offensive tackle. For how bad the Texans played last year, Davis Mills may have been the best rookie quarterback. If the Texans want to move forward with Mills, the offensive line should be the number one concern here.
4. New York Jets
With Robert Salah at the helm for the Jets, it makes sense that the defensive guru would want to build up his defense. The Jets ranked last in total defense in 2021. Salah is trying to push an "all gas, no breaks" style of defense, and with the top two pass rushers off of the board, the Jets elect to go with the best defensive back in the draft. The Jets gave up 259 passing yards per game last year. You would have to imagine that number dramatically drops with Gardner being this draft's best cover corner.
5. New York Giants
At one point, Evan Neal was projected to go number one in many NFL mock drafts. With him available at the fifth pick, I don't know that the Giants have a choice to not take Neal here. Daniel Jones is reaching the end of his contract and has been turnover-prone, due in part to a bad offensive line. Saquon Barkley continues to show flashes of greatness, but he can never stay healthy enough to prove it. Upgrading the offensive line should be the Giants' top priority to help ensure that the offense is somewhat competent in an average NFC East.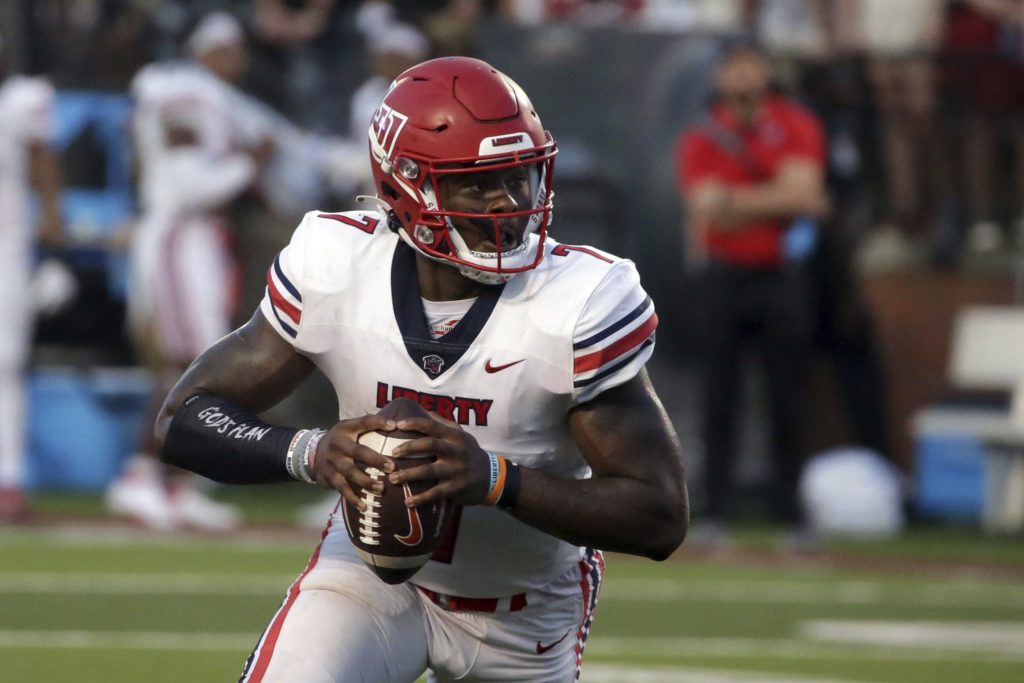 6. Carolina Panthers
The Panthers tried two different experiments at quarterback last year, in Sam Darnold and Cam Newton. To the surprise of nobody, both those experiments failed. The Panthers don't have a bad team. They have pieces to build off, including Christian McCaffrey, DJ Moore, Jeremy Chinn and Jaycee Horn. They need someone who can lead the team and not worry about who is going to take the next step. Malik Willis is the most intriguing quarterback in this draft and should start from the jump in Matt Rhule's system. Willis/McCaffery read options are sure to keep NFC South DCs up at night.
7. New York Giants (From CHI)
Ickey Ekwonu – OL – North Carolina State
The Giants should go back-to-back picks upgrading their offensive line. Are there other holes to fill? Of course, but your best player is on offense. Barkley should be smiling seeing the Giants revamp their offensive line with two of the three best offensive line prospects in this draft. With their above-average receiving corps, Barkley's injury history and Jones' turnover problems, securing two pieces of the offensive line will work out great. It also helps to have all the support you can get in a division with Chase Young, Jonathan Allen, Micah Parsons, DeMarcus Lawrence, Brandon Graham and Fletcher Cox.
8. Atlanta Falcons
The Falcons have a screaming need at receiver, with Calvin Ridley's suspension. My only worry for the Falcons is that they may reach for a receiver at seven when Thibodeaux is still on the board. While receiving is the most pressing need, the Falcons are in a transition at quarterback, with Marcus Mariota at the helm. They are not in a spot to compete, so it makes the most sense to grab the best player available and have him develop along with the team.
9. Seattle Seahawks (From DEN)
Have you ever seen a team be so dominant then collapse and get rid of all of their players while keeping the head coach? That just proves that Pete Carroll has more power than people realize. It has become obvious that Seattle wants to upgrade their defense in any manner that they can. Drafting Stingley will help to rebuild that once great Legion of Boom. While quarterback is a need here, now that Russell Wilson is in Denver, there is probably not a quarterback that Seattle would reach for with Willis off of the board. Having two LSU defensive backs (Stingley and Jamal Adams), Seahawks fans should see a start of what they loved almost a decade ago.
10. New York Jets (From SEA)
Could this be the start of the run on wide receivers? With the Jets filling a need on defense, it makes sense to do what they can to help Zach Wilson. Garrett Wilson is the best receiver in this draft and should be able to complement Elijah Moore and Corey Davis well. Wilson possesses an uncanny ability to find space after the catch. With Zach Wilson still developing as a quarterback, letting him throw quick passes to Garrett Wilson should help ease him into games easier. So, another Wilson to the Jets is the 10th pick in our NFL Mock Draft 2022.
11. Washington Commaders
I do believe that Washington goes with one of two players here, Drake London or Garrett Wilson. The Commanders have struggled recently to find a consistent offensive attack. They do have one of the better receivers in the NFL, Terry McLaurin, but with his status up in the air, it makes sense for Washington to take another stud. London is just that. At 6-5, 220 pounds, the USC star should instantly provide a huge target for Carson Wentz.
12. Minnesota Vikings
The Vikings have really turned their identity around recently. A team that was known for getting after the quarterback about a decade ago now possesses one of the better offenses in the NFL. Minnesota's defensive line is not lacking either, with the pick-up of Za'Darius Smith. What they are lacking though is the secondary. If the Vikings don't trade out of this pick, the best cornerback on the board should be selected here. With McDuffie, the Vikings probably cement themselves as the second-best team in the NFC North and should be in talks for a Wild Card spot all year.
13. Houston Texans (From CLE)
Kyle Hamilton is probably a top-10 player in the 2022 NFL Draft, but he is the victim of teams having more pressing needs than safety. Luckily for Hamilton though, the Texans need help at almost every position. The Texans are probably not in a spot to compete for anything this year, so they should go best player available at every pick. Hamilton is a player who can instantly change the identity of a defense. He should be able to line up all over the defense and make plays at any given spot on the field. Hamilton is fast, strong and has great vision. When it's all said and done, we may be saying how did Hamilton drop to 13?
14. Baltimore Ravens
The Baltimore Ravens are in a very odd spot. A team that was projected to make the playoffs got decimated by injuries to their quarterbacks and running backs. It has become glaringly obvious that Lamar Jackson is the focal point of this team. In order to keep that identity of running the football, the Ravens need to upgrade their offensive line, center in particular. Tyler Linderbaum is a mauler up from, who is capable of getting under defensive tackles and driving them back. Jackson and Harbaugh are going to be elated to have the Iowa star giving the young quarterback enough time to make his reads and maybe even a lead blocker.
15. Philadelphia Eagles
While defensive back is an obvious need, so is linebacker. The Eagles play in a division with Saquon Barkley, Antonio Gibson and Ezekiel Elliott, so run defense is a priority. Fletcher Cox is still playing well, but he is aging. Lloyd should be the player that can help to shore up their run defense. Lloyd is a sure tackler who has a nose for the football. He even has a little pass-rushing ability. Lloyd is the type of athlete who can instantly change a defense, something that Philadelphia should have high on their priority list.
16. New Orleans Saints
I don't love this pick. The Saints probably have more pressing needs, including tackle and wide receiver, but it makes sense to grab a franchise guy. New Orleans finished in the middle of the pack last year in terms of points scored, something that Saints fans are not accustomed to. Alvin Kamara's status from a previous arrest is still up in the air, so grabbing a difference-maker at quarterback seems like the right move. Kenny Pickett has the ability to pass as both a pocket passer and on the run. Drafting Pickett should also give new head coach Dennis Allen some sense of job security as Pickett will be Allen's project for years to come.
17. Los Angeles Chargers
The Chargers need a guy opposite of Keenan Allen. Mike Williams has shown that he has the potential to be that guy, but inconsistent play brings in questions. He feels more like a safety blanket for Justin Herbert than a guy who you design plays for. Jameson Williams may be the opposite.
Jameson Williams was a record-breaking hurdler in high school and has the speed to run with almost anyone in the 2022 NFL Draft. Herbert has proven that he has a cannon of an arm, and we may see that more with Williams on this team. Drafting Williams also gives the Chargers an opportunity to free up Austin Ekeler's ability to both run and catch passes in the middle of the field. If Williams is available here and the Chargers pull the trigger, this could be a very fun offense next year.
18. Philadelphia Eagles (From NO)
Like I said before, the Eagles need help in the defensive backfield. Yes, receiver is a need and should probably be considered, but the Eagles can get away with Jalen Hurts making plays with his legs. The Eagles need a defensive back who can start alongside Darius Slay, and Andrew Booth Jr. can be that guy. He has shown the ability to play a press corner in a zone scheme. What is the Philadelphia defense known for? Zone defense. Booth is also somewhat of a ball hawk, who should have the ability to take chances on 50/50 balls in that zone defense.
19. New Orleans Saints (From PHI)
Sometimes, the draft works in your favor. That is the case at the 19th pick in our NFL Mock Draft 2022 for the New Orleans Saints. Drafting Kenny Pickett with their first pick, it makes total sense to grab a guy that Pickett can instantly develop chemistry with. We often see young quarterbacks and receivers develop chemistry early as they are going through the NFL experience together. The Saints can also afford to wait if Olave needs some time to adjust, as Michael Thomas should be back this year. Olave is a skilled route runner and should provide a consistent security blanket for whoever is throwing him the ball.
20. Pittsburgh Steelers
With Pittsburgh's top two quarterback prospects off of the board, it makes sense for them to trade out of this pick and grab someone like Sam Howell in the second round. If the Steelers do in fact draft in this spot, it makes the most sense to take a shot on a player who is a bit of a question mark. Jordan Davis may be one of the most athletic defensive lineman prospects ever, which is what Pittsburgh could use in a division with Nick Chubb, Joe Mixon and the Ravens' rushing attack. No matter what, the Steelers will have to rely on their defense to win games. With Davis easing his way into the defense, it may not seem like an immediate need, but a player that could benefit in the future.
21. New England Patriots
With Dont'a Hightower possibly out of the picture, the Patriots should be looking at someone to be the leader of their defensive unit. This has always been the case for the Patriots, as players like Hightower, Teddy Bruschi and Jerod Mayo have fit that role. Nakobe Dean is player who as soon as you watch him can tell that he has explosiveness. We know that Bill Belichick is a defensive guy, so it makes sense to grab maybe the best linebacker prospect in the 2022 NFL Draft.
22. Green Bay Packers (From LV)
Wait, what? It is glaringly obvious that the Packers need to replace Davante Adams' and Marquez Valdez-Scantling's production at wide receiver. With the top four wide receivers off of the board and GM Brian Gutekunst showing no sign of drafting a wide receiver in the first round, the Packers will probably go with their second-biggest need — help on the offensive line. Aaron Rodgers isn't getting any younger and has been known to suffer some major injuries. Rebuilding what the Packers lost in Billy Turner should play a factor in this pick. Trevor Penning is a bulldozer who should provide Aaron Jones and AJ Dillon with an incredible run blocker come December and January at Lambeau Field.
23. Arizona Cardinals
The Cardinals are thanking their lucky stars that Green Bay did not go with a receiver here. With Skyy Moore and Jahan Dotson still on the board, I think the Cardinals look the way of Treylon Burks. We know that Kliff Kingsbury wants to open the offense for Kyler Murray to make plays, and Burks may fit into that. At this point in the Cardinals offense, I believe that Kingsbury and Murray both want another player for when Murray undoubtedly finds himself in trouble. With the loss of Christian Kirk, there are other needs to fill, but Burks may provide the most immediate production.
24. Dallas Cowboys
It is incredible how Ezekiel Elliott went from one of the best running backs in the NFL to maybe not even the best running back on his team. I think that is due in part to the collapse of Dallas' great offensive line. They do have Zack Martin, but as he has shown before, Jerry Jones will draft offensive linemen early. I think that trend continues this year. Dak Prescott is still somewhat developing into a top-10 quarterback, so it makes sense to beef up the offensive line. Dallas could also see a need at receiver, but it should be more important to give Prescott and Elliott support, rather than just Prescott.
25. Buffalo Bills
Now that Kansas City and Green Bay have lost pieces, the Bills are right up there with the Rams as having the best rosters in the NFL. Though this is the case, Tre'Davious White is coming off of an injury and Levi Wallace was lost in free agency, leaving the Bills with a spot to fill at defensive back. This feels like a spot where the Bills could trade down to grab Elam, but he is the best corner still on the board. Look for the Bills to shore up their defensive secondary as they look to make a Super Bowl push.
26. Tennessee Titans
The Tennessee Titans should be ecstatic if George Karlaftis is available here at 26. The Titans need to shore up their pass rush, as they only Jeffery Simmons as a pass rusher that you can somewhat depend on. Karlaftis is relentless when it comes to getting after the quarterback. In a division with suspect offensive lines, Karlaftis should get all of the experience he needs to turn into a star on the edge.
27. Tampa Bay Buccaneers
With Todd Bowles now running the show in Tampa Bay, he has got to be foaming at the mouth with Devonte Wyatt still available at 27. Wyatt can play the interior spot, as well as the edge, and he should provide Bowles with a fun piece to move around in his front. Tampa Bay should have the ability to reload and once again win games using their defensive front, as Wyatt can fill that Ndamukong Suh role, if he doesn't return.
28. Green Bay Packers
Drake Jackson – DE – USC
Once again, I don't know that the Packers want to reach for a wide receiver with the top four off of the board. Filling one hole on offense leads the Packers to fill another on the defensive side of the ball. I am not totally sure that during the draft the Packers will draft in the 28 spot, but if they do, Drake Jackson is someone that needs to be at least looked at. Green Bay could use some help at situational pass-rushing to compliment Rashan Gary. We know that the Packers often draft players they could have gotten later (Jordan Love and Eric Stokes), but for some reason, that does not apply for wide receivers. So, we go edge rusher at this pick in our 2022 NFL Mock Draft.
29. Kansas City Chiefs (From SF)
With back-to-back picks, the Chiefs have the ability to take a flier on one of them. I think Jermaine Johnson is that flier. Johnson is a high-motor, hard-working edge rusher who shows the ability to defend against the run as well as the pass. With a division containing Javonte Williams, Austin Ekeler and Josh Jacobs, along with three very good quarterbacks, I think that Kansas City takes the opportunity to beef up their defensive line here.
30. Kansas City Chiefs
I don't know that the Chiefs' need at WR is as big as everyone is making it seem. Travis Kelce is still here, and they signed Marquez Valdez-Scantling and JuJu Smith-Schuster to help replace Tyreek Hill. What they are missing though is someone who can work the deep middle of the field. Jahan Dotson fits that role, as he has shown the ability to get open at all three levels and should compliment Kelce very well. If the Chiefs end up with Johnson and Dotson, I do believe that all things aren't that bad in Kansas City.
31. Cincinnati Bengals
I don't care what anyone says, the Bengals still need help on their offensive line. Joe Burrow was the most sacked quarterback last year and, if not for Tennessee's inability to move the ball on offense, the Bengals probably don't see a Super Bowl. Burrow was sacked nine times in that playoff matchup against Tennessee. Beefing up the offensive line should be Cincinnati's number one priority in the 2022 NFL Draft.
32. Detroit Lions
I think once again the Lions try to beef up their defense based upon what division they play in. Already drafting Walker, the Lions can add to their young secondary with Jeff Okudah, by drafting Lewis Cine out of Georgia. Cine is a hard-hitting safety who runs downhill to make plays. He fits right into Dan Campbell's mantra of biting knee caps. I also don't think that this is a spot that Detroit can reach on a quarterback, as there should be one or two available at their next pick.