It is officially mock draft season! The 2022 NFL Draft is quickly approaching, with the first round kicking off on Thursday, April 28th. Of course, draft analysis, projections and rumors will be dominating the headlines until then. Among the players expected to hear his name called on the first day is offensive lineman Ikem Ekwonu out of North Carolina State.
The following is a complete Ikem Ekwonu NFL Draft profile, including stats, highlights and a mock projection.
Ikem Ekwonu NFL Draft Profile, Stats, Highlights and Projection
Ikem Ekwonu
Position: Offensive Lineman
Height: 6'4″
Weight: 310 lbs
Age: 21
College: NC State Wolfpack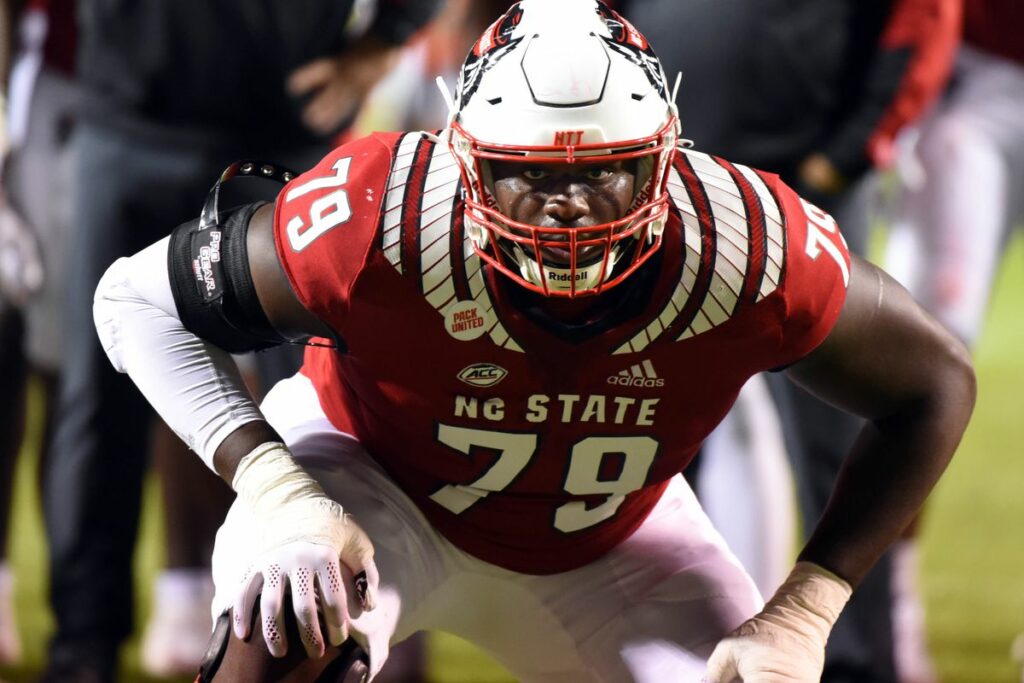 Ikem Ekwonu Draft Profile
Strengths
Ikem Ekwonu has that dog mentality. He is mean on the field, bullying anyone he goes against. His lower body is among the strongest in this draft class, making him a true bulldozer up front. Ekwonu also has great arm length for his size, keeping defenders off of his pads. For teams that want to get better at running the ball, his name is an obvious one to call on draft day.
Weaknesses
Ekwonu's agility and ability to mirror edge defenders are not where it needs to be to play tackle in the NFL. This, combined with his size, is why most believe he is better suited to play guard in the NFL despite playing exclusively at left tackle last season. Ekwonu's pass sets are also extremely sloppy, again leading to the narrative that he is better suited to slide inside.
Ikem Ekwonu Highlights
Ikem Ekwonu Draft Projection
All 2022 NFL Draft Projections are taken from the latest Sporting News NFL Mock Draft by Vinnie Iyer.
Ikem Ekwonu is currently projected to be drafted by the New York Giants at No. 5.
---
For more 2022 NFL Draft coverage and player profiles, check out our NFL Draft page.