EA announced the NFL Madden 24 cover would be released on Wednesday, June 7th. While there are many rumors about which athlete could make the cover this year, nobody seems to know the actual direction EA will go in.
Last year, the NFL Madden cover featured John Madden, after the NFL legend passed away several months prior. The cover of Madden has been dominated by quarterbacks recently, with both Tom Brady and Patrick Mahomes on Madden 22, Lamar Jackson on Madden 21, Mahomes again on Madden 20, and Brady again on Madden 18. Does this mean EA will turn to another position this year?
Of course, there is always the question of if players even want to be on the NFL Madden 24 cover. While it seems the "Madden Curse" has been broken, would you still risk it? Would putting a player like Damar Hamlin on the cover be playing with fire?
There seems to be no concrete news or significant rumors of which player will make the cover this year, so let's try to narrow it down to a pool of 32. Let's go over the most likely player from each team that would be on the NFL Madden 24 cover.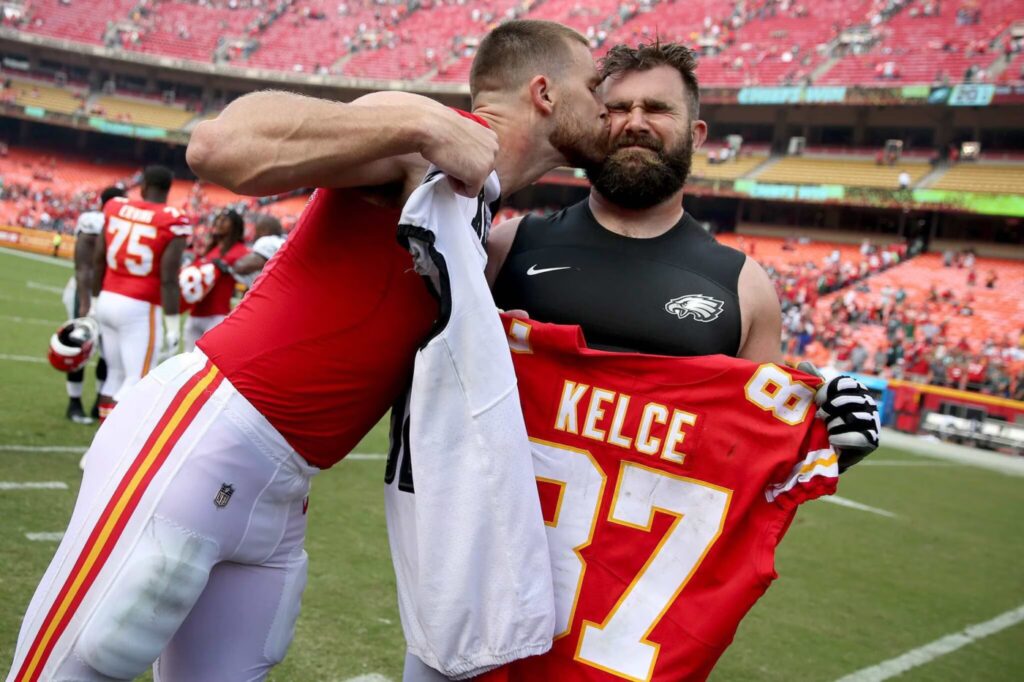 Author's NFL Madden 24 Cover Choice: Kelce Brothers
Before I get into the most likely player from each team to make the NFL Madden 24 cover, I want to give my pitch to EA (as if it hasn't already been decided). After starting an amazing podcast together called New Heights, Jason and Travis Kelce dominated headlines as the first brothers to face each other in a Super Bowl. They are two top-tier, fan-favorite players that a large majority of the fanbase would be happy to see on the cover.
Also, we need to give offensive linemen some love, and the easiest way to do that is to pair him with his superstar brother.
NFL Madden 24 Cover Candidates From Each Team
Arizona Cardinals — Kyler Murray
The video game boy himself! What better player to make the NFL Madden 24 cover than the quarterback to have a video game clause in his contract? Also, the Arizona Cardinals don't have many great players to choose from that we are confident will be on the team when the game is released. Since he has a lot of time to play the game while he rehabs from injury, Kyler Murray is the easy choice.
Atlanta Falcons — Cordarrelle Patterson
Last season, Cordarrelle Patterson set the all-time NFL record for most kick return touchdowns. Given the new fair catch rule, this is a record that may never be broken. The do-it-all player for the Atlanta Falcons may not be the RB1 anymore, but he may still be the most dangerous man every time he sets foot on the field. He's solidified himself as an NFL legend with the kick return record, and this is something that should be celebrated more. Maybe getting the Madden cover is the celebration that's needed.
Baltimore Ravens — Lamar Jackson
Clearly, EA does not mind repeating quarterbacks on the Madden cover, so the easy choice from the Baltimore Ravens is the MVP quarterback that has finally gotten paid. Lamar Jackson is one of the top players in the league when he is healthy, and he is always a fan-favorite to play with on Madden.
Buffalo Bills — Josh Allen
One of the NFL's biggest budding superstars that has won nothing is Josh Allen. I don't bring this up as an insult. Instead, this could be the year he gets over the hump and get to full-blown superstar status. Would it be a massive surprise if Allen won NFL MVP and a Super Bowl? No, so EA may want to buy his "stock" now and hope this is a massive year for the Buffalo Bills quarterback.
Carolina Panthers — Brian Burns
Brian Burns may be the most talented, highest-paid NFL player that a large section of fans knows nothing about. Of course, this isn't a great thing for the cover of a video game, but the Panthers don't have many non-rookie choices and Burns is a phenomenal player that deserves it. Burns has 40 sacks in four seasons, which includes 13 last year. He is a disrupter on the defensive line, and everyone should know who he is.
Cincinnati Bengals — Joe Burrow
In a similar situation to Josh Allen, Joe Burrow is one of the biggest superstars in the NFL that has won absolutely nothing. However, due to his National Championship run in college, he entered the NFL with a superstar-like following, and that has only grown during his time at Cincinnati. Burrow should continue to be one of the best players in the NFL for the next decade-plus, and he is an obvious Madden cover choice.
Cleveland Browns — Myles Garrett
No, we will not be choosing the massage-loving quarterback. Instead, we will go with one of the league's biggest superstars on the defensive side of the football. Myles Garrett is a physical specimen who seemingly every football fan likes, except when your team is playing Cleveland. Garrett has back-to-back 16-sack seasons, so this top-level play is more than worthy of an NFL Madden 24 cover appearance.
Chicago Bears — Justin Fields
Can we just pass on choosing a Chicago Bears player? No, so we will go with the Chicago player that will be the most fun to play with on the new Madden. Justin Fields is going to be a dangerous quarterback on the run, which is why he is the choice here.
Dallas Cowboys — Micah Parsons
Clearly, Micah Parsons is one of the best defensive players in the NFL already. He is also a popular player amongst the younger generation, so this would be a smart choice by EA to make Parsons the Madden cover athlete. In his two-year NFL career, Parsons has 26.5 sacks, 149 tackles, six forced fumbles and a touchdown. Surprisingly, there has never been a Dallas Cowboy on the Madden cover, so there would be a big audience that is happy with Parsons.
Denver Broncos — Patrick Surtain II
After last season, Russell Wilson isn't going to be the Madden cover athlete, even though a "let's ride" edition could be funny. Quinn Meinerz would be awesome on the cover, but that won't happen either. So, we will go with possibly the best player on the team and one of the best cornerbacks in the entire league — Pat Surtain. Patrick Surtain II has held quarterbacks to under a 60% completion rate when targeting him in both NFL seasons. He has quickly solidified himself as one of the league's best coverage players.
Detroit Lions — Dan Campbell
Let's be honest, there are no players on the Detroit Lions who have enough love or notoriety to make the NFL Madden 24 cover. However, they do have a head coach that has a lot of love around the world, and that's Dan Campbell. After winning over America on Hard Knocks last season, Campbell has turned the Lions around to be a respectable football team, and he even has gotten them primetime games this season.
Plus, a Dan Campbell Madden cover would be a great package gift with Dan Campbell's "Rise and Grind" merch!

Green Bay Packers — Aaron Jones
There aren't many great choices from the Green Bay Packers now that Aaron Rodgers is out of town. Possibly the most popular player still on the team is A.J. Dillon, due to his social media, but he isn't even the RB1. Instead, we will go with the better of the two running backs — Aaron Jones. Fans around the league like Jones due to his happy-go-lucky demeanor, tremendous running with the football and embarrassing the Cowboys.
Houston Texans — DeMeco Ryans
We can't choose a rookie, so the second and third overall picks are out of the question, even though that could be cool. The Texans do have a number of talented players on their roster, but the majority of NFL fans don't know or care about these players. The only person in Houston that would work is new head coach DeMeco Ryans, though this is mostly a placeholder for me choosing "pass." I suppose a cover that shows Ryan as both a player and coach of Houston could be cool.
Indianapolis Colts — Jonathan Taylor
Jonathan Taylor is one of the best running backs in the NFL. After leading the league in rushing two seasons ago (1,811), he had a disappointing season behind a poor offensive line. If an Indianapolis Colts player is chosen, it should be Taylor, who seemingly everyone likes and knows is a superstar at the position.
Kansas City Chiefs — Travis Kelce
While Patrick Mahomes just won NFL MVP and Super Bowl MVP, he has been on the Madden cover twice recently. Instead, Travis Kelce is the choice here. Kelce has solidified himself as one of the great tight ends in NFL history, and he continues to be one of the top receivers in the league year after year. We don't know how many great years he has left, so let's get him on the cover while he's still on top.
Las Vegas Raiders — Josh Jacobs
The best player on the Las Vegas Raiders is Davante Adams. However, due to the lawsuit against him, which is from the moronic cameraman he shoved, EA will likely look elsewhere if they choose a Raider as the cover athlete. Instead, they would likely choose Josh Jacobs, who led the NFL in rushing yards last season (1,653).
Los Angeles Chargers — Austin Ekeler
It doesn't feel like Justin Herbert would want to be a Madden cover athlete, but with his Twitch following, we know Austin Ekeler would be all about it. Ekeler has become one of the best dual-threat running backs in the NFL, totaling 38 touchdowns over the past two seasons. He is also a popular player that most fans wouldn't be opposed to.
Los Angeles Rams — Aaron Donald
It seemed all but certain that Aaron Donald would retire this offseason. He even changed his Twitter to reflect this. However, the superstar defensive lineman appears to be back for one more season, as the Rams look to make one last Super Bowl run before blowing up the team. This would be the time to honor an NFL great before he hangs it up.
Jacksonville Jaguars — Trevor Lawrence
One of the league's best young quarterbacks looks to be Trevor Lawrence, even though he has had just as many good seasons as bad. However, Lawrence has been a superstar since the moment he stepped foot on the Clemson campus. He has notoriety, and this could be the league's way to assist in building the "new wave" of the NFL.
Miami Dolphins — Tyreek Hill
This past season, Tyreek Hill proved he can be successful in the NFL without Andy Reid or Patrick Mahomes. Down in Miami, Hill was one of the top receivers in the league. Due to his speed, he is also a perennial Madden favorite to play with.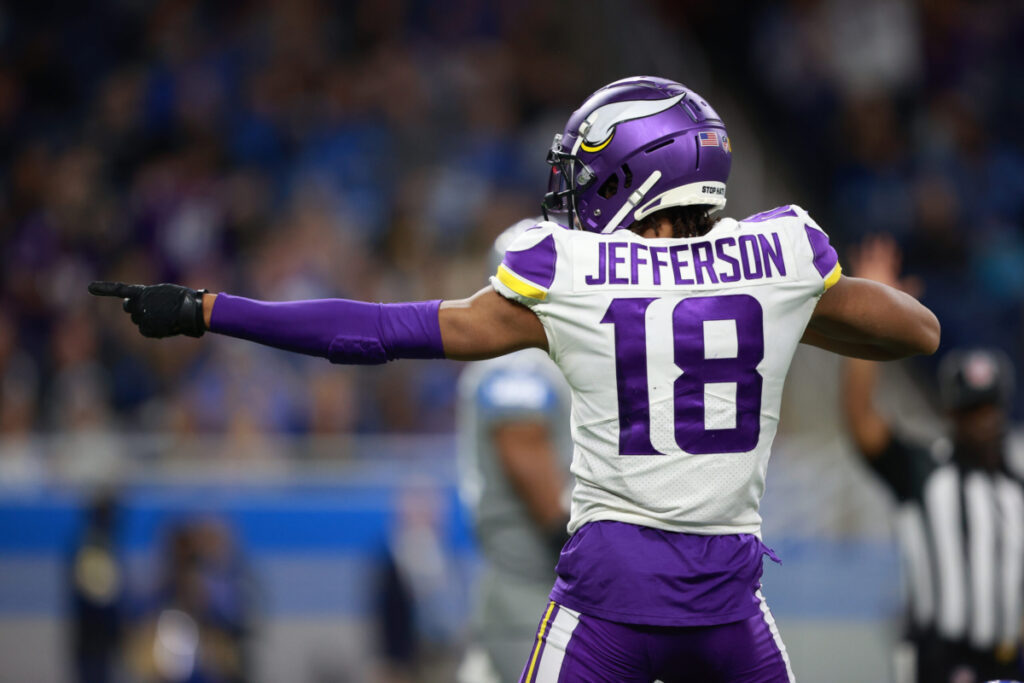 Minnesota Vikings — Justin Jefferson
Justin Jefferson may be the favorite to be on the NFL Madden 24 cover, at least given the rumors I have heard. Jefferson is widely considered to be the top wide receiver in the NFL. At the very least, he is the best receiver on his rookie contract still. The Minnesota Vikings wide receiver is about to set the new wide receiver market, but he may make the cover of a video game first.
New England Patriots — Rhamondre Stevenson
From Juco to the Madden cover, it could be a cool story for Rhamondre Stevenson. This would be another situation where EA "buys low" on a player who could ascend to superstar status this year. Stevenson currently looks to be the main show in town in the New England Patriots' backfield. He could be the bell cow for a Patriots running game, which would be very valuable.
New Orleans Saints — Tyrann Mathieu
While he is no longer in the prime of his career, Tyrann Mathieu is still a notable NFL player that has a ton of success on the field that should be celebrated. EA could then have the "Honey Badger Edition" as the premium version of the game.
Some of you may be mad that this choice isn't Alvin Kamara, but he may be suspended when the game is released, which isn't a great look.
New York Giants — Saquon Barkley
The talent of Saquon Barkley has never been in question. However, he was finally able to stay healthy last season, which has helped earn him respect across the NFL once again. Who knows how many good years Barkey has left, so EA could strike while the iron is hot.
New York Jets — Aaron Rodgers
If you remember, the last time a Green Bay Packers quarterback went to the New York Jets, they were on the NFL Madden cover. In fact, there were versions of the game with Brett Favre in either a Packers or Jets jersey. Aaron Rodgers was a back-to-back NFL MVP winner before getting insulted by the Packers this offseason. Now, the Jets are Super Bowl contenders and Rodgers is very motivated to play well. He is also the biggest athlete in one of the country's biggest media markets, so it makes sense money-wise as well.
Philadelphia Eagles — Jalen Hurts
Prior to last season, Jalen Hurts was in a prove-it year. If he did not prove to be a franchise quarterback, there was a chance he wouldn't even be on the Philadelphia Eagles this year. He then was an NFL MVP candidate, nearly won a Super Bowl and he is now one of the league's highest-paid players. My heart wanted to say Jason Kelce for this pick, but we know it would be Hurts.
San Francisco 49ers — George Kittle
There are many great candidates for the NFL Madden 24 cover from the San Francisco 49ers, but we will choose the player that seems to be the most popular among all NFL fans. George Kittle is one of the most dominating tight ends in the NFL, when he is healthy and on the field. He is also a larger-than-life personality that has won over many fans. We even saw Kittle team up with Pat McAfee at this past WrestleMania. Get this psycho on the cover.
Seattle Seahawks — DK Metcalf
While he hasn't been the greatest wide receiver at the NFL level, DK Metcalf is physically built like a person who should be on the cover of a video game. Metcalf is also among the group of receivers that is popular with the younger generation, so it could make a lot of sense for EA to choose the Seattle Seahawks receiver.
Pittsburgh Steelers — T.J. Watt
A full Watt brothers title could be cool (coming from a writer in Wisconsin), especially with J.J. Watt entering retirement. However, if only one was to make the Madden cover, T.J. Watt is the choice. He continues to play like a Defensive Player of the Year candidate, and it feels like this Steelers team is trending upwards.
Tampa Bay Buccaneers — Mike Evans
There are many conflicting feelings about Mike Evans as a player, amongst the writers here at FlurrySports. However, the fact that Evans has totaled over 1,000 receiving yards in each of his nine NFL seasons is impressive, and it's a feat that should be honored. With the Bucs likely struggling this season, this could give Tampa fans something to celebrate.
Tennessee Titans — Derrick Henry
Derrick Henry is a favorite among Madden fans since he will run over defenders and trigger your opponent. It's been mentioned a bit in the choices above, but we truly have no idea how many more great seasons Henry has left, since he has been an absolute workhorse for the Tennessee Titans. It seems like an easy choice to give "King Henry" the cover. Give him a crown and throne while we're at it.
Washington Commanders — Terry McLaurin
In reality, maybe the choice should be the celebrating fans now that Dan Snyder is gone. Instead, we will go with "Scary Terry," since he's a talented player and you could do some cool stuff with the cover. You could have the cover all dark and blackout the jersey, since Washington may have to change the team's name yet again.