As we head into the final week of the regular season, there is a clear runaway for the NFL MVP. Aaron Rodgers has been absolutely stellar for the top-ranked Green Bay Packers, It seems clear he will repeat as the league MVP this season, regardless of Week 18 performances.
However, a recent Chicago media member with an MVP vote has announced he will not be voting for Rodgers, despite him being the clear best on-field performer this season. The moron is Hub Arkush. Despite admitting Aaron Rodgers could not get his MVP vote before stepping foot on the field this season, the Associated Press supports him. That doesn't seem problematic at all.
Hub Arkush is the kind of person to write a food review for a restaurant he never visited. Sources say Hub Arkush judges books by their cover. This is speculation, but I bet Hub Arkush cries over spilled milk every damn time.
This man has one of the 50 NFL MVP votes, which is an issue. While this stooge likely won't stop Aaron Rodgers from winning his fourth MVP, it still leads us to ask who votes for NFL MVP?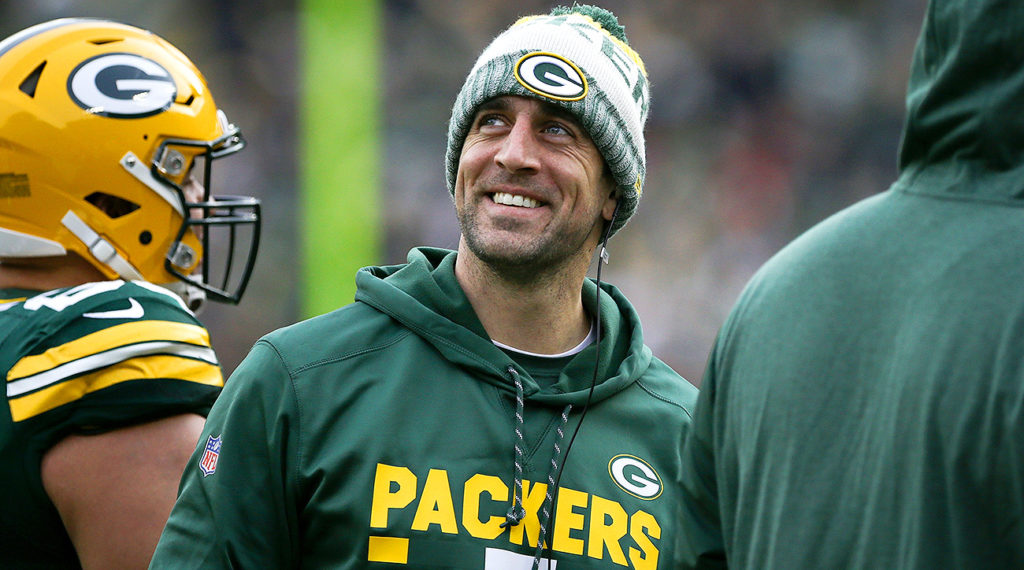 Who Votes for NFL MVP?
As stated above, 50 voters determine the NFL awards, including the NFL MVP.
"We want a cross-section of writers whose main beat is the NFL and who cover it on a national basis," said Barry Wilner, who has organized the Associated Press's voting for at least 20 years. "Some of the guys on this list cover teams, but they write on a national basis so they're very clued into the entire league. We want a mix of print, website, radio and TV."
While there isn't a public list of who votes for NFL MVP this season, these are individuals who voted last season.
2020 Associated Press NFL Awards Voters
Eric Adelson, Athlon Sports: @eric_adelson
Hub Arkush, Westwood One: @Hub_Arkush
Howard Balzer, Pro Football Hall of Fame: @HBalzer721
Andrew Beaton, Wall Street Journal: @andrewlbeaton
Jarrett Bell, USA Today: @JarrettBell
Vic Carucci, Buffalo News: @viccarucci
John Clayton, ESPN: @JohnClaytonNFL
Steve Cohen, Sirius XM: @CohenNFL
Mark Craig, Minneapolis Star Tribune: @markcraignfl
Tom Curran, Comcast Sports Net: @tomecurran
John Czarnecki, Fox Sports
Charles Davis, CBS Sports
Nate Davis, USA Today: @ByNateDavis
Howard Deneroff, Westwood One: @HowardDeneroff
Paul Domowitch, Philadelphia Daily News: @pdomo
Tony Dungy, NBC: @TonyDungy
Boomer Esiason, CBS: @7BOOMERESIASON
Rich Gannon, CBS: @RichGannon12
Fred Gaudelli, NBC: @NBCSNF
Bob Glauber, Newsday: @BobGlauber
Rick Gosselin, Talk of Fame Network: @RickGosselin9
Rodney Harrison, NBC: @Rodney_Harrison
Mike Jones, USA Today: @ByMikeJones
Clark Judge, Talk of Fame Network: @ClarkJudgeTOF
Ira Kaufman, Fox 13 Tampa: @IKaufman76
Peter King, NBC: @Peter_King
Pat Kirwan, CBSSports.com: @PatKirwan_NFL
Suzy Kolber, ESPN: @SuzyKolber
Jeff Legwold, ESPN: @Jeff_Legwold
James Lofton, CBS: @lofton80
Alex Marvez, Sirius XM: @alexmarvez
Jim Miller, Sirius XM: @jimmiller_nfl
Chris Mortensen, ESPN: @mortreport
Bruce Murray, Sirius XM: @BruceMurrayNFL
Gary Myers, Pro Football Hall of Fame: @GaryMyersNY
Nick Pavlatos, Sirius XM: @nflradionick
Bill Polian, ESPN
Dan Pompei, The Athletic: @danpompei
Pete Prisco, CBSSports.com: @PriscoCBS
Lorenzo Reyes, USA Today: @LorenzoGReyes
Charles Robinson, Yahoo: @CharlesRobinson
Armando Salguero, Miami Herald: @ArmandoSalguero
Aaron Schatz, Football Outsiders: @FO_ASchatz
Adam Schein, Showtime/CBS: @AdamSchein
Tom Silverstein, Milwaukee Journal Sentinel: @TomSilverstein
Michael Strahan, Fox Sports: @michaelstrahan
Charissa Thompson, Fox Sports: @CharissaT
Mike Tirico, NBC: @miketirico
Jenny Vrentas, The MMQB: @JennyVrentas
Charean Williams, Pro Football Talk: @NFLCharean