The injuries are beginning to mount for some teams, and the impact will surely shape the course of the season in the coming weeks. For the MLB Power Rankings, we have a new number one and a familiar face. The San Francisco Giants lead the MLB by one and a half games, as they continue to shatter expectations.
Will this continue for San Francisco, or will the injury bug start to take its toll on the Giants? Without further ado, here are your updated MLB Power Rankings for Week 12.
Week 12 MLB Power Rankings
1) San Francisco Giants (46-26) (Last Week: 3)
The Giants are first in the MLB by one and a half games. They had an easy week against Arizona and Philadelphia, but they did well to pick up the games they needed to win. They are fifth in the league in team ERA and fourth in runs scored. When you're elite in both categories, you can't be discounted as a "fluke." The fact they are doing this in the best division in baseball makes it all the more impressive.
2) Los Angeles Dodgers (44-27) (5)
The Los Angeles Dodgers have won eight of their last 10 games and also played Philadelphia and Arizona this week, like the Giants, which doesn't show much. They have a chance to prove they have found consistency this week, with a series against San Diego and the Cubs. This team could be very scary when Max Muncy, Corey Seager and Cody Bellinger can all stay healthy for a prolonged period of time.
3) Houston Astros (43-28) (9)
The Houston Astros may only be tied for the division lead with Oakland, but this past week showed they are the team to beat in the AL West. They took care of the Rangers in a short two-game series, before bringing out the brooms on the White Sox in four games. This team is rolling and rising up the MLB Power Rankings. They also get Baltimore and Detroit for the remainder of June.
4) Oakland Athletics (44-29) (4)
The Athletics did well to sweep the resurgent Angels, before losing two of three games to the slumping Yankees. They haven't played anyone notable since the Astros in the middle of May. They'll have their first "test" in a while when they travel to San Francisco to end the week in a must watch series for baseball fans.
5) Chicago White Sox (43-29) (2)
The White Sox may have been swept by Houston, but they did take a series against Tampa Bay to start the week, so I guess they broke even. With Nick Madrigal, Eloy Jimenez and Luis Robert all on the 60-day injured list, even the White Sox are starting to run low on depth. Luckily, in the weak AL Central, they should be more than okay.
6) Boston Red Sox (43-29) (8)
Thanks to the Rays having a disastrous week and the Red Sox doing just enough, Boston is now leading the AL East again. This team hasn't exactly blown anyone away with crazy win streaks, but their consistency is impressive. With the state of the Rays and Yankees right now, their six games coming up against them this week could help pad their new lead.
7) Tampa Bay Rays (43-30) (1)
Last week's clear number one team in the MLB Power Rankings decided to lose six straight to the White Sox and Mariners. It'll be interesting to see if they can turn it around quickly, or if this could be the start of a slump for Tampa Bay. It seems injuries are finally starting to catch up to the Rays, and it'll be interesting to see how their pitching handles a likely season-ending injury to their ace Tyler Glasnow.
8) Cleveland Indians (39-30) (11)
The Indians continue to be one of the most impressive teams, when you consider they weren't assumed to be much of anything this season. They keep winning and find themselves within three of the division-leading White Sox. Franmil Reyes and Jose Ramirez should be back sooner rather than later, which will give a much-needed boost to their run support for their pitching staff.
9) Milwaukee Brewers (40-32) (7)
The Milwaukee Brewers sure cooled off quickly. They got swept by a Reds team that, although is hot, is still inexcusable to be swept by. They then dropped two in Colorado before salvaging the week by winning the last two in the series. The story for Milwaukee is their resurgence since the acquisition of shortstop Willy Adames. Coming in batting under the Mendoza line, Adames is now hitting around 100 points better along with bringing much needed energy to this offense.
10) Chicago Cubs (40-32) (6)
The Cubs didn't have a very good week, much like their rival Brewers, but they did enough to still hold a share of first place. They will need to pick up their form, with a tough week of the Indians and Dodgers on deck. Knowing how the NL Central has played out thus far, they'll match what the Brewers do this week.
11) San Diego Padres (42-32) (10)
The San Diego fans are as lively as ever and so are the San Diego bats. They'll need all the firepower they can get with the Dodgers coming to town for three games to start the week. However, the Padres again prove that their inconsistency is a big problem. They were swept in Colorado before sweeping Cincinnati, thanks in part to a Victor Caratini walk-off home run. When is this team going to start making sense?
12) New York Mets (36-29) (12)
I feel like this is just going to be the way the season goes for the Mets at this point. Are they actually doing well, or is it thanks to their opponents' cold spells? They took three of four from the Cubs, but the Cubs had a bad week all around. Immediately after, they went to Washington and lost three of four. Luckily for them, their division lead is growing thanks to a weak NL East.
13) New York Yankees (38-33) (18)
The Yankees had a good end of the week with a series win over Oakland. Seeing how this team has performed all season, it's likely they wilt away this week. They should be able to take their series with Kansas City before ending the week with a big rivalry series against Boston. What's going to happen first: the Yankees live up to expectations, or Aaron Boone is removed as manager?
14) Cincinnati Reds (35-35) (14)
As the most volatile team in the league, it's no wonder the Reds again had a weird week. They got a huge sweep over the Brewers and then were swept by the Reds. It makes sense that this team is .500 but surely this can't be how they are all season. Right?
15) Los Angeles Angels (36-36) (16)
Shohei Ohtani is quite a player and if you're not watching him, you need to start. Check out the week he just had.
There is a reason this guy is in the Home Run Derby this season, and he's finally able to stay healthy, which spells problems for whoever has to face him. Unfortunately, nobody else is stepping up and Mike Trout is still about a month from returning. This team will likely continue to be .500 the rest of the season and hang around the middle of the MLB Power Rankings.
16) Seattle Mariners (38-36) (20)
Seattle had a decent week for a team that struggles, like many others, with consistency. A series win over the Rays will be huge for morale and they face Colorado and the White Sox this week. With their roster and build, it's unlikely this team does anything that can get them into the playoffs, but anything can happen. They need to start now though if they want to have a chance at sneaking in.
17) Philadelphia Phillies (34-35) (15)
Somehow, a sub .500 record is good enough for Philadelphia to be in second in a usually solid NL East. The have been given ample time by the Mets to make it up, it's just a matter of whether or not they ever take advantage. Neither their pitching nor hitting has shown an ability to make up for the other's flaws. To put it bluntly, this is not a playoff team.
18) St. Louis Cardinals (36-36) (17)
While St. Louis had a heck of a slide recently to take them to fourth in the NL Central, they are still very much alive, especially this early. With their opponents being Detroit, Pittsburgh, and Arizona for the rest of the month, this is a key stretch for the Cardinals. They need to take at least six of their next nine before they have to play tough divisional rivals again.
19) Toronto Blue Jays (35-35) (13)
Toronto had the perfect opportunity to make a statement and they bottled it again. They were swept by the Yankees before having to win the last two games against the Orioles after losing the first. Their bats continue to be extremely inconsistent, which certainly isn't helped by the continued absence of George Springer thanks to a quad injury.
20) Washington Nationals (33-36) (23)
Washington had quite the week, with a sweep over Pittsburgh in three, and taking three of four from the division-leading Mets. If they can keep this momentum going, they could be on the Mets' tails sooner rather than later with division opponents on deck this upcoming week.
21) Atlanta Braves (33-36) (19)
With the rest of June pitting Atlanta against the Mets and Reds, we're really going to see what the Braves are made of. The Mets aren't great, but they are better than Atlanta, and the Reds are still hot even after recently being swept. They are only four games out of the lead so there would be no better time for Atlanta to get hot.
22) Miami Marlins (31-40) (21)
The Marlins may have been swept by a cold Cardinals team, but they were able to take two of three at Wrigley to end the week. The question remains if this team is unlucky as their run differential is better than that of teams like the Brewers, Indians, and Yankees among others. It looks like Miami may be in for another long playoff drought.
23) Kansas City Royals (32-38) (22)
The Royals were swept by the Tigers before they decided to play baseball again and take two of three from Boston. How that makes sense, I couldn't tell you, but it perfectly encapsulates their season. Incredibly up and down and extremely frustrating. Hope that World Series was worth it because it may be your last for a long time.
24) Colorado Rockies (30-43) (27)
The Good: Colorado is 25-16 at home which is good for the seventh best home record in the entire league. The Bad: They are just 5-27 on the road which is four less wins than the next lowest team which is Arizona. You know, the same team that has one win in the month of June.
25) Minnesota Twins (30-41) (25)
The Twins have won four straight and six of their last 10 games, which is a welcome sign for Minnesota fans. Unfortunately, their last six games were against Seattle and Texas, who are well short of anything impressive as of late. With that being said, their sweep over the Rangers may be just the momentum boost they need to get them to .500. Probably not, but you never know. Another solid week will see them rise the MLB Power Rankings.
26) Detroit Tigers (30-42) (24)
You have to give credit to the Tigers as they are certainly not quitting this season. They swept Kansas City on the road before losing three of four to the Angels. At the end of the day, it's still a pretty good week seeing how little talent they possess on paper. They play well as a team though as of late and that counts for something.
27) Pittsburgh Pirates (25-45) (28)
Everybody below at or below this line is hopeless. The Pirates are the shiny piece of trash of the bunch as they have won more than once over their last ten games. Good for them!
28) Texas Rangers (25-46) (26)
The Rangers have lost six straight and are just as hopeless as all the other teams on this list at or below the 27 slot. The fact that they were just swept by the Twins at home, really tells you all you need to know.
29) Baltimore Orioles (23-48) (29)
Baltimore may be winners of only one of 10, but thanks to Arizona, they are far from last. Their season can be summed up by this lack of awareness by their entire infield.
30) Arizona Diamondbacks (20-53) (30)
The Diamondbacks have lost SEVENTEEN in a row. That is all.
---
Follow us on all of our social channels! Check out our Twitter, Facebook and YouTube for more great FlurrySports content.
---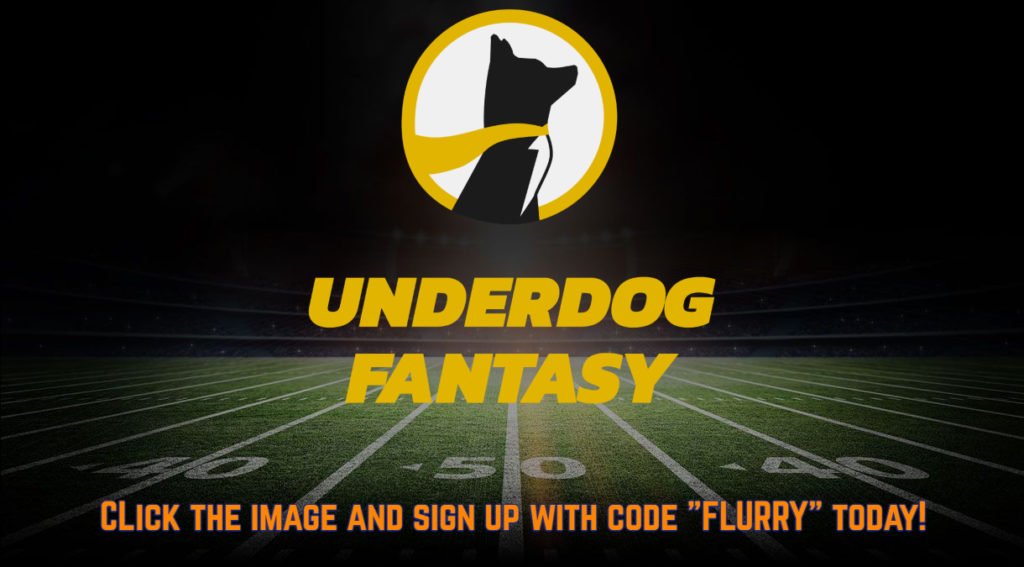 Underdog Fantasy is a new type of DFS that combines the fun of season-long drafts with daily fantasy sports. Aside from their fun, addictive draft mode, Underdog Fantasy also has pick'em player props for many different sports and athletes!
Click the image or RIGHT HERE to get signed up today, and don't forget to use the promo code FLURRY for a FREE $10 bonus on your first deposit!
---