The 2021 NBA Draft is scheduled to take place on Thursday, July 29th in Brooklyn. As that date continues to draw closer, the hype surrounding the incoming rookie class will only intensify. Draft night always marks an evening of newfound hope for the future. Franchise goals can range from rounding out a contending roster to drafting a cornerstone player for the future. Among the top prospects in this year's NBA Draft is forward Jonathan Kuminga of G League Ignite.
The following is a complete Jonathan Kuminga NBA Draft profile, including stats, highlights and a mock projection.
Jonathan Kuminga Draft Profile, Stats, Highlights and Projection
Jonathan Kuminga
Position: Forward
Height: 6'7"
Weight: 217 lbs.
Age: 18
Team: G League Ignite
Jonathan Kuminga 2020-21 Stats
Games Played: 13
Points: 15.8
Rebounds: 7.2
Assists: 2.7
Field Goal Percentage: 38.7%
3-Point Field Goal Percentage: 24.6%
Free Throw Percentage: 62.5%
Steals: 1.0
Blocks: 0.8
Turnovers: 2.6
Jonathan Kuminga Highlights
Jonathan Kuminga Draft Profile
Strengths
When it comes to athleticism, Jonathan Kuminga is special. His explosiveness is next level, as seen on several of his highlight-reel dunks. His frame is already rock solid and he has great quickness as well. Guarding him on the perimeter is next to impossible. His best offensive weapon is his ability to leave defenders in the dust on the way to the rim. He complements his quick burst with a soft touch at the rim. While his G League stats suggest he has plenty of growth to do as a wing player and shooter, Kuminga is just 18 years old.
Weaknesses
As alluded to above, the next step for Kuminga at the NBA level will be to further develop his skills as a wing player. As he improves from 3-point range, he could become a virtually unguardable player. His ballhandling and creativity will also need to improve at the next level. He won't be able to overpower or blow by elite NBA defenders as easily as he did to G League opposition. Kuminga's basketball IQ could also stand to improve, as well as his free throw shooting.
Pro Comparisons
Shawn Marion, Jaylen Brown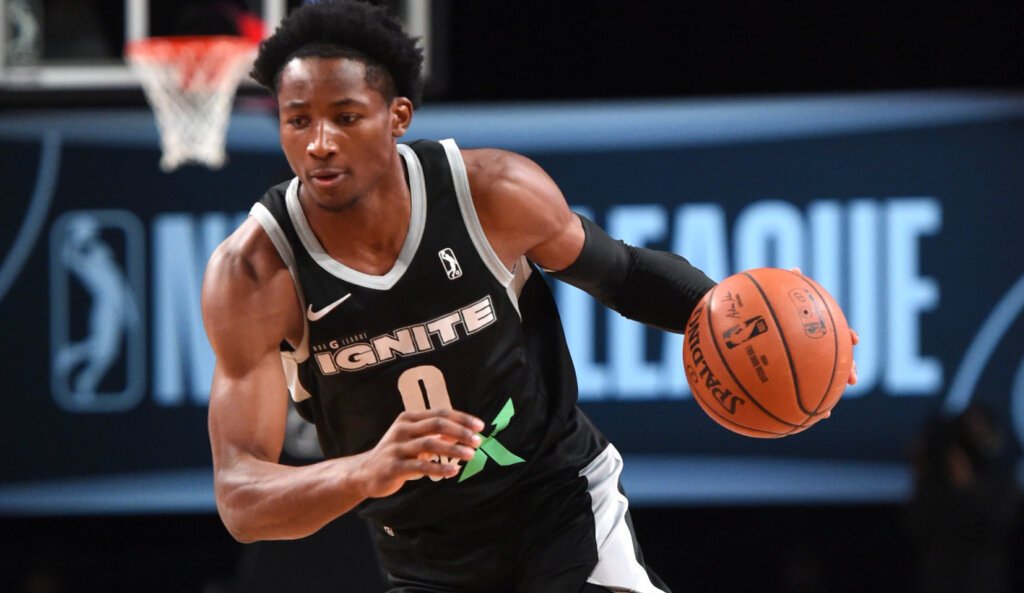 Jonathan Kuminga Draft Projection
All 2021 NBA Draft projections are taken from the latest Bleacher Report mock draft by Jonathan Wasserman.
Jonathan Kuminga is currently projected to be drafted by the Orlando Magic at No. 5 overall.
---
Follow us on all of our social channels! Check out our Twitter, Facebook and YouTube for more great FlurrySports content.