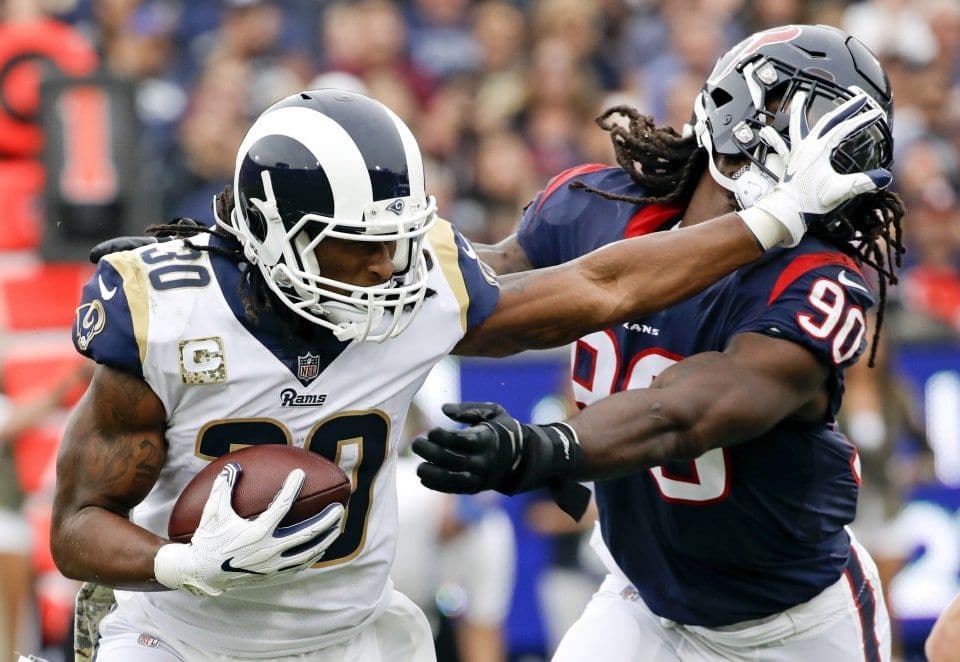 The running back is arguably the most important position in fantasy and the flashiest on the field. If you win your fantasy football league, it is highly unlikely that you do it without a stud at RB1. The top-5 fantasy running backs last year were Todd Gurley, Le'Veon Bell, Kareem Hunt, Alvin Kamara and Melvin Gordon, but how will they perform this year?
Todd Gurley
The highest paid running back in the game showed why last year. He achieved career-highs in yards, touchdowns, and receptions. Everyone on the Rams team seemed to set new career-highs in Sean McVay's system. Gurley had a good rookie year, and a let down of a second year, so maybe he peaked last year and will not get back to it. However, I think Sean McVay has the perfect offensive system and Gurley will pick up right where he left off. He is a top-5 running back, with a very good team around him. If you have a top-3 pick in your fantasy football draft, I would definitely consider taking him. Our site ranks him as a top-two player this year, and I agree with that ranking.
Le'Veon Bell
Bell is a big wild card. He has had contract negotiations with the Steelers go nowhere. Rumors of a holdout have been thrown around, so who knows if he is going to play and when he will show up. Bell is also entering his sixth season and he is 26 years old. He is not past his prime, but the wheels tend to fall off quicker for a running back than any other position. However, Bell has proven that he is the best all-around back in the NFL (in my humble opinion, of course). Our site ranks him as a top-two player this year, and I would agree.
Kareem Hunt
Rookies are interesting–they can struggle coming out of the gate or explode right off the bat. Hunt exploded right off the bat, as he was a big part of their 5-0 start. However, he hit the rookie wall and did not reach 100 yards on the ground for seven straight weeks. Sophomore players who did well their rookie year are also a question mark. It will tell if their good rookie year was just a flash and the league will figure them out, or if they are legit. Also, Alex Smith was perfect in the Chiefs system because he could check it down to guys like Hunt and Kelce. It will be interesting to see how he will gel with Patrick Mahomes. Zach Brunner ranked him as the ninth player heading into this year, which is a little high for me. I would take Hunt early second round.
Alvin Kamara
The same concerns I voiced with Hunt, I voice with Kamara. He is a sophomore player: he could be a flash or for real. Kamara is one of the most versatile backs in the league, as he tallied 100 more receiving yards than rushing. Drew Brees is a great quarterback, so it makes sense for the Saints if they pass more than they run. Zach Brunner ranked Kamara eighth overall, which is about right. I would take Kamara late first or early second round in a draft.
Melvin Gordon
Gordon progressed from his first to the second year and exploded in his third year. He achieved career-highs in games, attempts, yards, receptions, and receiving yards. The Chargers have a great team, and lots of people have predicted them to go deep in the playoffs. Philip Rivers is an good quarterback, so the Chargers will definitely throw more than run. All of Gordon's receiving yards skyrocketed last year, and it is vital for a running back to be useful in the passing game. ESPN ranks him 20th on their list of overall players, which is way too low. We have him ranked 13th here. He flew under the radar last year, but likely will emerge as a top-five running back this year because of the Chargers' success and him getting better every year.
More Fantasy Content
Who to Draft Instead of a Kicker