With fantasy football draft season upon us, let's look at some strategies to draft a league-winning squad!
Fantasy Football Draft Strategies
Do — Come prepared and stay focused
Have a plan going into your fantasy football draft for the first round based upon where you will be drafting and who you think will be available. It's also useful to have players broken out into tiers along with team depth charts. When drafting your team, you will want to have the latest Average Draft Position (ADP) to know when players are going in most leagues. As you draft, use this information to determine when to pull the trigger on your targets to ensure that you get them. Have several players in mind as your pick approaches to ensure that even if one target is sniped, you have a Plan B to pivot to.
Don't — Follow a strict format for drafting positions in the first several rounds
Coming into a fantasy football draft with a specific plan of drafting RB-RB-WR-WR or WR-WR-RB-RB is a limiting proposition. Be flexible as each draft unfolds. You will find opportunities if you are looking for them, but if you are following a rigid template for building your team, you will miss out. Take the best player available and use your tiers to determine how many players are left in a tier, as positional scarcity is another factor to consider.
Each draft will be different, so being flexible with your roster construction will allow you to build the best team possible.
Do — Draft consistent players
At the end of the day, season-long fantasy football is about building a team to win week in and week out, so spend some time with the FlurrySports Consistency + Boom/Bust Rankings.
Just looking at season-end stats does not give you a true idea of how well a player performed on a weekly basis. For instance, let's look at last year's RB11, Antonio Gibson, who scored 212.8 PPR points in 15 games, in comparison to RB13 Josh Jacobs, who scored 207.6 PPR points in 14 games. At first glance, Gibson looks like the better fantasy RB, but consider he only was a top-24 RB in 66.7% of games and busted (finished outside of the top 36 RBs) 20% of the time. Jacobs finished in the top 24 85.7% of the time and didn't have a single bust game. That is the type of consistency that will lead to a fantasy title run.
Don't — Pay too much attention to bye weeks
Your goal at the fantasy football draft is a very singular one — stockpile the most talent on one roster and build a championship team. If you have the opportunity to draft Jonathan Taylor and Aaron Jones, don't pass it over because they have the same Week 14 bye. You can use the depth that you acquire in the later rounds to get you through the week. And at the very least, even if you have to take a loss that week, you still have a terrific backfield the rest of the season. The only time to take bye weeks into consideration is if you are drafting two QBs.
Do — Keep track of your competition
As the draft unfolds, you will want to keep track of your league-mates' teams and the positions they need to fill. Depending on where your draft position is, this can help you determine if you should reach for a player you really want or if you can wait until your next pick. This is especially helpful if you are near either the top or the bottom of the order. If nine other teams have a QB in a single-QB fantasy football league, you can safely assume that you can wait before taking your starter and use your picks on other positions.
The draft is continuously evolving and you need to continuously strategize throughout it to build the best team.
---
Click through to read about the Zero-RB fantasy football draft strategy and see what a Zero-RB draft looks like this year.
---
Don't — Get caught up in groupthink
During the fantasy football draft, there will be multiple player runs where multiple teams will take one position in a row or close proximity to one another. When that happens, if it makes sense to take a player of the same position, then do so. However, don't feel pressured to because others are. If everyone is taking QBs in the sixth round but there are options you prefer at RB or WR, take the player who will most help your team and hold off on QB until later. Make every pick count; just know where the cut-off line is where the starters at any position drop off (this is where your tiers will come in handy).
Do — Target high-ceiling players in the later rounds
As mentioned earlier, you will want to build the core of your team with consistent players who will help you win on a weekly basis. Later in the fantasy football draft, however, you should target high-upside players who, if given the chance, have league-winning upside. Backup RBs who stand to step in to lead back roles, if the starter goes down either due to an injury or poor performance, are great options to draft here. This is where you will want to have each team's depth chart to see which RBs and WRs that have made a splash in the preseason will round out your team.
For many high-ceiling, late-round players, click here to watch our video on YouTube.
Don't — Draft a kicker or defense before the last two rounds
Use your picks to accumulate depth at RB and WR before addressing either of these positions. Kickers are a dime a dozen and last year the difference between the top kicker (Daniel Carlson) and the number 12 kicker (Greg Zuerlein) was 34 points or 2.0 points per week. As far as your defense, look at the top matchups for Week 1 and find a streamer, like the New Orleans Saints who play the Atlanta Falcons or the Cleveland Browns who play the Carolina Panthers. Another strategy is to forgo both positions entirely and draft two backup lottery ticket RBs to stash until you have to field a Week 1 lineup, then make your move.
---
Follow us on all of our social channels! Check out our Twitter, Facebook and YouTube for more great FlurrySports content.
---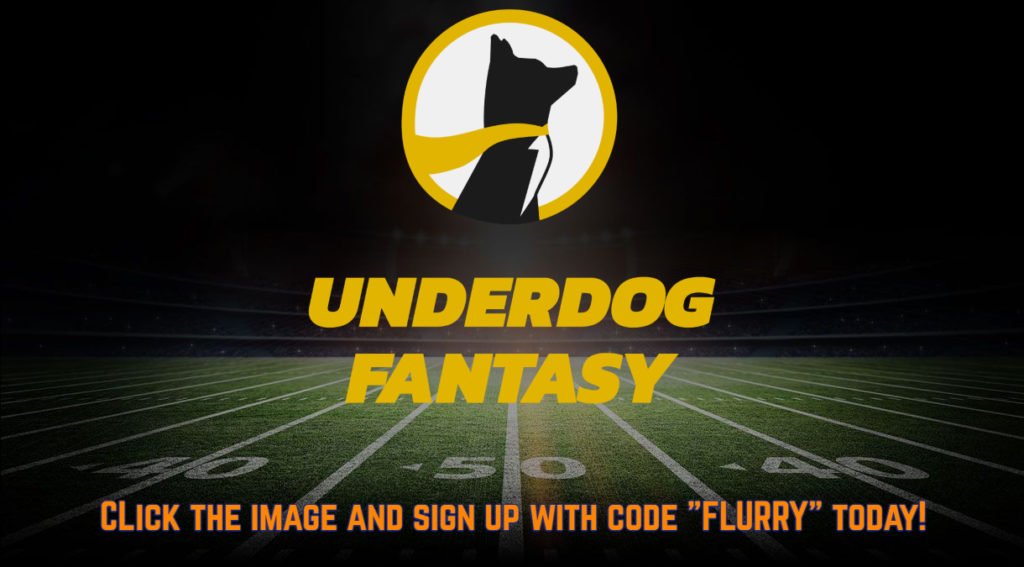 Underdog Fantasy is a new type of DFS that combines the fun of season-long drafts with daily fantasy sports. Aside from their fun, addictive draft mode, Underdog Fantasy also has pick'em player props for many different sports and athletes!
Click the image or RIGHT HERE to get signed up today, and don't forget to use the promo code FLURRY for a FREE $10 bonus on your first deposit!
---