Howie Roseman might get a lot of criticism, especially recently, but there is one thing he is definitely good at, and that is managing the Eagles cap space. Or you could say he's simply digging the Philadelphia Eagles out of the hole he himself made, but hey, let's be positive. To that end, a couple of key contracts have been restructured.
Jason Kelce got a new deal and Darius Slay was also announced to have restructured his. In addition, two more players, Brandon Graham and Lane Johnson, are reportedly working on restructured deals. Finally, punter Cam Johnston is not expected to receive a restricted tender from the Eagles. All of these moves are to try and alleviate the massive cap space issue the Eagles currently have.
Current Eagles Cap Space Situation
These moves are necessary to free up the ridiculously bloated cap situation the Eagles have. At the end of the season, the Eagles were some 63 million dollars over the cap. As of right now, Spotrac has the Eagles "only" 25 million over the cap, still third-worst in the NFL. OvertheCap, on the other hand, has the Eagles at effectively 33 million over.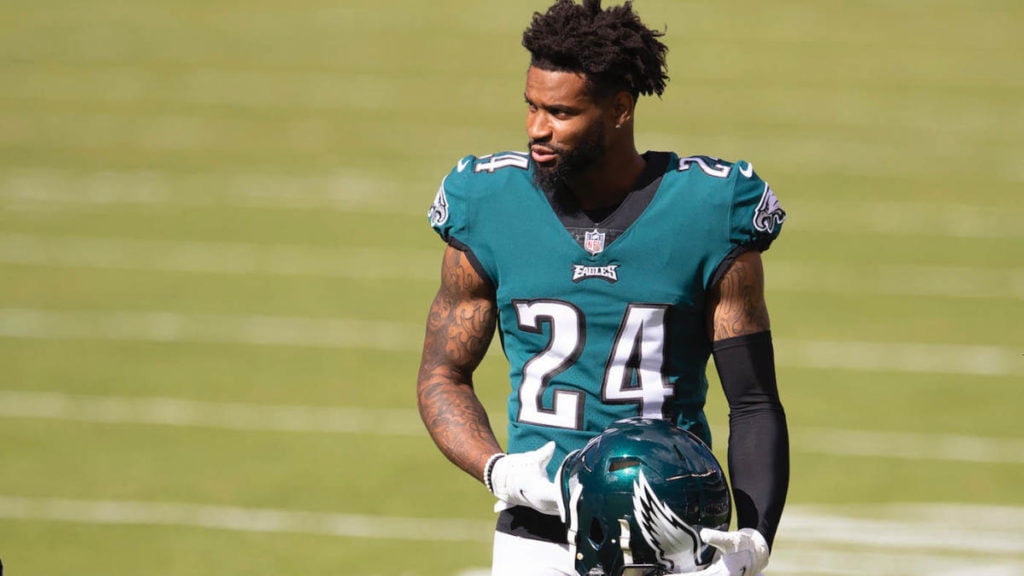 Darius Slay Contract Restructure
Darius Slay had a solid debut season for the Birds. He did well as a CB1, except against D.K. Metcalf. The start of his season was better, as he limited Terry McLaurin, A.J. Green and Juju Smith-Schuster to quiet games. In fact, his rather pedestrian stats and PFF grade are mostly because he got absolutely scorched by Metcalf and Davante Adams. You could easily mark those guys down as un-coverable however, and the Eagles scheme often left Slay on an island.
Slay restructured his deal to save the Eagles $9 million in cap space, but it is a classic kick the can down the road deal. His cap hit goes from $6 million this year to $22 million next.
Brandon Graham and Lane Johnson Contract Restructures
The restructuring of Lane Johnson and Brandon Graham's deals are not finalized yet, but both are easily some of the best Eagles players and players overall at their position. Johnson has had trouble staying healthy recently, but he's still really good when he's on the field. He was a Pro Bowler just last year after all. Johnson will be 31 when the season starts, but that's not terribly old for an offensive lineman. 
Graham somehow just keeps getting better, earning his first Pro-Bowl nod in 2020. He's missed one game in the past five seasons, and while he is going to be 33 for the upcoming season, his game is aging like fine wine and he hardly played his first few years, meaning the tread on his tires isn't too bad. Both are great locker room and veteran presences. As long as the deals don't add on a ton of extra years, they are great members (that are still producing at a high level) to keep around. 
Cameron Johnston Contract
Finally, Cameron Johnston has been an above average punter for years. He was 11th this year in average punt distance and tied-eighth in punts inside the 20. That being said, he's probably not worth the minimum $2 million to match his restricted tender. Johnston made 750,000 last year. $2 million would only put him 14th in punter average salary per year, but I'm not sure a great punter in the Eagles 2021 season will be that necessary. The Eagles could still try to re-sign him after his restricted period, but they also did sign Arryn Siposs out of Auburn to a non-guaranteed three-year deal very recently. It may sound minor in the grand scheme of things, but any little cap space helps right now.
Future Moves for Eagles
Besides those guys, further moves could easily be on the way. Fletcher Cox still has a $23 million cap hit, Javon Hargrave makes $15 million and Alshon Jeffery is technically still on the team, along with Marquise Goodwin. Restructures for the first two could be coming, and Jeffrey is almost certainly on the chopping block. The Eagles still have a lot of digging to do to get any sort of positive cap space, but there is a faint light at the end of the tunnel.