The 2022 NBA Finals are set to resume on Friday night. If there's one thing for certain, it's that the championship series between the Golden State Warriors and Boston Celtics has plenty of storylines. Warriors superstar Stephen Curry reportedly injured his foot in Game 3. Klay Thompson and Draymond Green complained about the rowdy fans in Boston. Oh, and we don't even have a true frontrunner to win MVP for the team that leads this best-of-seven series. Such is to be expected in a series that has only seen one double-double stat line through three games. Speaking of stats, the evolution of the NBA betting picks market for player props in these Finals continues to be fascinating. The following article offers three of the best NBA player prop bets for the June 10th Warriors vs Celtics Game 4 matchup.
But first, check out this exclusive NBA betting offer from BetMGM!
---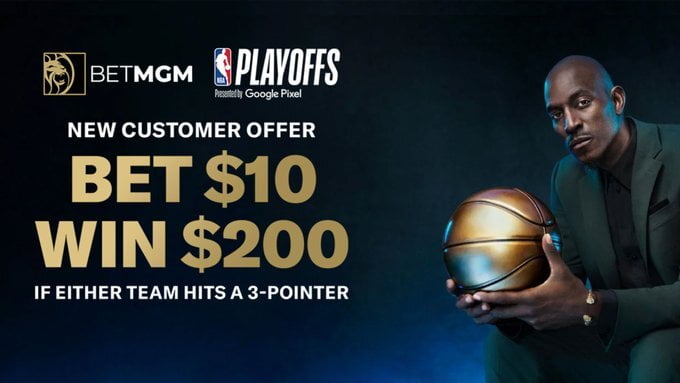 Bet $10 to Win $200 at BetMGM Sportsbook
Have you ever seen a player hit a three-pointer? Of course, you have. In today's NBA, a long-range three is as effective as a shot in the paint for many players. For some reason, BetMGM is deciding to give away money if a player hits a three! All you need to do is make an account and deposit!
Bet $10 on any team to win. If they hit a three-pointer during the game, you win $200!
That's right, you win 20x your money regardless of if you pick the winner correctly. We can guarantee even the losing team will hit a three-pointer. Either CLICK HERE or click the image above to claim the limited-time offer!
---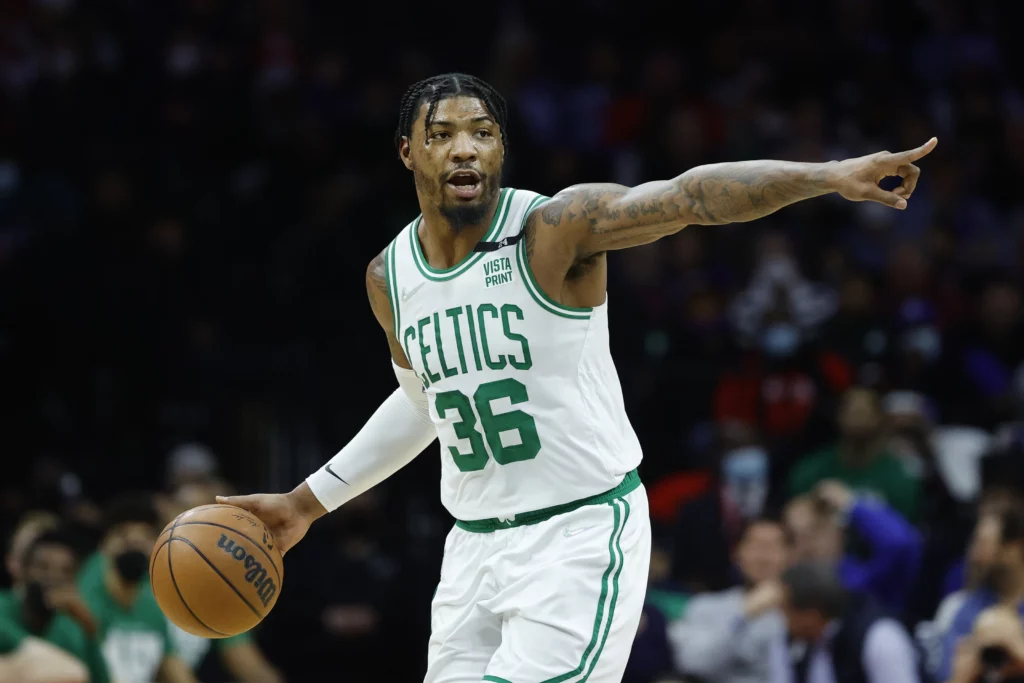 Best NBA Betting Player Props for Warriors vs Celtics Tonight, 6/10
All NBA betting player props odds are taken from BetOnline Sportsbook
Warriors wing Andrew Wiggins has been flying over his season rebounding average of 4.5 per game all throughout the NBA Playoffs. For a while, oddsmakers were setting his NBA props total two full boards higher at 6.5. That line has come back down to 5.5 for the NBA Finals, and Wiggins has now exceeded it in back-to-back games. After falling just short in Game 1, the 27-year-old pulled down six and seven boards in the last two contests, respectively.
There is absolutely no reason for bettors to shy away from taking Wiggins over 5.5 boards in Game 4 on Friday. A huge reason for this is the personnel nightmare that Steve Kerr and the Warriors are facing in this series. Golden State is drastically outsized, especially when neither Kevon Looney nor Draymond Green is on the floor. So why not just ensure that at least one, if not both bigs are on the floor? Well, both Looney and Green are also massive offensive liabilities.
When Kerr has elected to play both bigs together, the Warriors have had almost no spacing offensively. The Celtics are a tough defensive opponent as it is, let alone when they don't have to worry about the shot-making abilities of two players. When Kerr takes one of his bigs (usually Looney) out of the game, the Warriors have virtually no answers inside against the size and length of Boston. Thus, a long, athletic wing player like Wiggins has no choice but to be active on the glass. Expect this to continue in Game 4.
NBA Player Props Prediction: Andrew Wiggins OVER 5.5 Rebounds (-150)
---
Best Sportsbook Offers and Promotions
---
On the full season, Celtics superstar Jayson Tatum averaged exactly 8.0 rebounds per game. He has yet to reach that mark in these NBA Finals, much like he has also yet to exceed his NBA player props total. The market continues to list Tatum's rebounding prop at 6.5. While he had exactly a half-dozen boards in both Games 2 and 3 of the series, he has yet to finish with the seven required to cash an over ticket.
Although he has yet to reach that mark in this series, it's hard to argue against the consistency that Tatum continues to display in the rebounding department. Simply going back to the start of the Eastern Conference Finals, the 24-year-old has finished with no less than five rebounds in every game. His total number of games with six boards or more over that span is eight, and he also finished with eight or more five times in the series against Miami.
Considering the fact that the Celtics possess demonstrative advantages over the Warriors when it comes to size and athleticism, one has to believe that it is simply a matter of an extra bounce or two going Tatum's way to put him over the NBA prop bets line today. Also, keep in mind that starting center Robert Williams III is still battling a knee injury. He has openly said that, if this were the regular season, he would not be playing at all. Any limitations for Williams in Game 4 would only heighten the need for Tatum to pursue making an impact on the glass.
NBA Player Props Prediction: Jayson Tatum OVER 6.5 Rebounds (-121)
---
FlurrySports posts daily NBA player props for betting and DFS on this page! Make sure to bookmark it and come back tomorrow.
---
A player who has truly been the definition of "all or nothing" through the first three games of The Finals is Marcus Smart. The league's defensive player of the year scored well over his season average in both Games 1 and 3 while also making a solid impact on the boards. In Game 2, he was hardly a factor at all, aside from what he did as a passer. Smart has recorded assist totals of four, five and five in Games 1-3 of the series, respectively. While this has been his most consistent area of production, he has still yet to surpass the NBA betting picks total of 5.5 helpers.
In actuality, one would have to trace all the way back to Game 3 of the Celtics' Eastern Conference Finals series against Miami to find the last time that Smart had more than five helpers in a single game. While he did average slightly over the NBA props total during the regular season, Boston also wasn't playing against defenses as capable as that of the Warriors on most nights.
Smart has also shown very little hesitation to fire up his own shots throughout the NBA Playoffs. Although the results have been mixed, he has dwarfed his season-long scoring average of 12.1 points in a great number of games. Given how he has been able to take Stephen Curry off the dribble, there is no reason for Smart to stop being aggressive when it comes to pursuing his shot. Unless Golden State comes out with some major defensive adjustments in Game 4, it seems likely that Jayson Tatum will continue to lead the way in the assists column.
NBA Player Props Prediction: Marcus Smart UNDER 5.5 Assists (-118)
---
Free $100 for Sleeper Over/Under | New NBA DFS Game
If you're looking for another way to make money on NBA player props tonight, you should check out Sleeper! That's right. It's the same fantasy sports app where you may have your season-long fantasy football league every year!
Recently, Sleeper launched their over/under pick'em game. You can pick over or under various NBA player props and string them together into a parlay. If you CLICK THIS LINK, join the FlurrySports over/under channel and follow the promo directions, you get a free $100 when you deposit any amount! That's right! Deposit $20 and you'll have $120 in your Sleeper wallet!