NBA Player Props, Picks and Parlays Tonight
Just like during the regular season, FlurrySports will continue to update the NBA player props tonight on this page every day throughout the NBA Playoffs. These NBA props can be used both for betting and DFS. Make sure to bookmark this page to get the best NBA player props every single day!
---
As sports betting continues to become more and more popular, the number of bets available rises along with it. Due to the popularity of fantasy basketball and NBA DFS, there is a large interest in NBA player props. Projecting an individual player's fantasy production uses the same skill as betting player prop bets.
With that in mind, we can use the same projections and reason for both DFS props and betting props today.
NBA Player Props Tonight
This page simply displays the NBA player props tonight. For more reasoning and analysis, there will be a props article on FlurrySports to read.
We recommend having access to all sportsbooks we include on this page. Sportsbooks have unique odds and lines. You give yourself a higher likelihood to make money if you bet at the displayed sportsbooks for the following props.
Andrew Wiggins UNDER 18.5 Points (-137 at BetOnline)
Jordan Poole UNDER 11.5 Points (-117 at BetOnline)
Al Horford OVER 7.5 Rebounds (-137 at BetOnline)
Jaylen Brown OVER 6.5 Rebounds (-130 at BetOnline)
Robert Williams III OVER 8.5 Rebounds (+102 at Bovada)
---
Best Sportsbook Offers & Promotions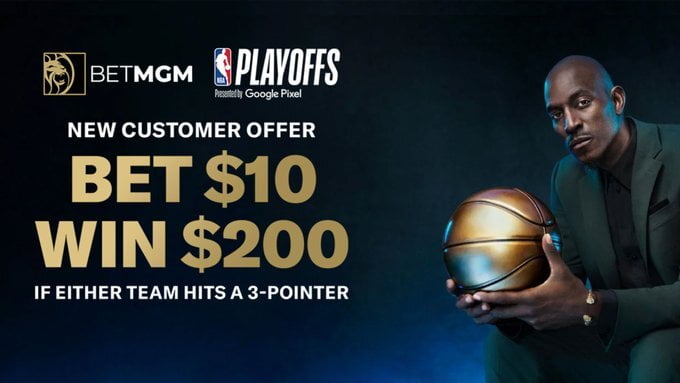 Bet $10 to Win $200 at BetMGM Sportsbook
Have you ever seen a player hit a three-pointer? Of course, you have. In today's NBA, a long-range three is as effective as a shot in the paint for many players. For some reason, BetMGM is deciding to give away money if a player hits a three! All you need to do is make an account and deposit!
Bet $10 on any team to win. If they hit a three-pointer during the game, you win $200!
That's right, you win 20x your money regardless of if you pick the winner correctly. We can guarantee even the losing team will hit a three-pointer. Either CLICK HERE or click the image above to claim the limited-time offer!
---
NBA Picks and Parlays
The following Warriors vs Celtics NBA Finals same game parlay can be played on BetOnline Sportsbook using their prop builder!
Parlay Odds: +700
Kevon Looney 6+ Rebounds
Al Horford 9+ Points
Al Horford 8+ Rebounds
Jaylen Brown 6+ Rebounds
Robert Williams III 8+ Rebounds
Bet $10 to win $70 at BetOnline Sportsbook
---
NBA DFS Picks Tonight
The following NBA DFS picks can be found on PrizePicks. Sign up for PrizePicks HERE to get up to $100 free!
Jordan Poole UNDER 11.5 Points
Kevon Looney OVER 6.5 Rebounds
Jaylen Brown OVER 6.5 Rebounds
Robert Williams III OVER 7.5 Points
Robert Williams III OVER 8.0 Rebounds
Parlay NBA DFS picks together to earn up to 10x your entry! You can even get a pick wrong and still make money!