A pair of NBA Playoffs Game 5 matchups are on the schedule for Wednesday evening. The early contest sets up as a pivotal swing game in the deadlocked series between the Milwaukee Bucks and Boston Celtics. Later on, the Golden State Warriors will look to close out the Memphis Grizzlies on the road and punch their ticket to the conference finals. In addition to making NBA betting picks on the game lines themselves, the props market remains a profitable option for tonight's playoff games. The following article offers three of the best NBA player prop bets for the May 11th playoff doubleheader.
But first, check out this exclusive NBA betting offer from BetMGM!
---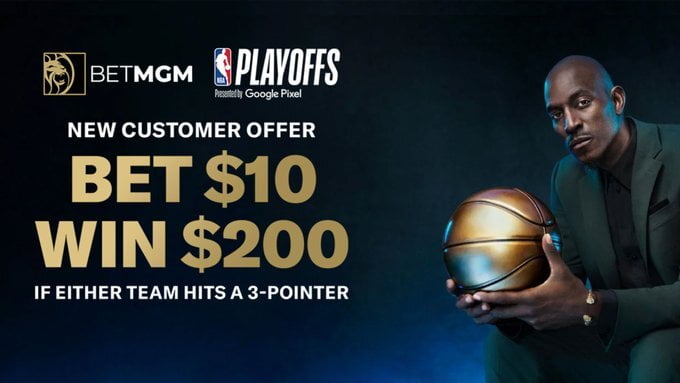 Bet $10 to Win $200 at BetMGM Sportsbook
Have you ever seen a player hit a three-pointer? Of course, you have. In today's NBA, a long-range three is as effective as a shot in the paint for many players. For some reason, BetMGM is deciding to give away money if a player hits a three! All you need to do is make an account and deposit!
Bet $10 on any team to win. If they hit a three-pointer during the game, you win $200!
That's right, you win 20x your money regardless of if you pick the winner correctly. I can guarantee even the losing team will hit a three-pointer. Either CLICK HERE or click the image above to claim the limited-time offer!
---
Best NBA Betting Player Props for Tonight, 5/11
All NBA betting player props odds are taken from BetOnline Sportsbook
Giannis Antetokounmpo UNDER 13.5 Rebounds (-120)
While his Game 4 stat line certainly wouldn't suggest it, one can't help but wonder if Giannis Antetokounmpo may be starting to wear down as these NBA Playoffs roll on. After all, he is carrying the Milwaukee Bucks on his back as the franchise seeks to win back-to-back championships. Antetokounmpo has one triple-double and three double-double lines in the Eastern Conference Semifinals thus far. Monday night's home loss saw him grab 18 rebounds, his highest output on the glass of this series.
Considering the advantages in size and length that the Bucks have inside, it's no surprise that players like Antetokounmpo, Brook Lopez and Bobby Portis have been destroying the Boston Celtics on the boards. With that being said, Antetokounmpo simply cannot be expected to replicate an 18-rebound performance. In fact, his likelihood of eclipsing an NBA player props line of 13.5 boards doesn't figure to be great. The "Greek Freak" averaged 11.6 rebounds per game over the course of the full season.
Simple math suggests that Antetokounmpo must finish a full 2.4 boards above his per-game average in order to have the minimum amount necessary to eclipse the NBA picks total. While he has surpassed his season average six times in the playoffs, he has only gone over this lofty NBA betting line four times. Only one of those performances came in this Second Round series against Boston. As great as Antetokounmpo is and has been in these playoffs, the prudent move is to bet under this elevated Game 5 prop total.
---
Best Sportsbook Offers and Promotions
---
Marcus Smart UNDER 14.5 Points (-124)
Based on how Celtics point guard Marcus Smart played on Monday night, one would be hard-pressed to recall that he actually missed Game 2 of this series entirely with an injury. Smart shot 8-13 from the field including 2-3 from beyond the arc on his way to 18 points. It was easily his best game of the Eastern Conference Semifinals and also marked his second-highest scoring output of these NBA Playoffs overall.
Smart also twice scored 20 points in Boston's First Round sweep of Brooklyn. However, aside from those outings and Monday's showing, he has not exceeded today's NBA player props total of 14.5 points in any other playoff game. Perhaps this should not come as a major surprise. After all, the former Oklahoma State star only averaged 12.1 points per game over the course of the full season. Thus, the NBA betting line is requiring Smart to exceed his average scoring output by three points minimum in order for the over to cash.
When it comes to matching up with the Bucks' defense, Milwaukee is willing to give up open three-pointers in order to protect the rim. Unless Smart manages to flip the script on how he has been shooting from distance in these playoffs, his path to eclipsing the NBA picks total is far from clear. Given that the Celtics have numerous other offensive threats like Jayson Tatum and Jaylen Brown, Smart's biggest impact in Game 5 is more likely to come as a distributor than a primary scorer.
---
FlurrySports posts daily NBA player props for betting and DFS on this page! Make sure to bookmark it and come back tomorrow.
---
Tyus Jones OVER 3.5 Rebounds (-124)
With the Memphis Grizzlies already having ruled Ja Morant out for Wednesday's Game 5, bettors already know that Tyus Jones will be locked into plenty of playing time. Although the 26-year-old only averaged 2.4 rebounds per game over the course of the full season, his production from the backup point guard role is hardly applicable to tonight's game. What does carry weight is how Jones performed down the stretch of the regular season when the Grizzlies were without Morant for a few weeks.
If that regular-season stretch serves as any indication, it's worth playing over the NBA player props line of 3.5 boards for Jones in Game 5. The former Duke Blue Devil totaled four rebounds or more in four of seven games without Morant on the floor. This included a win over the same Golden State Warriors that have the Grizz on the brink of elimination.
It's also worth noting that Jones' playing time fluctuated a fair during the regular season stint in which Morant was sidelined. That isn't expected to be the case in Game 5 tonight. The Warriors force the hand of their opponents by going small, meaning that Jones is quite likely to see around the same 41 minutes he played in Game 4. On Monday, he grabbed a half-dozen boards. Despite that being the first game in which he played more than 26 minutes, Jones has actually exceeded tonight's NBA picks total four times now in the playoffs.