We have two games on the NBA Playoffs schedule tonight. The first game is a Game 5 matchup between the Milwaukee Bucks and Boston Celtics. With many terrific players in this series, it makes betting on NBA player props a lot of fun. In this article, we have a Bucks vs Celtics same game parlay made up of NBA player props for tonight!
Bucks vs Celtics Same Game Parlay, Start Time and More
NBA Playoffs 2022 — Game 5 (Series Tied 2-2)
Milwaukee Bucks (51-31, 24-17 Away) vs. Boston Celtics (51-31, 28-13 Home)
Date: Wednesday, May 11, 2022
Time: 7 PM EST
Venue: TD Garden — Boston, MA
Coverage: TNT
How to Watch Bucks vs Celtics Tonight Free
If you are wondering how to watch the Bucks vs Celtics game tonight for free, you're in luck! Thanks to our friends from fuboTV, you can watch NBA games free! Simply CLICK HERE to get a free week of fuboTV. You can get hundreds of channels to watch live sports, your favorite shows and more!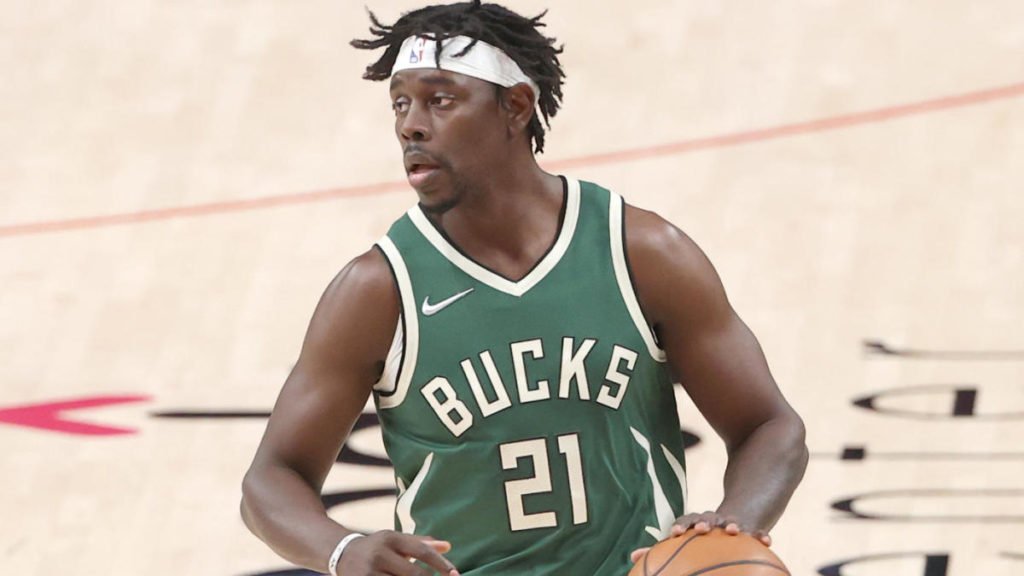 Bucks vs Celtics NBA Player Props
All NBA player props and Bucks vs Celtics same game parlay odds can be found on BetOnline Sportsbook.
Jrue Holiday 5+ Rebounds (-189)
During this entire Bucks vs Celtics series, I have enjoyed betting the over for the rebounding totals of Jrue Holiday and Brook Lopez. So, why stop now?
Holiday is often defending Marcus Smart or Jaylen Brown, who both want to get to the rim often. This leads to more rebounding opportunities for Holiday, who is naturally closer to the rim in this series. He also looks to grab the rebound and push the pace, hoping to get an easy bucket before the Celtics' defense sets up.
As a result, Holiday has averaged 6.8 rebounds per game this series. He also has averaged 5.8 rebounds per game over the entire NBA Playoffs.
Brook Lopez 6+ Rebounds (-130)
Again, Brook Lopez going over his rebounding total has paid out quite well for me, so we will feature it in our Bucks vs Celtics same game parlay tonight. Lopez's size combined with his ability to stretch the floor has been valuable to the Bucks in this series. He also appears to be fully healthy again, playing his full helping of minutes.
As a result, Lopez has averaged 8.3 rebounds per game in this Bucks vs Celtics series. His lowest output was exactly six rebounds, and this occurred during his blowout Game 2 loss. With the game expected to be more competitive today, Lopez should go over this NBA player prop.
Jrue Holiday 2+ Steals (-167)
The Celtics have protected the ball well the past couple of games. Still, Jrue Holiday has continued to rack up steals. Boston had 12 turnovers in Game 3 and seven in Game 4. Despite the low turnovers, Holiday totaled three steals in both games. 
Regardless of if the Celtics continue to protect the ball or if they get a bit more careless, Holiday should continue to hit the over on this NBA player prop. Holiday has averaged 2.8 steals per game this series, totaling two or more in all four games.
Giannis Antetokounmpo UNDER 0.5 Made Threes (+136)
The odds at BetOnline Sportsbook continue to be juicy for betting the under on Giannis Antetokoummpo hitting a three-point shot. Giannis has failed to hit a three-pointer in five of his past eight games. Against Boston this season, he has shot 2-of-25 from beyond the arc. This isn't surprising, since they have a solid perimeter defense. 
This season, the Celtics have allowed opponents to shoot 34% from three-point range, which ranks third in the NBA. This perimeter defense gets even better at home, where they hold opponents to 33.3% beyond the arc.
Bucks vs Celtics Same Game Parlay | NBA Player Props and Picks
Jrue Holiday 5+ Rebs
Brook Lopez 6+ Rebs
Pat Connaughton 4+ Rebs
Grant Williams 8+ Points
Jrue Holiday 2+ Steals
Bucks vs Celtics Same Game Parlay Odds: +750
Bet $10 to Win $85 on BetOnline Sportsbook.
Bucks vs Celtics Prediction via ZCode System
ZCode predicts the Celtics will take Game 5 tonight. You can get your trial with ZScore here, which will provide you with many money-making free picks and tools.
NBA Playoffs Predictions, Sports Trading and Free Picks
Thanks to our friends at ZCode System, we can make your bookie cry during the 2022 NBA Playoffs! For a limited time, you can CLICK THIS LINK to get over 60% off of their sports betting services! This includes free picks and models across all sports, sports trading to make easy money, and much more!
If you want to test them out on a trial basis, you can click here as well.