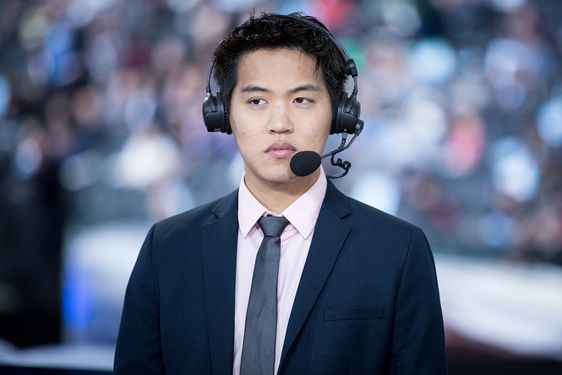 Analysts are a crucial position in the Dota 2 casting scene. Analysts usually are people with great insight of the game and can clearly explain things to the audience. They are paired with a play by play or "hype" caster to make a match more interesting to watch. Currently, the Dota scene is in sorrow, as one of the long standing and revered analysts retired.
Ben "Merlini" Wu is retiring from the Dota scene to focus on his personal life. This leaves a gap in all of Dota fans' hearts, as Merlini is really passionate and his love for the game shines through. But the question still remains, who will be the next Merlini? This is my thought for who I think can try to replace him.
1. 7Mad
Sebastien "7Mad" Debs, current OG's coach and long time Dota 2 player is one of the most brilliant minds in Dota 2 scene. Under his guidance, OG has won three majors and countless minor tournaments. Furthermore, he also streams his insight on his own channel, giving a lot of his audience tips and strategy on the concurrent meta. 7Mad also isn't a person who fails to share his line of thinking. His Twitter @7ckingMadDOTA is his usual place to share his thoughts, other than his Twitch channel. At one time, he even criticized the format of the ESL One Genting tournament for being disrespectful for competitors. He also has been an analyst before jumping into coaching, so maybe he will consider coming back to analyzing.
2. KheZu
Maurice "KheZu" Gutmann, former Team Secret offlane and Heroes of Newerth Pro, is one of the most insightful minds in the Dota scene. His play on setup heroes, like Faceless Void, Enigma and Dark Seer, is feared and his insight is revered. This is shown on his stream, where he will give tip after tip to his audience that most Dota players can't describe. His clear and accurate showing makes it easy to understand. His explanation of the current Dota 2 situation is even more interesting to hear. Furthermore, it is always great to hear insight from a notable pro player.
3. Wagamama
Niklas "Wagamama" Hogstrom, famous professional Dota 2 player and even more famous streamer. He is known by newcomers and experienced players alike for his educational stream and YouTube videos. He is still playing professionally with LeftOneTV and filling the offlane role. His bootcamp is a known thing in the Dota 2 community and has helped a lot of amateur players to became better at Dota 2. He also has a very good grip of the current meta, as he has played Dota since 2004 and is established as a name to be revered in the scene. His past experience as a caster also makes it easy for him to take and listen for a long match.
4. Rawdota
Henry "Rawdota" Carney, former attempted HoN professional player, coach, and streamer. His name rose through the Dota 2 scene after his stream of ESL One Genting 2018. His insight quickly was accepted by the community and his quick wit is respected by his viewers. Through Reddit and Twitch, he established his following and his YouTube videos explain his vision on the meta. He is the best rising star personality in Dota 2 scene, in my personal opinion.
These are who I think the best personalities are to become the new analyst to look out for. If you have any questions or if you agree with my list, do leave a comment!