With yet another week completed of ACC basketball, the true contenders are starting to reveal themselves in the conference. North Carolina dropped two conference games to Miami and Wake Forest. Duke also dropped an ACC game to Florida State. In fact, the Seminoles continue to be the hottest team in the conference with six straight wins. Miami has been the unheralded story this year, as they continue to lead the conference with a 6-2 record in conference.
The ACC once again has a loaded week of games. Nine games are scheduled to be played between Monday, Tuesday and Wednesday. Games taper off until Saturday where we will see seven games played, with North Carolina, Duke, Miami, Florida State and Notre Dame all featured.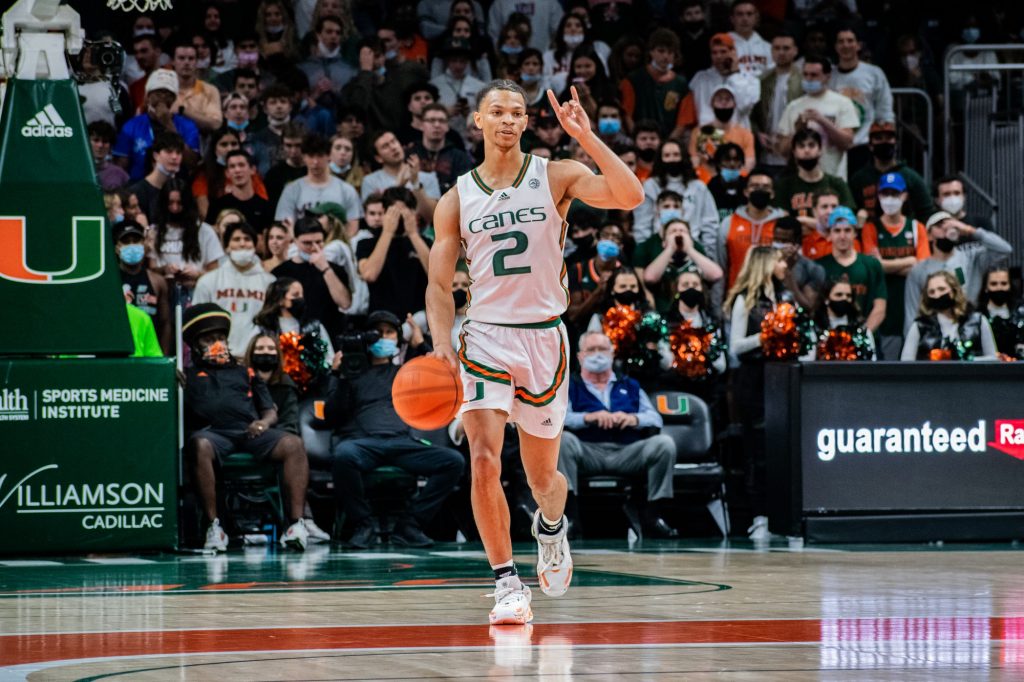 ACC Basketball News and Weekly Headlines
Miami Dominates North Carolina
Miami finally got the monkey off their back, as they had dropped the previous five games in the series to North Carolina. The Hurricanes led the Tar Heels, 49-22 at halftime. This was North Carolina's largest deficit at halftime since their matchup against Duke in 2010. North Carolina's Armando Bacot was held to just three points in the first half of the game. This is coming off his two previous games, where he scored 29 in each game.
The Hurricanes eventually built their lead to 33 in the second half. Bacot was able to get back into his stride as the Tar Heels started to run the offense through him. He finished with 15 points and 12 rebounds. Isaiah Wong scored 25 points for the Hurricanes, while Sam Waardenburg scored a career-high 21 points. 17 of Waardenburg's points came in the first half of the game. Kameron McGusty added another 20 points and 10 rebounds for Miami, for his fifth double-double in the season. Miami led from the opening tip, winning the game 85-57.
Outside of Bacot, no other Tar Heels was in double-digits for points, rebounds or assists.
Florida State Outlasts Duke in Overtime
After going down five into the half, Florida State basketball opened the second half on an 11-3 run to take the lead at 44-41 with just under 12 minutes left. The Blue Devils would fight back, bringing the score to 65-63. Duke tied the game with a layup with 39 seconds left, then they took a late lead. On Florida State's subsequent possession, RayQuan Evans drove the paint and hit a high banking layup with 1.4 seconds to tie the game at 67.
Overtime opened with a couple of buckets traded back and forth. Duke's AJ Griffin eventually hit a three to go up two with 2:18 remaining. Florida State battled back, but it looked like Duke was going to be too much. The Seminoles cut the lead to one with 31 seconds left. Evans stepped up again, as he hit two free throws. Florida State's John Butler then blocked Duke's Wendell Moore in the final seconds to secure the huge ACC victory.
Updated ACC Basketball Standings
| | | |
| --- | --- | --- |
| School | Conf. Record | Overall Record |
| Miami (Florida) | 6-2 | 14-5 |
| Florida State | 6-2 | 13-5 |
| Duke | 5-2 | 15-3 |
| Notre Dame | 5-2 | 15-3 |
| Wake Forest | 6-3 | 16-4 |
| North Carolina | 4-3 | 12-6 |
| Louisville | 5-4 | 11-8 |
| Virginia | 5-4 | 11-8 |
| Boston College | 3-4 | 8-9 |
| Clemson | 3-5 | 11-8 |
| Syracuse | 3-5 | 9-10 |
| North Carolina State | 3-6 | 10-10 |
| Virginia Tech | 2-5 | 10-8 |
| Pittsburgh | 2-6 | 7-12 |
| Georgia Tech | 1-6 | 8-10 |
Upcoming ACC College Basketball Games to Note
North Carolina vs. Virginia Tech
Date: Monday, Jan. 24
Time: 8:00 P.M. EST
TV Coverage: ACC Network
Syracuse vs. Pittsburgh
Date: Tuesday, Jan. 25
Time: 8:00 P.M. EST
TV Coverage: ACC Network
Duke vs. Louisville
Date: Saturday, Jan. 29
Time: 12:00 P.M. EST
TV Coverage: ESPN
Miami vs. Georgia Tech
Date: Saturday, Jan. 29
Time: 12:00 P.M. EST
TV Coverage: RSN