Since the season ended, there have been many Denver Broncos rumors about who the next head coach would be. Looking around at the NFL head coaching vacancies, there's no doubt that Denver is among the best situations for a coach to walk into. Many believe the Broncos are a solid head coach and a quarterback away from being a playoff team that needs to be respected.
With that in mind, according to Denver Broncos rumors, the team has trimmed their head coach search down to three individuals. These are the three most likely Broncos head coach candidates.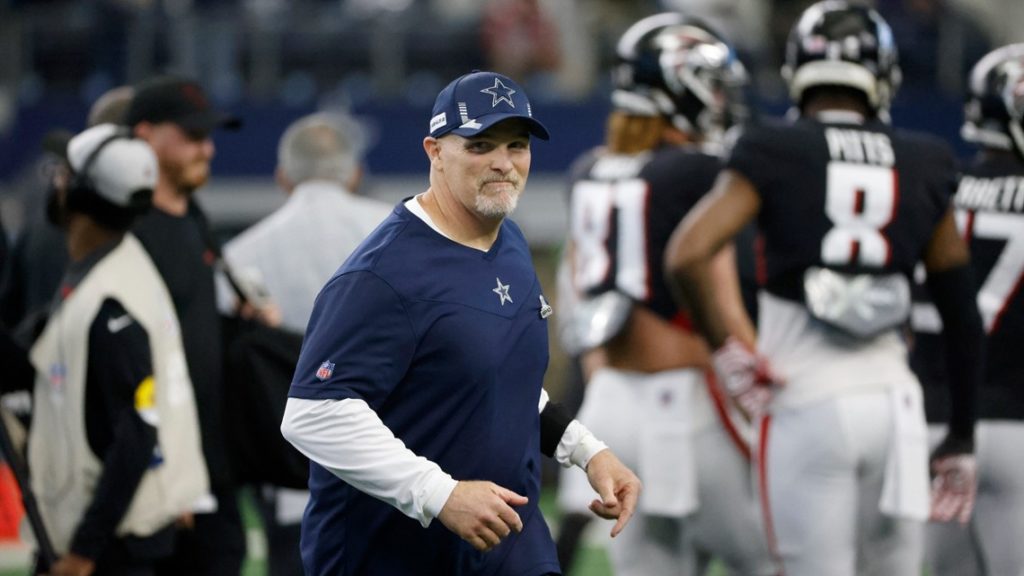 Most Likely Head Coach Candidates | Denver Broncos Rumors
Dan Quinn | Cowboys DC
Of the three Broncos head coach candidates, Dan Quinn is the only one with head coaching experience. Quinn was the Atlanta Falcons head coach from 2015-20, racking up a 43-42 regular season record and a 3-2 postseason record, including a Super Bowl appearance. He is credited for a great deal of the "Legion of Boom" success in Seattle. Quinn is also largely credited for the Cowboys' defensive turnaround this season.
The Broncos have a talented defense to work with, but they still must figure out their offense for this team to have success. Quinn could help to be a culture-changer, but the offensive coordinator he hires may be the more important part if he is the new Broncos head coach.
Nathaniel Hackett | Packers OC
Speaking of Denver Broncos rumors, there is more than one coming out of Green Bay. The Broncos are a quarterback away from competing. There were talks of a trade for Aaron Rodgers last draft day, with them offering more than three first-round draft picks. Packers GM Brian Gutekunst liked the deal, but he didn't get the move signed off by others in the Green Bay front office.
Now, the Broncos are rumored to be connected to Packer offensive coordinator Nathaniel Hackett, and it could help to increase Rodgers' interest in coming to Denver this offseason. The Broncos also positioned themselves better to land Rodgers following the Von Miller trade.
As for Hackett, he is a goofy guy that resembles a successful coordinator more than a head coach, though he clearly is a talented football mind with strong ties to the game. He is the son of former football coach Paul Hackett, who worked with Bill Walsh in the West Coast system. Nathaniel Hackett has brought many of those principles to the modern era of football, and it has had a great deal of success.
Kevin O'Connell | Rams OC
At this point, you cannot talk about a head coaching vacancy and not bring up someone from the Sean McVay coaching tree. Kevin O'Connell looks to be the next McVay coordinator to get a head coaching job somewhere. Still, it's slightly surprising to see him pop up in these Denver Broncos rumors.
At 36 years old, there's no doubt O'Connell would offer a change from Vic Fangio. He was a third-round draft pick at quarterback for the Patriots, and he was a player as recently as 2012 for the Chargers.
O'Connell began his coaching career in 2015 for the Browns as Mike Pettine's quarterback's coach. Since then, the longest position he has held is his current position. He has been the Rams' offensive coordinator for a whopping two seasons. Prior to that, he never held the same position for more than a year.