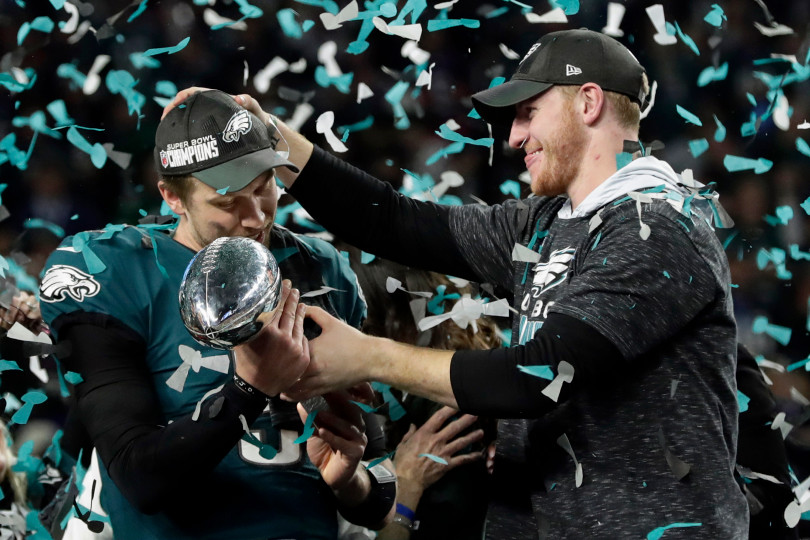 Days Until Football is a series in which I preview every NFL team, one a day at a time until the NFL season starts on September 6th. It will preview offense, defense, and give a prediction for the team's record. Also, I will list a fantasy star and sleeper. Here is the Philadelphia Eagles preview.
Last year, the Eagles were a massive success. Carson Wentz was an MVP candidate, Nick Foles was great when it mattered, the defense improved, and they won Super Bowl 52.
Eagles Offense
Carson Wentz tore his ACL on December 10th, and it is unclear whether or not he will be ready for the opener against Atlanta, one week from today. Nick Foles was shaky at times last season and almost the reason why the Eagles were one play away from being a first-round exit against Atlanta. He has also been awful in the preseason, so there is no guarantee he continues his success from last season if he starts. Once Carson Wentz is fully healthy, there is no reason to believe that he will not be what he was last year. Alshon Jeffery may be out the first three weeks of the season with a shoulder injury, so whoever starts at quarterback will be missing there best receiver.
This means Nelson Agholor and former Raven Mike Wallace will have to step up. After being considered a "bust" in his first two seasons, Agholor improved in catch rate, touchdowns, and receptions per game. Mike Wallace is a deep ball threat who has the ability to outrun the entire defense and take one to the house. Zach Ertz is arguably a top-three tight end in the league and was Carson Wentz' favorite weapon last season. Ertz almost set a career high in targets last year and would have done if he had played all 16 games. Second round pick Dallas Goebert should make an impact his rookie season. Corey Clement and Jay Ajayi is a scary two-headed monster at running back. Ajayi is clearly the number 1 running back, but Clement made a good impression in his rookie year.
Eagles Defense
Fletcher Cox was a big reason as to why the Eagles were so good against the run and were selected to the all-pro team because of it. Philly added Haloti Nata to improve the already great run defense. Derek Barnett and Brandon Graham are underrated pass rushers (14.5 sacks) and the pass rush will improve with the acquisition of Michael Bennett and the resigning of situation player Chris Long.
Jordan Hicks is the best linebacker on the Eagles, but a torn Achilles kept on him on the shelf. The Eagles brought in Corey Nelson to form a good trio with Nigel Bradham. With Mychal Kendricks being cut and signing with federal prison and Paul Worrilow being out for the year, depth is a concern at linebacker. Malcolm Jenkins and Rodney McLeod is a great safety pairing and the cornerback position is improved. Ronald Darby is a top corner, and Sidney Jones is a former second-round pick who is healthy. Jalen Mills and Rasul Douglas made strides last season.
Predictions for Eagles
I think the Eagles go 10-6, second in the NFC East. They are returning the same defense, which is great. However, who knows when Carson Wentz will be 100% healthy. Also, if Nick Foles can replicate what he did last year. The NFC East is a tough division, and there has been a different winner the past four years. I am also a believer of the Super Bowl hangover. Since 2000, there has only been one Super Bowl repeat. Also, there have only been two teams who have won multiple Super Bowls since 2000, the Patriots and Giants. I am not saying it is a curse, but it is very hard to repeat. The NFL has so much parity and it is hard to sustain success for multiple years.
Fantasy Star – Alshon Jeffery
Fantasy Sleeper – Corey Clement
Related Articles
Packers Make Aaron Rodgers NFL's Highest-Paid Player
Raiders and Jon Gruden Agree to Longest Contract in NFL History