For fantasy football leagues with basic scoring, the position of tight end is usually an afterthought. For the most part, unless you get one of the "elite" options, all tight ends are kind of the same. In deeper leagues or leagues with unique scoring settings, you can't afford to miss on the position. If you do, you can be banished to scurrying the waiver wire each week in the hopes that one of the scraps can simply not lose you your matchup.
With many tight ends often needing to find the end zone in order to pay off for fantasy football, finding consistency at the position relieves many unneeded headaches. For those of you who have busy lives, you can kick back and relax because, at FlurrySports, we've already done all the heavy lifting for you. You can find our 2021 fantasy football consistency rankings here. Our tool measures how often a player is a "boom," "starter" or "bust" at their position (the finish for each category varies based on position and is explained on the tool's page). This tool is as in-depth as you'll find out there, as it looks at 100 WRs, 75 RBs, 60 TEs, 40 QBs, and even it takes into account every team's defense as well.
Using our tool and looking at 2021 results, who does the data tell us can be relied upon to steer your team to a championship? Here were your most consistent 2021 fantasy football TEs.
Most Consistent 2021 Fantasy Football TEs
Travis Kelce (Startable 73.3% of his games)
One of those "elite" fantasy football tight end options mentioned earlier, Travis Kelce has been as stable as any over the past few years. Even with some struggles seen in the Kansas City Chiefs' offense at times in 2021, Kelce's production didn't waver. Kelce was a "starter" (top-12) in over 73% of his games. While he was a "bust" (outside of top-18) in 26.7% of games, that is a pretty low number among tight ends.
As any experienced fantasy football player knows, tight end is one of the most unpredictable positions outside of the "elite" options. Kelce has been either TE1 or TE2 each season since 2016. With the wide receiver room experiencing some turnover this offseason, Kelce should see even more targets for at least the early stages of the season.
Mark Andrews (68.8%)
Mark Andrews has been a solid tight end option since 2019, but he kicked it into another gear in 2021. Andrews finished as TE1 thanks to being a "starter" in just under 69% of his games last season. While he was a "starter" and "boom" play less than Travis Kelce, he was a "bust" just 12.5% of the time last year. Outside of Andrews, only Darren Waller was a "bust" less than 25% of the time.
It's clear that Andrews is a favorite of quarterback Lamar Jackson. What's even more interesting is that he is the clear favorite of backup Tyler Huntley too. With Andrews' role being bulletproof no matter who's running the offense, he's arguably the most stable and consistent tight end going into 2022.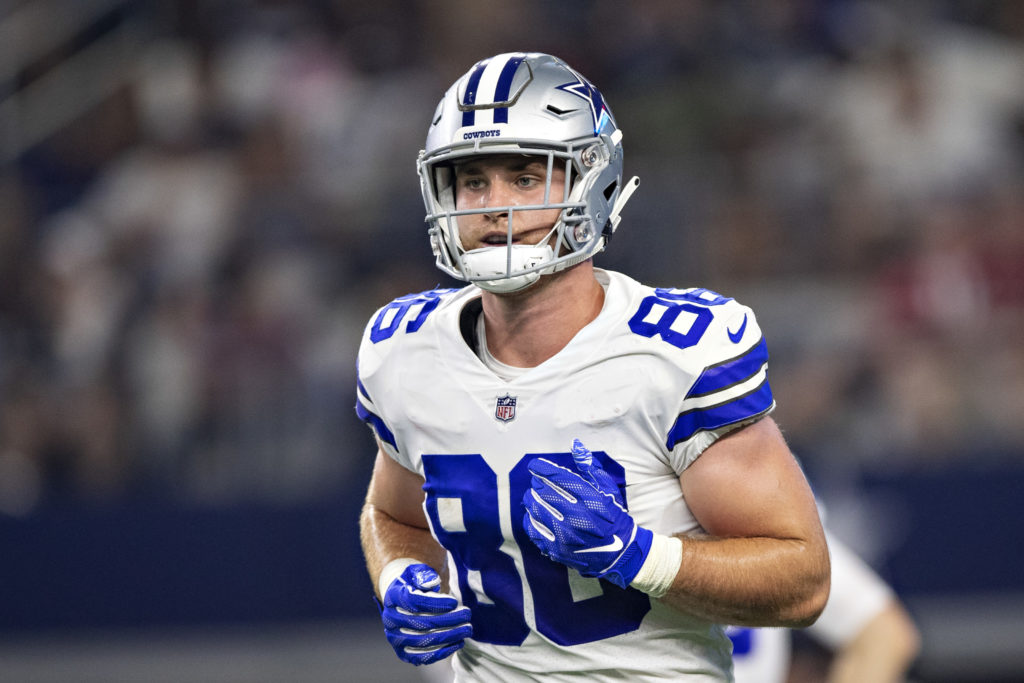 Dalton Schultz (62.5%)
I've been on the Dalton Schultz fantasy football hype train since early 2020 and it's not too late to join me. After showing promise in 2020, Schultz exploded to finish as TE3 in 2021. Thanks to being a "starter" in 62.5% of games, Schultz was a premier option even in a loaded Dallas Cowboys offense.
The Cowboys still have a very talented offense, but they did also trade away their former top target in Amari Cooper. While they also drafted receiver Jalen Tolbert, it's clear that there are more targets to go around now. While Schultz likely isn't approaching Kelce or Andrews' territory any time soon, Schultz should be able to be a top-five tight end yet again in 2022.
George Kittle (61.5%)
Even though he played 14 games last season, injuries slowed down the George Kittle fantasy train yet again in 2021 just as they did in 2020. That's what makes Kittle's consistency even more incredible. Kittle was a "starter" in 61.5% of weeks and also a "boom" just under 25% of the time.
While the quarterback position hasn't been sorted out yet for the San Francisco 49ers, Kittle's role is bulletproof. If receiver Deebo Samuel is traded too, that makes Kittle arguably the only option the team has left with Brandon Aiyuk's current struggles. As has been the case since Kittle came into the league, the only thing that can possibly hamper Kittle's production is that nagging injury bug.
T.J. Hockenson (58.3%)
It's about time somebody gives the 2021 T.J. Hockenson fantasy football performance some love. Hockenson was a "starter" 58.3% of games last year and finished as TE13. Injuries limited Hockenson to just 12 games, but he was on a tear before they started to flare up. If you take Hockenson's 11.94 fantasy points per game and multiply it by 16 games (nobody plays in Week 18), Hockenson would've finished as TE4 last season.
Hockenson is just one season removed from a TE5 finish in PPR leagues, and it's not a stretch to think he could return to that same form. While the Detroit Lions did add some talent to the receiving room, Hockenson will clearly always have a place in this offense. If you can't pull one of the "elite" options, Hockenson is as consistent as there is among the rest.
---
Follow us on all of our social channels! Check out our Twitter, Facebook and YouTube for more great FlurrySports content.