Nothing is quite like fantasy football. The feeling of showing your friends just how much more you know about football than them is something special. And along with this competition, having the best fantasy football team name is also a must.
Showing your leaguemates that you have the funniest, most creative fantasy football team name is simply part of dominating the league. So with that, we have compiled a list of 100 best fantasy football team names for 2022 that are sure to make you laugh and show the others who's boss. The emphasis is placed on players who are relevant for this season.
Rookies | Fantasy Football Team Names
Breece's Pieces (Breece Hall)
Olave Nother (Chris Olave)
For Whom David Bell Tolls (David Bell)
Werewolves of London (Drake London)
Slim Pickens (George Pickens
Shakir the Bag (Khalil Shakir)
The Skyy is the Limit (Skyy Moore)
Kenneth Walker, Texas Ranger (Ken Walker III)
The Oregon Treylon (Treylon Burks)
Chip and Wan'Dale (Wan'Dale Robinson)
Click here for more rookie-inspired fantasy football team names!
---

Sign up for PrizePicks with promo code FLURRY for a deposit match up to $100!
---
Best Fantasy Football Team Names 2022
Aiyuken!
Baby Got Dak
Bad Mother Tucker
Belichickawowow
Born Tua be Wild
Call of Jeudy
Country Roads, Take Mahomes
DakStreet Boys
Dakstreet's Back Alright
Davante's Inferno
Deshaun Did It
Deshaun of the Dead
Dobbins is a Free Elf!
Dude, Where's My Carr
Ertz So Good
Fant Touch This
Fant-asy Team
Fields of Dreams
Fournettecation
Fournetteflix and Chill
Fresh Prince Of Helaire
From Wentz You Came
Godwin Bless America
Gouldmember
Hail Murray
Haley's Kmet
Half Chubb
Hey Darnold!
Hockenson Loogies
Hocktoberfest
Hooked on a Thielen
Hot Chubb Time Machine
Hotel, Motel, Golladay Inn
How I Metcalf Your Mother
Hurts So Good
Hyde and Zeke
I Am The Wallerus
Is It Too Late to Say Amari?
Jeudy, Jeudy, Jeudy Rocking Everywhere
JuJulemon
Kamara Borealis
Kamaravirus
King 'Quon
Kittle Corn
Kittle League
Kmet the Frog
Knockin' on Evans' Door
Livin' On A Prater
Livin' on Helaire
Lutz, Kamara, Action
Make-A-Wentz Foundation
Mariota Kart
Mayfield of Dreams
Mixontape Feat. Joe
Murray Up Offense
My Ball Zach Ertz
My Kupp Runneth Over
Myles High Club
NickelDak
No Pain, No Gainwell
Ob-La-Di, OBJ, Life Goes On
Pitts Creek
Pop, Drop and Lockett
Post Mahomes
Rollin' Wit Mahomies
Run CMC
Shake it Goff
Silence of the Lambs
Sir Lancelot
Sony Side Up
Stafford Infection
Swift Army Knife
T.D. Metcalf
That's Amari
The Quadfather
The Rafi Bombs
The Real Slim Brady
The White Knucklers
Thou Shenault Pass
Tua Legit to Quit
Tua Point Conversion
Turbo-Schuster
Waddleburger
Watson's Happy Endings
WonderWaller
Yippee Ki-Yay Justin Tucker
Zach Wilson: Cougar Hunter
Zeke and Destroy
Zeke Squad
---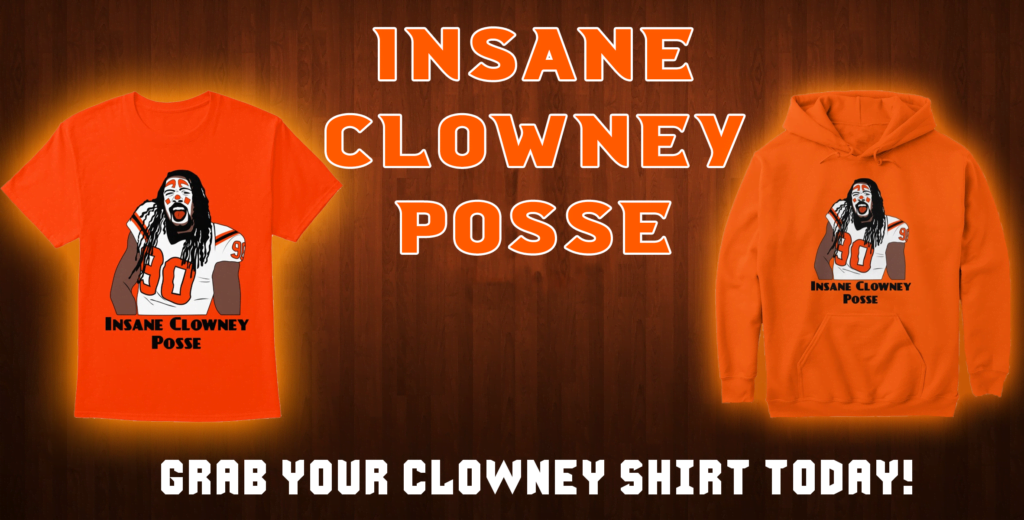 The only thing scarier than the Browns' pass rush are clowns. Get the design that shows off both today!
Available shirts in men, women and kids, along with posters and tumblers! Click here or the image above to see!
---