We are getting to the point of the summer where the fantasy football debates begin to happen. Everyone seems set in their own opinions and determined to prove anyone that opposes them wrong. Is it right? Probably not. Am I going to do the same? You bet your sweet cheeks I am! One player that has recently struck up some debates is tight end Travis Kelce.
We are not here to debate the skills of Kelce or even if he is the best fantasy football tight end. If you are already not of the belief that he is the best tight end in fantasy, then I don't know what to tell you. Instead, we will be discussing his value. More specifically, is Kelce worth a first-round pick in your fantasy football draft?
Is Travis Kelce Worth a First-Round Pick?
2020 Travis Kelce Fantasy Football Stats
All Travis Kelce fantasy stats, ADP and discussion will take PPR scoring into account.
Games: 15
Yards: 1,416
Rec: 105
TDs: 11
Fantasy Points: 312.6
Travis Kelce Fantasy ADP
When discussing a player's value, you have to compare performance and their average draft position (ADP). Those who fail to look at ADP are trying to build a puzzle with half of the pieces missing. Whether you invest a first or fifth-round pick into a player greatly impacts the return on investment you need for them to return equal value or exceed it.
With that being said, Kelce currently has an ADP of 1.09 (Fantasy Football Calculator), meaning he is being selected ninth overall. So, if you are playing in a league with 10 or more team owners, then, on average, you will need to use a first-round pick to land Kelce on your fantasy football team. Is he worth spending such a high pick?
Advantage at a Scarce Position
Another concept in fantasy football that I often point to is depth of talent. A classic strategy in fantasy drafts is to wait at the QB position, due to the depth of talent. For example, the difference between QB3 (Aaron Rodgers) and QB10 (Lamar Jackson) last season was about 46 points, with Jackson playing one less game. This meant that there was less than a two-point difference on the average week between the QB3 and QB10. On a more extreme example, QB1 (Josh Allen) and QB16 (Cam Newton) had very different seasons. Still, there was only about a seven-point difference between their average scores.
The TE position, on the other hand, is a position of scarcity. Kelce was the top dog, averaging 20.9 fantasy points per week. Typical league formats require you to start the same amount of tight ends and quarterbacks, which is one, so comparing TE1 to TE16 seems relevant. Last season's 16th-ranked TE was Jonnu Smith, who averaged 10.9 points less than Kelce. Not only is there a massive difference here, but there is a steep drop-off at the top of the tight ends as well.
We noted Kelce averaged 20.9 PPR points last season. TE2 averaged 17.4, then TE3 averaged 11.0. Only 36.4 total points separated TE3 and TE16 last season.
WTF Did That Mean?
I apologize for throwing out so many numbers at once. Hopefully your eyes didn't glaze over like you were back in your high school algebra class.
Let me quickly, simply breakdown what the above means. In short, having Kelce as your TE1 gives you a massive positional advantage over everyone. Darren Waller was great last season, but Kelce still put up 3.5 more points than him per week. Then, the rest of the starting-level TEs averaged 10-11 points per week. Having nearly a 10-point advantage at a position over most of your league is massive.
But Zach, wouldn't the same be true with any other position you drafted there? Nah, mate. Jonathan Taylor and Austin Ekeler are both being selected around the same spot, at RB 8 and 9 overall. RB8 averaged 15.4 fantasy points last season. Assuming you're taking Kelce towards the back end of the first round, you could easily be selecting somewhere between RB9-12 with your next pick. At most, that was a three-point difference, on average, than the RB you would have selected instead of Kelce.
The drop-off at the tight end position is immediate and massive.
Is Travis Kelce the Safest Fantasy Pick?
You probably have a good feel where my opinion lies on drafting Kelce in the first round at this point, but let me add in this one last argument for the big fella.
Looking at total points at the end of the season is how scrubs do their fantasy football analysis. If you're doing big-brain research, you know consistency is just as important as the final ranking. For example, Kyler Murray was QB2 last season, but was he the second-best quarterback to own in fantasy football? My Consistency + Boom/Bust Stats here on FlurrySports give you a better idea of how each player was week-to-week. To make this point quickly, Murray was a "boom" 18.8% of the time, a "starter" 68.8% and a "bust" 18.8%. I would much rather of had Deshaun Watson, the QB4, who posted percentages of 25%, 62.5% and 6.3%, respectively. It's just as valuable to have a player who won't lose you a week as it is to have a player capable of winning it for you.
In terms of Kelce, he's as good as there is. He was a "boom" 60% of the time, which meant he was a top-three TE in 60% of his weeks. Kelce was a "starter," which is a top-18 TE, in 93.3% of his games. Even Waller, the TE2, fell outside the top-18 in a scarce position 31.2% of the time! You may lose a third of your weeks due to a bad performance from Waller, despite many saying he's the "second-most valuable TE."
So, is Travis Kelce Worth My First-Round Pick in Fantasy Football?
Yeah, of course he is. You want someone who can give you week-winning upside with your first-round pick. Well, Kelce was top-three at his position in 60% of his games last season. You want consistency with your first-round pick, since they should be a "set it and forget it" type of player. Well, Kelce was labeled a "starter" by my formula in 93.3% of his games, which is better than almost everyone in fantasy last season.
The main argument against Kelce as a player that I've heard is Kansas City Chiefs having too many mouths to feed. Well, I have a hard time believing Andy Reid dramatically changes the offense to make sure worse players see the ball more.
In my opinion, Kelce is easily worth a first-round pick. But, again, everyone is already set in their opinions. Whether you agree with me or not, it's worth reading the opinions from others:
---
Follow us on all of our social channels! Check out our Twitter, Facebook and YouTube for more great FlurrySports content.
---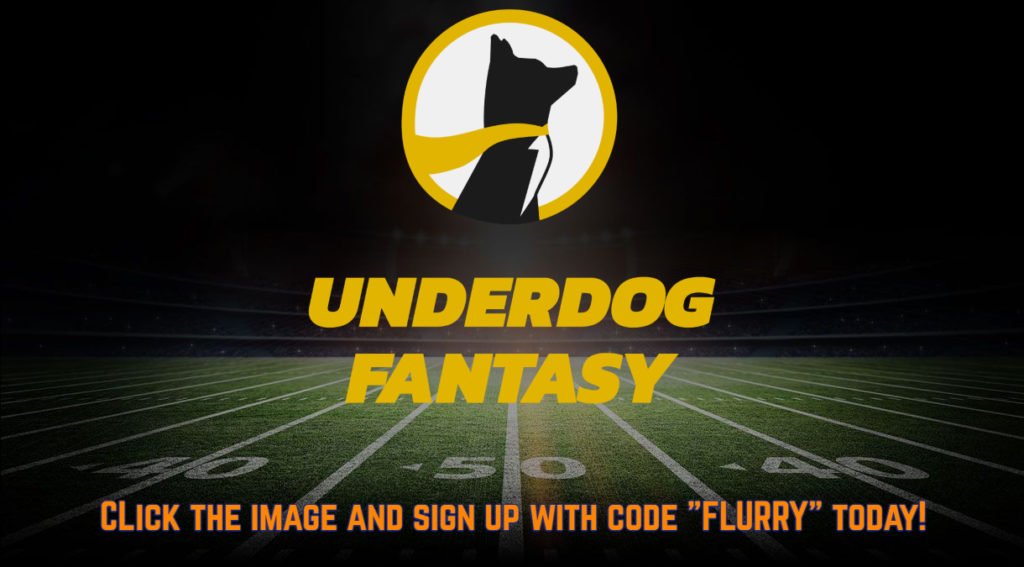 Underdog Fantasy is a new type of DFS that combines the fun of season-long drafts with daily fantasy sports. Aside from their fun, addictive draft mode, Underdog Fantasy also has pick'em player props for many different sports and athletes!
Click the image or RIGHT HERE to get signed up today, and don't forget to use the promo code FLURRY for a FREE $10 bonus on your first deposit!
---