Immediately following the recent NFC Championship game loss, the questions started flying surrounding the Green Bay Packers. Most of them circled around quarterback Aaron Rodgers, who was a part of a fourth straight losing effort in that game.
Rodgers, like any athlete would, was frustrated about the game and made some comments alluding to what his future might hold. Immediately after, as they always do, the national sports media started spinning a story out of nothing. That Aaron Rodgers will and/or wants to be traded from Green Bay.
Here is why Aaron Rodgers will be returning in green and gold next season.
NFL Cap Space
There are two factors teams need to meet to even be able to hit Aaron Rodgers' radar, even assuming Rodgers would want a trade. Rodgers is under contract until 2024 and will produce a cap hit of 37.5, 39.8, and 28.3 million dollars over the next three seasons. Without signing anyone else, only six teams even $30 million in cap available next season. Those teams are the Jacksonville Jaguars, New York Jets, Indianapolis Colts, New England Patriots, Cincinnati Bengals and the Washington Football Team.
Of those teams, the Jets and Colts are actively involved in trade talks for Deshaun Watson and Matthew Stafford, respectively. The Jaguars have made it clear they will be drafting a quarterback, likely Trevor Lawrence with the first pick. The Bengals also have Joe Burrow returning from a torn ACL and MCL. The Patriots likely will look elsewhere outside of Cam Newton to fill their quarterback space. Washington will also likely be looking elsewhere, although after Taylor Heinicke's performance against Tampa Bay, maybe they give him a year long test run.
Even if both teams do look Rodgers' way, they won't land him as they fall critically short in the other factor they need to meet to get him.
Super Bowl Contention
Aaron Rodgers wants to win and he wants to win now. That much is clear. Even as a Green Bay Packer fan, I will readily admit his career has been largely wasted. It's obvious if Rodgers is going to leave, it's going to be to a team he thinks can contend now. Among those teams that can afford him and want him without causing a huge controversy, neither the Football Team or the Patriots are anywhere near contention. The New England defense is not what it used to be, and they somehow have even less weapons than Green Bay does. As for Washington, they have wide receiver Terry McLaurin, sure, but not much else outside of tight end Logan Thomas. Again, this is a significant downgrade from Green Bay even though the defense is better.
The two teams everyone is thinking of, for the most part, are the Chicago Bears and San Francisco 49ers. San Francisco has under $13 million in cap as of now, and Chicago is $10 million over the line even without any moves. There also isn't a chance the Packers trade Rodgers within the division. San Francisco is the same story as Washington. Their defense is elite, sure, but their offense is tight end George Kittle. He's easily an elite tight end but when your best receiver is Brandon Aiyuk? He's solid, but he's not a WR1 for most teams. After him, there is a massive drop off, too.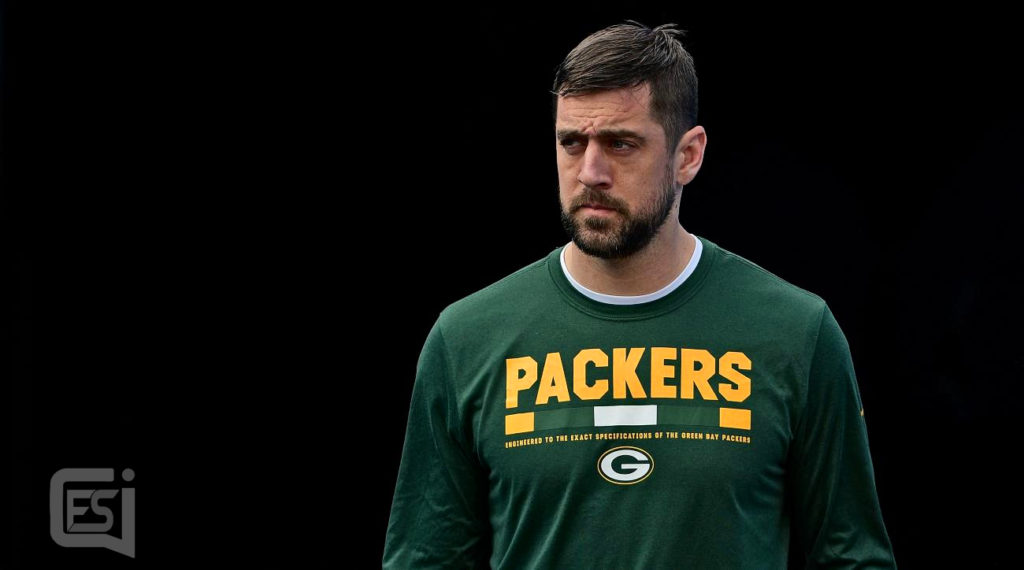 Reflect
I get it. Professional sports are crazy and crazy things happen. Rodgers didn't seem happy in the postgame press conference. Can we blame him, though? The man just lost another heartbreaker. Did we really expect him to be all sunshine and rainbows? The national media is hungry for a story, so they will cram this as long as it gets them views and attention so they can feel like they're relevant and smart.
At the end of the day, however, because of the lack of cap space among the league, and with virtually none of those teams having any chance of contending next season, Aaron Rodgers isn't going anywhere. Rodgers will be a Packer next season. You thought he came out with a vengeance this season? Oh boy. Beware, opposing fans. Nothing's scarier than the most talented quarterback of all time pissed off and coming for blood.