Coming off of a terrible Thursday Night Football game between the Indianapolis Colts and Denver Broncos, Russell Wilson's stock is at an all-time low. Tweets and headlines about Wilson being overpaid and overrated are trending. Of course, there are also many sarcastically posting the "Let Russ Cook" meme.
People have mockingly said "Let Russ Cook" on every sports platform for the past few years. In fact, it has been used so much that many talking heads began to use it seriously. Let's take a look into what the "Let Russ Cook" meme means and how it started.
What Does "Let Russ Cook" Mean?
During his time with the Seattle Seahawks, Russell Wilson was viewed as one of the top quarterbacks in the NFL. While he never actually received an MVP vote, Wilson was viewed as a perennial NFL MVP candidate by many.
However, the Seahawks' run-first and run-heavy approach left many Seattle fans and Wilson fantasy football owners frustrated. The majority opinion was that the Seahawks would be a more successful team if Russell Wilson was handed the metaphorical keys to the offense, gave him the ability to pass more and ultimately "Let Russ Cook."
Let Russell Wilson air it out to his talented receivers was the overwhelming opinion. Of course, when Wilson plays poorly, the internet will use the meme in a mocking fashion.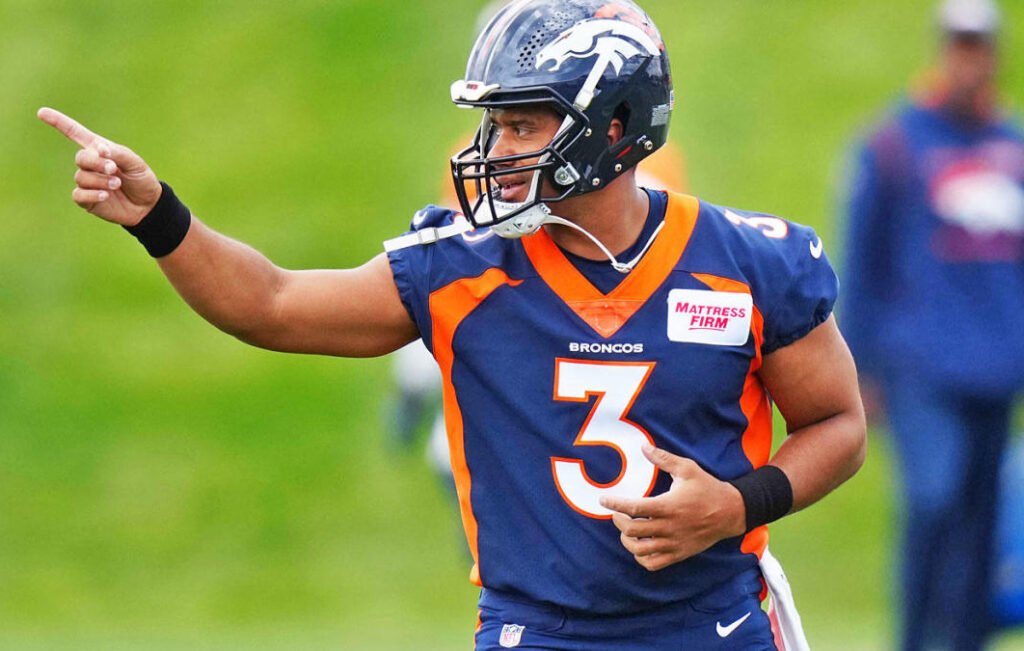 Where Did the 'Let Russ Cook' Meme Start?
You have heard and seen the "Let Russ Cook" meme absolutely everywhere, but where and how did it start? As with the origins of most genius memes and works of art, we head to Twitter.
We go back to 2019 when Seattle Seahawks fans believed Russell Wilson was the most underrated player in the NFL. The fact that he hadn't received an MVP vote was criminal, and his coaching staff, including Pete Carroll, was holding back the greatness that Wilson possessed.
This led many Seattle sports analysts and platforms to get louder about their quarterback. Fans chimed in as well. In Week 3 of the 2019 season, the Seahawks were getting whooped by a Teddy Bridgewater-led New Orleans Saints team despite Wilson having success. Russell Wilson led a comeback, scoring 20 points in the fourth quarter, and throwing for over 400 yards, but still lost the game. This was the catalyst for an infamous sports meme.
Let Russ Cook Meme Was Born
Zach Whitman, a Seattle-area structural engineer, is credited with the first use of the "Let Russ Cook" meme. He tweeted this out on the day of that Saints matchup.
Fast forward to the 2020 season, and the Seahawks faced the New England Patriots on Sunday Night Football. "Let Russ Cook" was being used sparingly, Cris Collinsworth was made aware of the meme, and he used it in his pre-game conversation with Wilson.
NBC had graphics ready using "Let Russ Cook," if he was playing well. After Wilson's fourth touchdown pass of the game, Sunday Night Football used the following graphic, putting the "Let Russ Cook" meme on national television for everyone to see.
Whitman, the originator of the "Let Russ Cook" meme, called it "crazy" and "surreal" to see his words go viral and be on national television.
Since then, the internet has done its thing. There have been photoshops of Russell Wilson in a chef's coat and hat for the meme. There have been videos stitched with Gordon Ramsey screaming about terrible cooking. The meme has been used for good and for bad, depending on whether or not you ride with Wilson.
Through the good and the bad, "Let Russ Cook" will continue to live in internet meme eternity.
---
Follow us on all of our social channels! Check out our Twitter, Facebook and YouTube for more great FlurrySports content.