Chances are if you're reading this, you got unlucky with an injury in last week's matchup or your expectations for a player's role didn't go as planned. There have been plenty of injuries that have plagued the league in just four weeks of action, with top-tier fantasy players out for extended periods of time or were unable to suit up Sunday morning, leaving you scrambling for a plug-in starter. This is why you will need to work the fantasy football waiver wire to grab high-upside players to help fill these empty spots and reduce the Sunday morning pre-kickoff panic.
It's only been four weeks, so you can still stash those late-round flyers you're attached to and think could boom moving forward in the season. But if you need an immediate upgrade now, here are some Week 5 fantasy football waiver wire pickups that could help move your team in the right direction.
Players must be owned in less than 60 percent of ESPN leagues to be included in the Week 5 fantasy football waiver wire pickups column. All ownerships for waiver wire players will be provided and will reflect that of Monday evening.
QB Fantasy Football Waiver Wire Pickups
Kirk Cousins | Minnesota Vikings (52.5%)
Kirk Cousins was having a great start to the season as a top-5 fantasy quarterback through three games, but he slowed down last week against a stingy Browns defense. After not turning the ball over, he finally threw a pick and only posted 10 fantasy points, which likely hurt his fantasy managers this week. I wouldn't be turned off by this tough fantasy performance just yet, because Cousins has shown he's capable of being a viable fantasy quarterback this season. Dalvin Cook has been dealing with a lingering injury, which takes away from the offensive game-flow for the Vikings. Once he's back to full health, Cousins will likely return to his normal fantasy form he showed through the first three games. His ownership keeps increasing by the week. So if you're interested in him, I'd grab him before it's too late.
Matt Ryan | Atlanta Falcons (29.4%)
Matt Ryan started off slow, posting some mediocre fantasy numbers, but that's mainly because of how bad the Falcons have looked so far. He finally showed up last week against a pretty overrated Washington defense, posting nearly 30 fantasy points. Ryan was drafted as a backup in most drafts but was dropped from many teams due to his slow start. As a result, he is only owned in 29.4% of leagues. He has a bye week coming up next week, so be aware of that, but he's always floated around the middle of fantasy quarterbacks due to his ability to throw for a lot of yards.
Sam Darnold | Carolina Panthers (18.3%)
Sam Darnold is currently the QB5 in fantasy football and leads the league in rushing touchdowns. Yes, you read that right. Despite only throwing five touchdowns and three interceptions, he has run for 52 yards and five touchdowns through only four games. Without Christian McCaffrey in the picture for a few weeks, Darnold will likely continue rushing for touchdowns within the red zone and five-yard line. He has solid weapons, led by D.J Moore who's been a fantasy monster so far this year. Carolina seems like a pretty legit team this year that can make some noise, and it starts with how Darnold has been playing and running the ball in particular.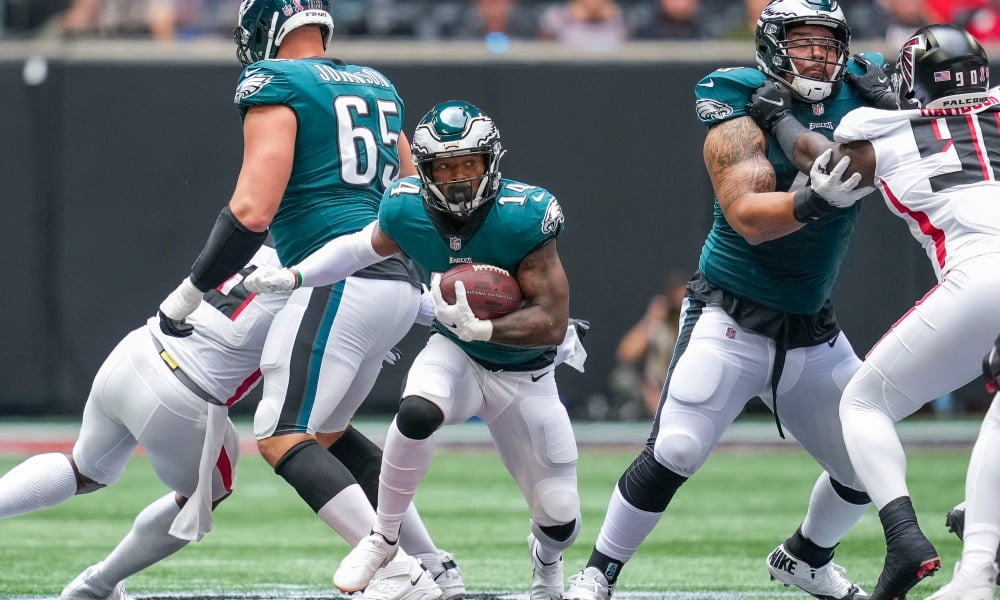 RB Fantasy Football Waiver Wire Pickups 
*Editor's note: David Montgomery is expected to miss several weeks, making Damien Williams a top pickup
Michael Carter | New York Jets (57.1%)
Michael Carter seems to be the lead back in New York, despite splitting with Tevin Coleman and Ty Johnson. The Jets offense is definitely an offense to avoid throughout the season, because it's led by a rookie QB and not filled with much talent, but Carter should see a consistent role moving forward. He's seen double-digit carries in two of the last three games and recorded his first touchdown of the season last week against Tennessee. It's bound to happen that either Coleman or Johnson steal some carries and potentially touchdowns from Carter, but it's clear Carter is the most talented back and has a ton of upside in an offense struggling to establish the running game.
Latavius Murray | Baltimore Ravens (34.2%)
Many thought the Ravens backfield would be split between at least different running backs, but it seems Latavius Murray claimed the lead-back role last week against Denver. He carried the ball 18 times for 59 yards and one touchdown against the Broncos, who are very solid against the run. He isn't a splash fantasy football waiver wire add by any means, considering the Ravens still have Devonta Freeman, Le'Veon Bell and Ty'Son Williams to steal carries and touchdowns, but Murray has shown he's dependable enough to get the job done. At only 34 percent ownership on a run-first offense, Murray seems like a steal here, especially if he sees more than 15 carries a game like last week.
Kenneth Gainwell | Philadelphia Eagles (24.6%)
It's a real head-scratcher as to why the Eagles simply refuse to run the ball this season, but Kenneth Gainwell has some serious upside, especially in the passing game. He only had three carries last week, but he made the most of them, garnering 31 yards and a touchdown and caught six catches for 58 yards in the process. It seems like he fits in the new Eagles offensive scheme better than Miles Sanders does and is developing chemistry with Jalen Hurts in the passing game already. His floor is definitely scary, considering the Eagles don't run the ball, but he has serious upside in the passing game and is only owned in 24 percent of leagues thus far.
WR Fantasy Football Waiver Wire Pickups
Emmanuel Sanders | Buffalo Bills (45.1%)
I will continue to bang the Emmanuel Sanders gavel until he slows down. He's been included in the past two waiver wire pickups article and will likely be added to the WR streamers article for this week. The Bills' offense shows no signs of slowing down and face the Chiefs and Titans back-to-back, which could both be high-scoring games, forcing Josh Allen and company to pass the ball. Diggs draws the attention of defenders while Sanders seems to be wide open more often than not. He is a perfect fit in the Bills offense this season and acts as the deep-threat moving forward into the season.
Darnell Mooney | Chicago Bears (40.8%)
It's very hard to trust anyone on the Bears offense, but Darnell Mooney is emerging as a legit fantasy option. Last week, he caught five of seven targets for 125 yards and a touchdown. Granted, it was against a poor Lions defense, but the upside is certainly there. He's been targeted at least seven times in three of four games, and once the Bears commit to a starting QB, he'll likely develop some chemistry. The Bears' offense is underwhelming and Mooney could be very hit-or-miss, but he has some serious talent and could emerge as a solid WR3/flex option moving forward, especially in deeper leagues.
Kendrick Bourne | New England Patriots (2.2%)
Kendrick Bourne was quiet in the first two games and was overshadowed by Jakobi Meyers and Nelson Agholor, but he has recently emerged as a main target. He's been targeted 13 times the past two games and caught a touchdown in the process. He's a risky play because the Patriots don't seem to utilize their wide receivers the correct way and are led by a rookie QB, but I see some upside in Bourne moving forward, considering his target share. He is owned in less than three percent of leagues, which makes him a very common fantasy football waiver wire addition in the coming weeks.
TE Fantasy Football Waiver Wire Pickups
Hunter Henry | New England Patriots (35.5%)
Hunter Henry is another candidate to receive more looks in the future for the Patriots due to his build and threat in the red zone. He's been targeted regularly each game but hasn't done enough to entice fantasy football managers to add and trust him as their starter. He finally caught his first touchdown last week against the Bucs, and that chance should only increase the more Mac Jones trusts him and depends on him.
Henry is more enticing than Jonnu Smith due to his snap count and touchdown ability, but both will likely eat into each other's production all season long. The Patriots face HOU, DAL and NYJ in their next three games, which have all struggled for the most part defensively.
Dawson Knox | Buffalo Bills (20.0%)
Dawson Knox is not quite a TE1 yet but if he keeps playing the way he is, he'll be there soon enough. He isn't a splash player that will garner tons of receptions like Kelce or Waller, but he has serious upside potential in catching red-zone touchdowns. He has four touchdowns in four games this year, and it's clear that Josh Allen values his presence within the 20-yard line. It's unlikely his scoring frenzy continues each game, but he has been targeted at least four times in three of four games. He's only owned in 20 percent of leagues, making him an easy target in most leagues. I'd at least stash him to see if this dependency continues or if it's just a fluke that Allen has developed this chemistry with him.
---
Follow us on all of our social channels! Check out our Twitter, Facebook and YouTube for more great FlurrySports content.